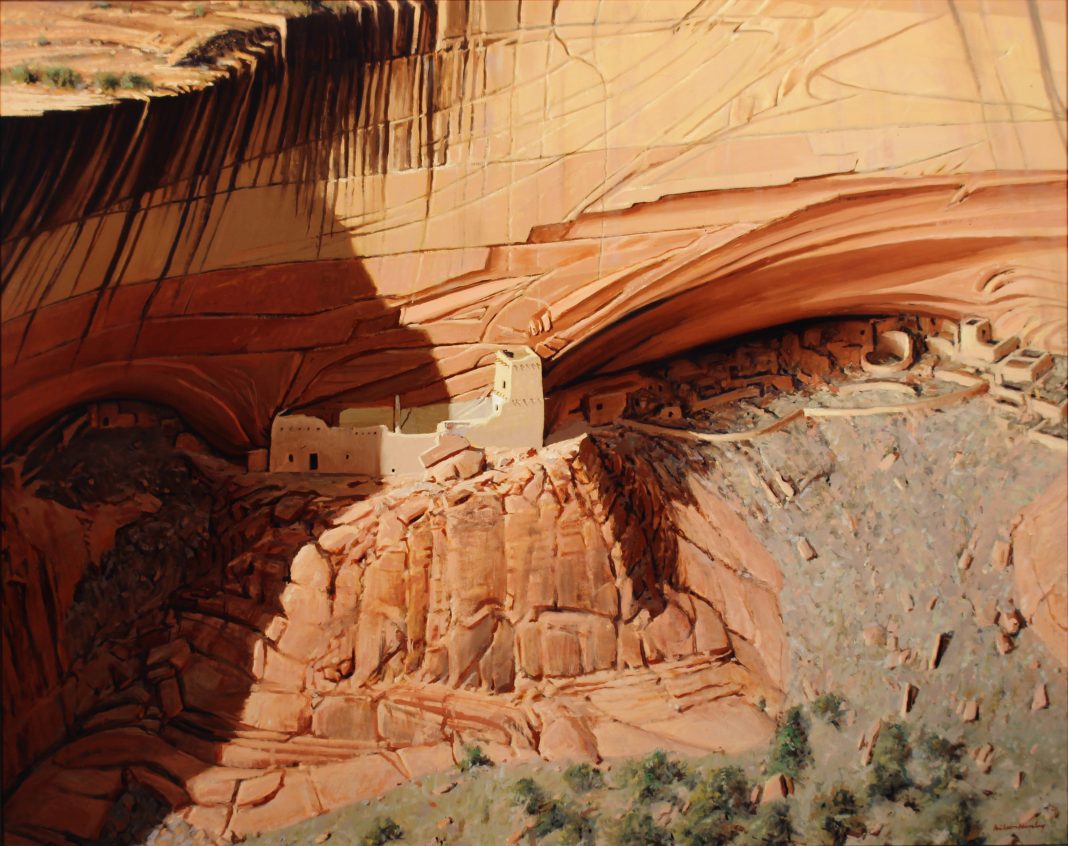 Wilson Hurley: born April 11, 1924.
Born in Tulsa, Oklahoma, he became a painter in luminist style of the American West, especially known for his depictions of Canyon de Chelly, Yellowstone Park, and the Grand Canyon.
He attended high school in Santa Fe, New Mexico, where his family moved in 1935.  Knowing his interest and talent, his mother arranged for him to spend time as a teenager with artists Theodore Van Solen, Josef Bakos, and John Young-Hunter.  Hurley studied engineering at the U.S. Military Academy at West Point, graduating in 1945, and then served in the Air Force.  He resigned his Air Force commission to go to law school at George Washington University in Washington DC and then practiced law in Albuquerque, New Mexico for fourteen years.
In 1965, he became a full-time painter, an occupation interrupted by serving in the Vietnam War during 1968 and 1969.  In 1972, Hurley became a member of the National Academy of Western Art, and in 1984, he was given the Prix de West Purchase Award by the National Cowboy Hall of Fame.  Other exhibition venues include the Buffalo Bill Historical Center, the Rockwell Museum in Corning, New York; the Panhandle-Plains Historical Museum; and the Gilcrease Museum.
In 1991, he painted five large murals for the new addition of the Cowboy Hall of Fame, each celebrating the beauty of western landscapes of Arizona, Utah, New Mexico, California, and Wyoming.  He titled this series, "Windows of the West" because of the diversity of geographical locations and in his words, to "show a view of the world passed through another's mind" (Hagerty).
Because of his growing reputation as a painter of western landscape, he was a judge in the inaugural 1987 Arts for the Parks exhibition.  Among his own works are depictions of Yellowstone National Park, where he was especially fascinated by the cascades of the Yellowstone River.
In 1996, he completed dioramas for the Cowboy Hall of Fame in Oklahoma City. The 15 paintings each depict a sunset over an iconic American vista including the Grand Canyon and Yellowstone National Park.  They cover a total of 2876 square feet.
Biography courtesy of AskART.com.
Don't miss the newest gallery arrivals.
Sign up to receive our no more than once a week bulletins.
Be the first to see the latest fine art as soon as it's available to you!
See it First!
Receive notifications from America's online art gallery when the latest works from top artists are available.