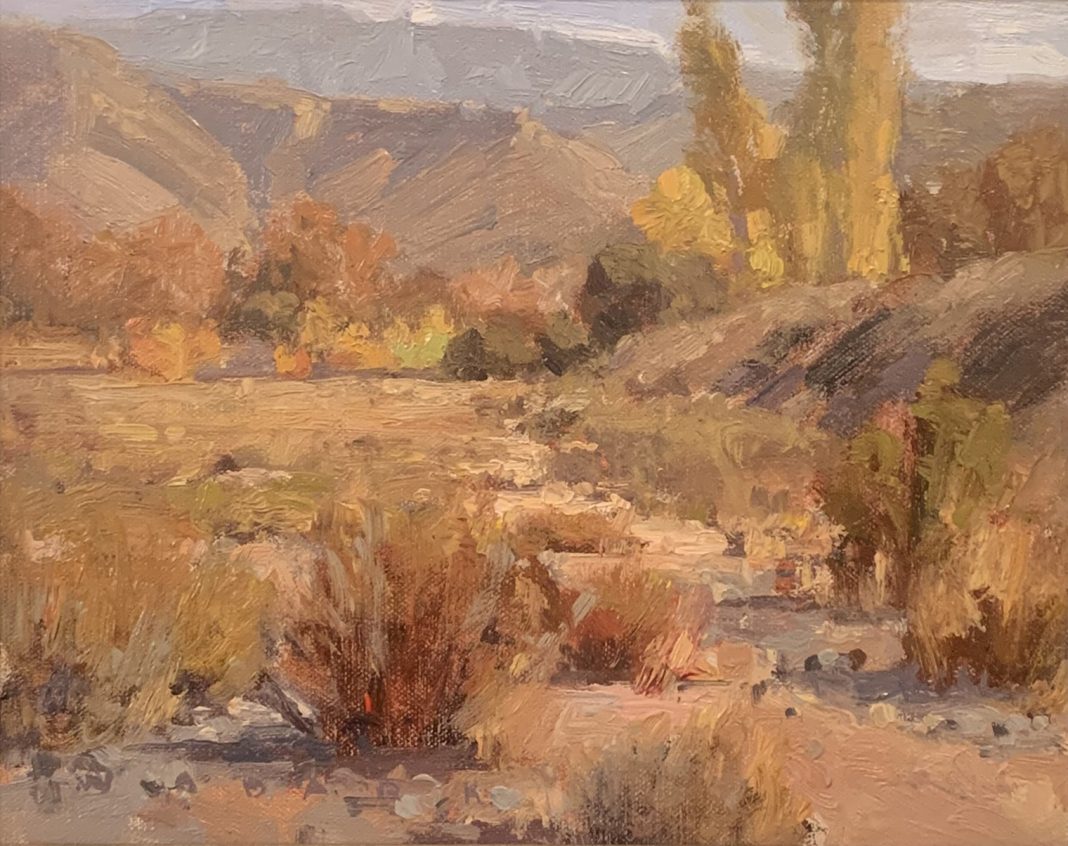 Jim Wodark biography:
Jim Wodark is an award-winning plein air artist who was born and raised in Colorado. Throughout childhood, his parents, both artistic in their own right, were incredibly encouraging of his creativity but drew the line (so to speak) when he filled his 2nd-grade teacher's shoes with paint. He went on to earn his Bachelor's degree in Marketing from the University of Northern Colorado and attempted to fulfill his passion for art by taking an art class each semester. After several years of working corporate jobs, and trying to fit art around his schedule, it occurred to him that he either was or was not an artist. Luckily for his many fans and patrons, he chose the former.
He started out putting his keen observation skills and humor to use as a cartoonist. Fourteen years later, attracted to the attitude and economy, He moved to Southern California. He found true love in Julie, now his wife of 23 years, and in fine art, as he began to explore the plein air technique, initially using watercolors and acrylics. "When you grow up in Colorado, it's hard not to love the outdoors. For me, being outside and capturing the light, mood, and atmosphere on a canvas for other people to enjoy, is just an incredible feeling." 
His next breakthrough came with the birth of his first child, and his discovery of oil paints as his medium of choice. As his family grew (twin girls!!!), so did his commitment to being a great father, husband, and prolific painter, painting out in the field or in the studio every single day. "I paint to express myself. I am compelled to share the inspiration that I feel when I see a beautiful scene, to be inspired and inspire in return. I want to translate the beauty around me — a fleeting moment — into something permanent and timeless that brings those same feelings to life for each viewer.
Having dedicated himself to art for the last 30 years and counting, Jim continues to challenge himself creatively by approaching each painting as an opportunity to try something new. "My intention is to paint my masterpiece every time I paint a picture. This gives me a never-ending room to grow and experiment with my art." 
And whenever he hits the inevitable rough patch, he thinks back to that moment when he decided to commit himself to art. The power of that decision, and the path it created, never fail to get that paintbrush moving again. "I am doing what I love and hope that joy is reflected in my work. I strive very hard to make each and every piece reflect the person that I am and the artist I am becoming."
Available paintings:
Click on images to enlarge.
"Irvine Wash"
Jim Wodark
Oil  8″ x 10″
$750
See additional information about

"Irvine Wash"

.
Interested in this painting, call us 800-958-5360 or email us sales@artzline.com.
Don't miss the newest gallery arrivals.
Sign up to receive our no more than once a week bulletins.
Be the first to see the latest fine art as soon as it's available to you!
See it First!
Receive notifications from America's online art gallery when the latest works from top artists are available.