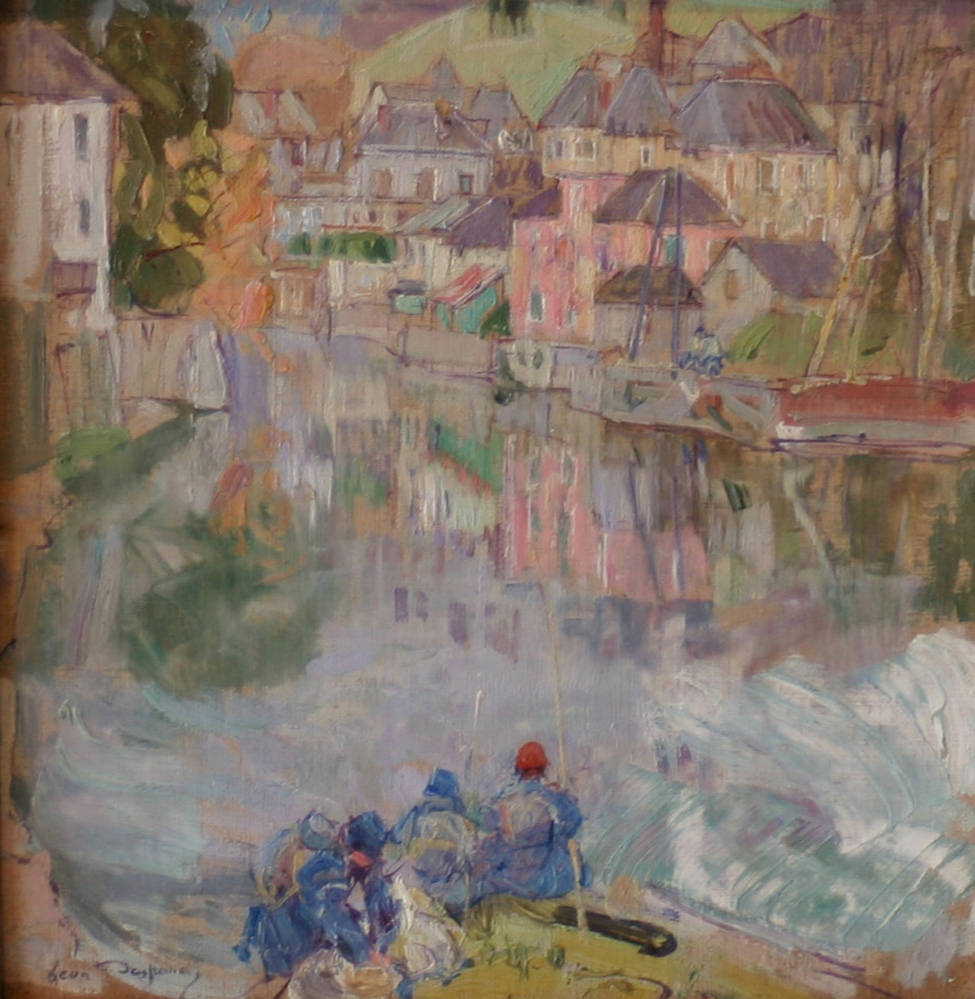 Leon Gaspard (March 2, 1882)
Today is the birthday of Leon Gaspard. He was born March 2, 1882 and lived until February 21, 1964. Gaspard was a Russian-born painter known for his paintings of indigenous cultures and folk traditions. He tended to paint scenes with throngs of people and his favorite locations were in small towns in Russia, Asia, and the Taos Valley of New Mexico. He spent his youth in Russia and later studied in Paris where he became a well-respected painter. He moved with his wife, American ballerina Evelyn Adell, to the United States. They eventually settled in Taos, New Mexico, though he continued to devote much of his time to traveling to paint in remote locations.
As a child, Gaspard traveled frequently with his father, who traded furs and fine rugs throughout the Siberian Steppes. During these journeys Gaspard began to sketch the wild, primitive world of the natives they met. His mother, Zyra, was an accomplished pianist and Gaspard's parents hoped he would take up music. Nonetheless, they encouraged his artistic interests.
Gaspard pursued art studies in his hometown, Vitebsk, Belarusia. He worked with Yehuda Pen, a well-known Jewish-Belarusian artist. Gaspard and Marc Chagall became friendly rivals over a girl named Bella Rosenfeld, who later became Chagall's wife. Gaspard pursued further studies in Odessa, and then his family sent him to Paris. He enrolled at the Académie Julian, where he studied for almost eight years. He also worked independently with Edouard Toudouze, and William-Adolphe Bouguereau. While he was in Paris his parents died, which cut off his allowance and abruptly ended his studies. However, Gaspard was able to sell a number of sketches to a dealer and his career as an artist was underway.
Gaspard found artistic success in Taos, which became an international art center during his lifetime due to the presence of contemporary painters such as Joseph Henry Sharp and E. Irving Couse, and the founding of the Taos Society of Artists. Unlike many of his contemporaries, Gaspard continued to paint Russia and far off places, rather than focus on the local Native Americans and landscape. Though an anomaly, Gaspard's work was respected. In 1961, Gaspard had a one-man show in Taos. His work sold steadily in New York, Detroit, Los Angeles and San Francisco, and he was well-known and financially successful.
Don't miss the newest gallery arrivals.
Sign up to receive our no more than once a week bulletins.
Be the first to see the latest fine art as soon as it's available to you!
See it First!
Receive notifications from America's online art gallery when the latest works from top artists are available.