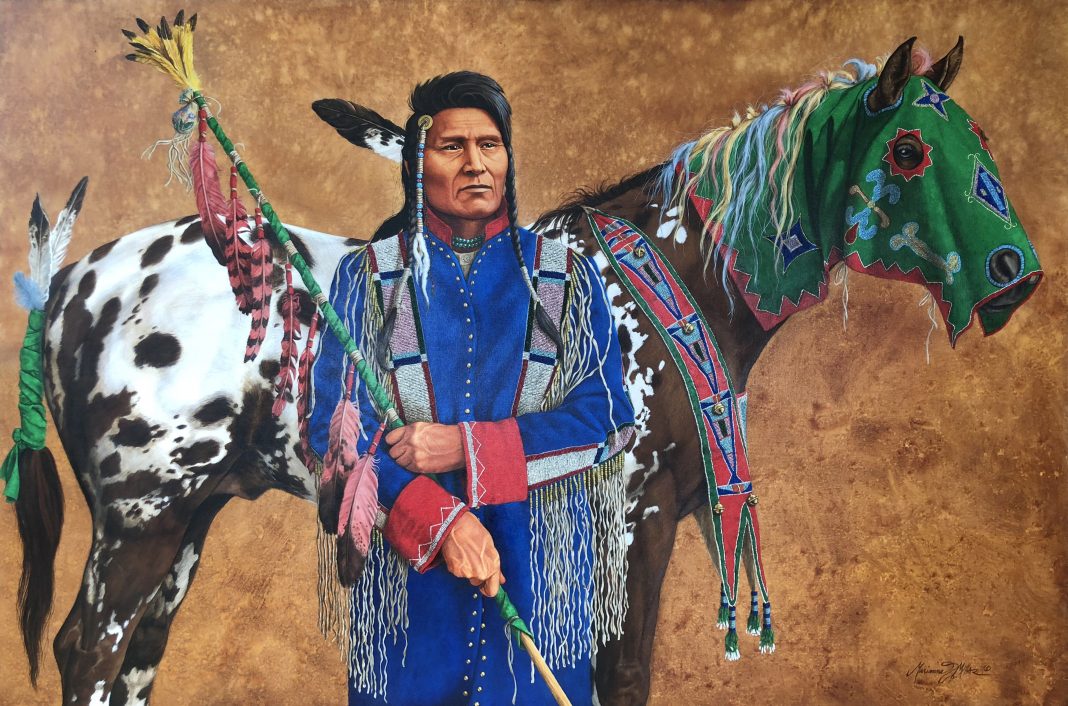 Maryanne Millar biography:
Southern California acrylic painter Marianne Millar dedicates herself to conveying "the spiritual aspects of Native American culture, the beauty and elegance of Native American decorative arts, and a great deal of the depth of human feeling that these people possess." Millar paints realistic works of the people, their costumes, clothing and artifacts, sometimes with a rug hanging behind them, using its geometric pattern as part of the overall design of her paintings.
Perhaps Millar's connection with her subject matter is in her blood; on her mother's side of the family, her great-grandmother, who married a French fur trapper, was half-Indian. But the artist doesn't place much emphasis on such a link. "I feel like Native American heritage is part of our American culture. It's part of all of us as Americans."
Instead, Millar credits her father's passion for Native American art and life as a formative influence upon her own love of the subject. A life-long collector of baskets, weavings and pottery, he brought the family along on frequent trips to reservations in Arizona, New Mexico and Montana when Millar was growing up in the 1970s and '80s. She still savors memories of Navajo clown dancers, their bodies painted in bold black and white stripes, and watching a Navajo artist painstakingly create an intricate geometric sand painting.
Biography continued below…
Paintings:
(Click images to enlarge)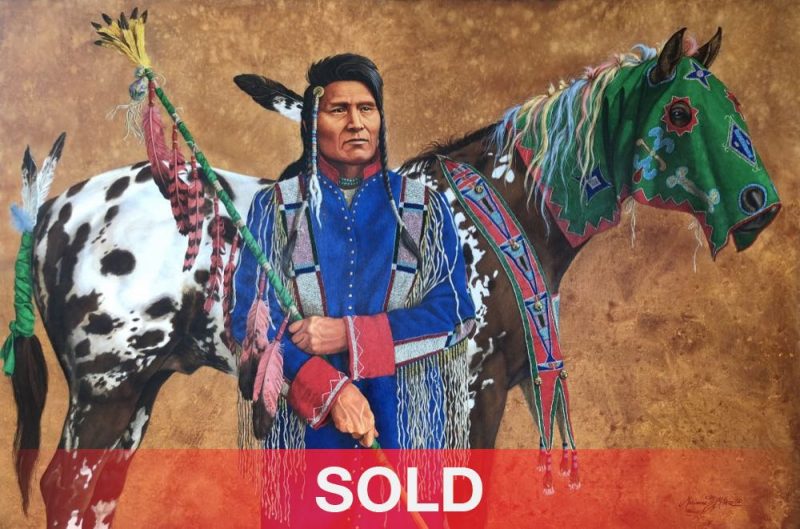 "Thunder Rolling Over The Mountain"
Marianne Millar
Acrylic mixed media   48″ x 72″
SOLD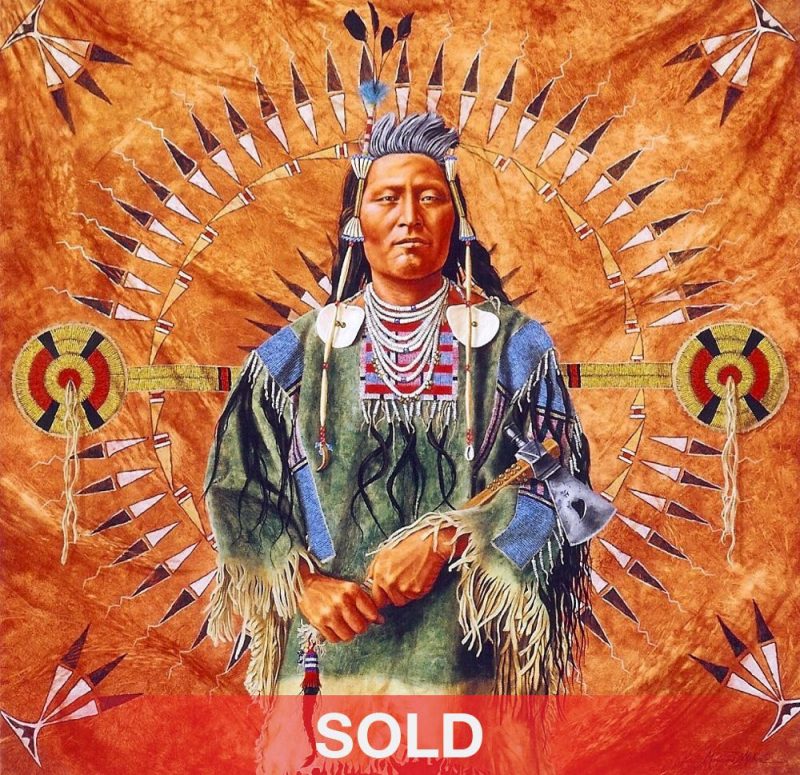 "Plenty Coup"
Marianne Millar
Acrylic mixed media   48″ x 48″
SOLD

"Sioux Blanket Strip Circa 1890"
Marianne Millar
Acrylic mixed media   60″ x 14″
SOLD
Biography contintued:
Sensitively attuned to such observations, she showed an early flair for the arts. Even in grade school, "I could render things realistically," says Millar. She was also influenced by her paternal grandmother, Marion Millar, who "consistently did arts and crafts projects with me and my two older brothers, and was a big inspiration."
So matter-of-factly did Millar regard her talents, that she didn't even consider art as a career, instead entering the University of California at Davis as an international relations major. Freshman year, however, she signed up for a painting class as an elective. "I walked into the art building," she recalls, "smelled the oil paint, and felt that this was home." She graduated in 1988 with a degree in fine art from a department guided by contemporary artists Wayne Thiebaud and Robert Arneson.
The prevailing modernist tendencies of such an education, however, did not sit entirely well with Millar. "I tried desperately to enjoy modern art, but it didn't speak to me. I think a lot of modern artists should be writers because their concepts are great but they aren't in love as much with visuals."
As an outlet for her own realist leanings, she wound up three years later in the illustration department at California State University in Long Beach. But two key aspects of illustrating failed to mesh with Millar's artistic preferences. "Illustrators have to work small, and I like to work big. And an illustrator usually has to go from concept to finished product in less than two weeks, and I'm not quick with my art."
By 1993, Millar found herself at loose ends, not knowing what she would do next. But then direction came from her father. "My dad said, 'I'd like a painting.' So I painted him an Indian. He paid me $500 and asked me to do another one." The results looked so promising, that Millar decided to devote herself full time to painting, with her father as her business partner.
She sold not a single work in 1994, her first year as a full-time artist. Then she found representation at a Scottsdale gallery, and the market for her works began to grow. In the ensuing years Millar has even more finely attuned her sensibilities toward capturing in meticulous and highly realistic detail the spirit of America's western and southwestern tribes. There's a loosely interpretative quality to her earlier works. But with each passing year, Millar has taken increasing pains to render every stitch of weaving and every speck of beadwork, combining these efforts with her increasingly sure command of the human form.
In "The Weaver's Web," 1997, a Navajo elder poses in front of a Germantown saddle blanket decorated with interwoven crosses signifying Spider Woman, the legendary spirit who taught the tribe to weave. The spider appears again in the man's bracelet, a detail that rewards viewers who spend more than a moment admiring the work. Millar conceived the 1999 work, "Burntwater," a painting with a young woman weaving, also with a rug behind her, as a companion piece.
Just how far Millar's observations can take her may be summed up by "The 4th of July," a work she completed in 2000. "I felt I turned a corner working on this piece," she says of her four by six-foot depiction of a Lakota warrior and his horse, both decked out in elaborate beadwork patterned after the Stars and Stripes. Millar points out that many tribes used the American flag as a motif in their artifacts. "It was believed to contain the power of the United States government, which could be transferred to its new Native American owner. Both the horse's mask and the warrior's shirt are actual pieces from the Lakota tribe. I totally fell in love with them when I saw them in a book."
Research, always important to her, plays an increasingly significant role in Millar's work. Once a year, she takes off a month just to travel across the West taking photographs, visiting museums and historical sites, and simply reading. She never knows where the inspiration for the next painting may come from an artifact, a setting, a face, or just an idea that strikes her. Next come loose thumbnail sketches of the painting, followed by the assembly of artifacts and clothing and the hiring of a model, which she'll photograph for reference. "Fact," she says, "is so much better than fiction."
Millar works in acrylic, layer after layer with transparent glazes. To achieve realistic skin tones, she may apply five separate layers of color. "You see through them all, and that gives the skin depth."
A large painting may take her as long as four weeks of solid work to complete. "When I'm painting beadwork, I feel like I'm beading my own shirt. This is how I would do it if I were a Native American woman living in the 19th century."
Biography courtesy of Southwest Art Magazine, July 2001
By Norman Kolpas
Don't miss the newest gallery arrivals.
Sign up to receive our no more than once a week bulletins.
Be the first to see the latest fine art as soon as it's available to you!
See it First!
Receive notifications from America's online art gallery when the latest works from top artists are available.