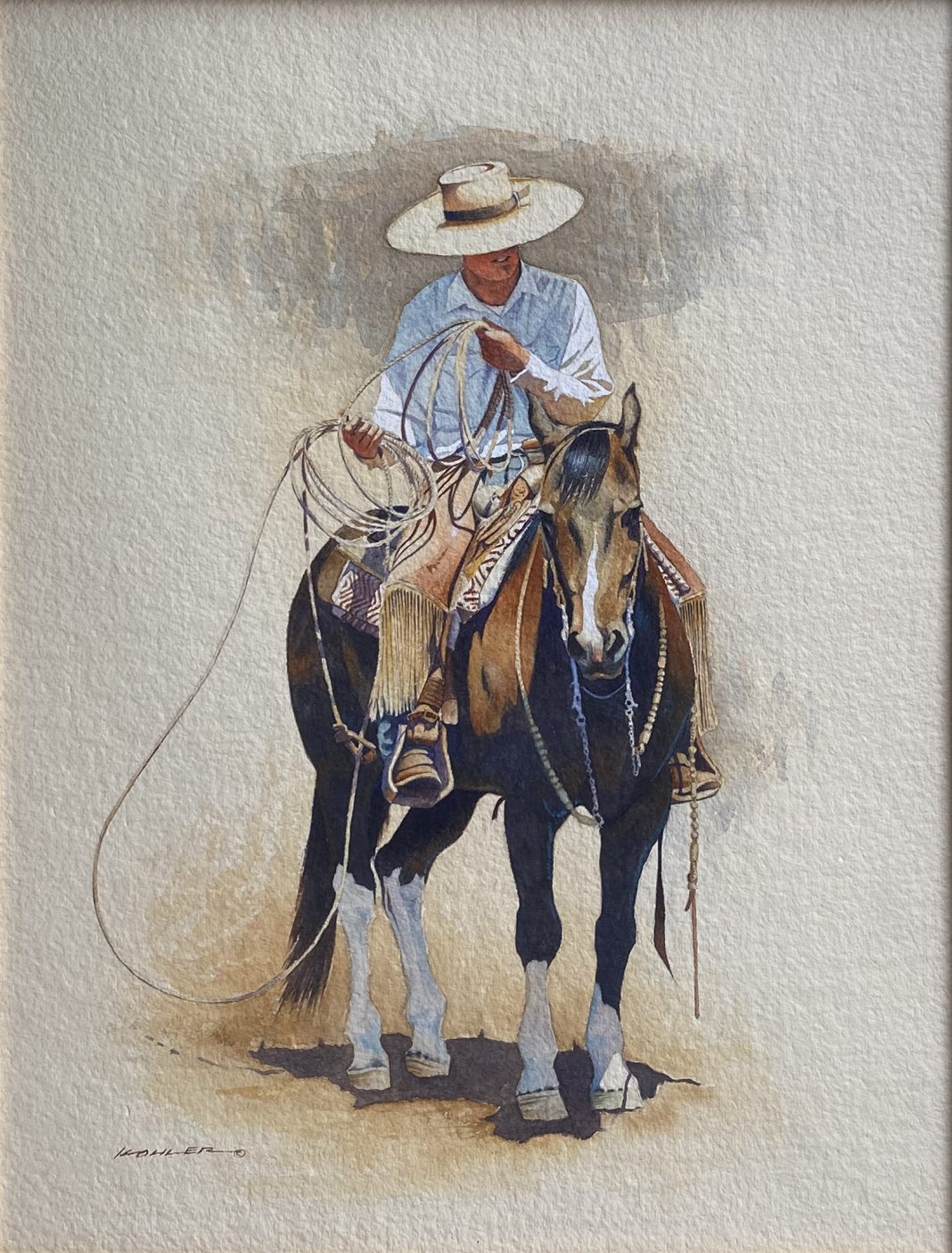 Mark Kohler biography:
A native Texan who has always loved the images of the contemporary West, Mark Kohler began his art career after completing his degree in Illustration at Southwest Texas State University.  Five years were spent as art director for an advertising agency, and then as a free-lance illustrator.
"Creating other people's ideas of art didn't set well with me," says Kohler.  "I wanted to paint what I liked and interpret the myriad of images present in the modern West."
Kohler found that the medium of watercolor suited him best, and he has been a full-time artist since 1995.  He says the translucent quality of watercolor allows him to show reflected light in unique ways.
He has spent the last 11 years traveling the American West from Texas to California to Nevada and Montana.  "Everywhere I've traveled, I've had the good fortune to meet hard-working and decent men and women who are following a life-style that is, at the same time, both noble and disappearing.  It's my privilege to chronicle their struggle to keep the tradition of the West alive."
Kohler earlier studied with Amado Pena, and shares Pena's intense passion for his subjects. This passion is reflected in his paintings of working cowboys and buckaroos from Arizona, Utah, Montana, Wyoming, California, Texas and as far away as Argentina.  His soulful interpretations of the cowboy has earned him the honor of being the artist chosen to paint the official posters for the Santa Clarita, California Cowboy Poetry Gathering(1997); the Reno, Nevada Rodeo poster (1999); and the Salinas, California Rodeo poster (2000).
He was also honored with an invitation to exhibit his work at the Black Tie and Boots Inaugural Ball of President George W. Bush in Washington D.C. in January, 2001 and 2005.   Mark was awarded 1st Place in the Watercolor Division at both the 2004 and 2005 Phippen Museum Western Art Shows in Prescott, Arizona. He has also exhibited his work at the C.M. Russell Art Auction and Sale in Great Falls, MT, as well as the "Night of Artists" at the National Center for American Western Art in San Antonio, TX.
His body of work has grown to include sporting, wildlife and landscape paintings.  His still-lifes and fly-fishing portraits have gained national recognition; and his work has been displayed in the magazines Southwest Art, Art of the West, American Cowboy, Cowboys & Indians, Cowboys & Country, Western Horseman and Western Magazine, a French publication that celebrates the American West. His painting of an Argentinian gaucho, entitled Rojas, was included in the book Best of Watercolor, Volume 3.  Mark also wrote a featured article in Watercolor Magazine, entitled "Hitting the Walls and Bouncing Back."  His work, entitled Won't Suffer Fools, is featured in the International Artist's publication, "How Did You Paint That?".
He has also published a 192 page coffee table book, Mark Kohler, Working Cowboys.
Available painting: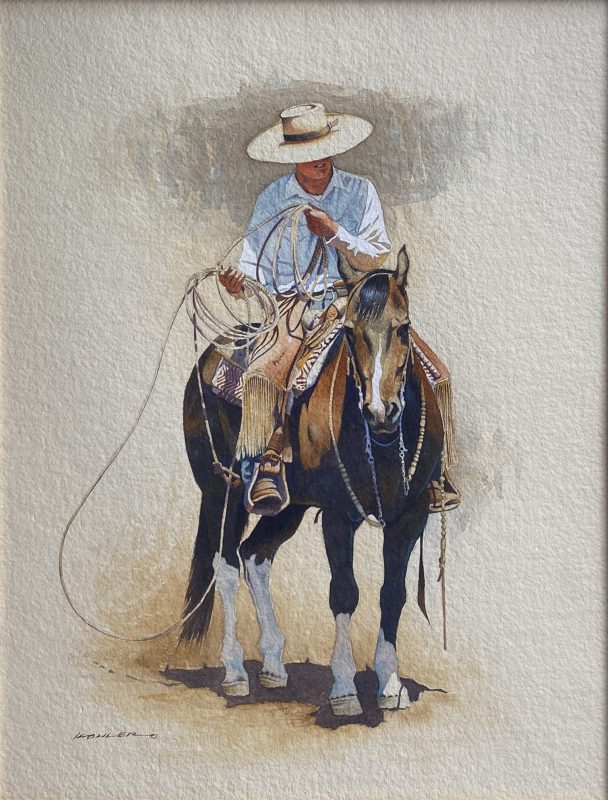 "Reload At Battle Mountain"
Mark Kohler
watercolor  14″ x 10″
$2,500
Don't miss the newest gallery arrivals.
Sign up to receive our no more than once a week bulletins.
Be the first to see the latest fine art as soon as it's available to you!
See it First!
Receive notifications from America's online art gallery when the latest works from top artists are available.