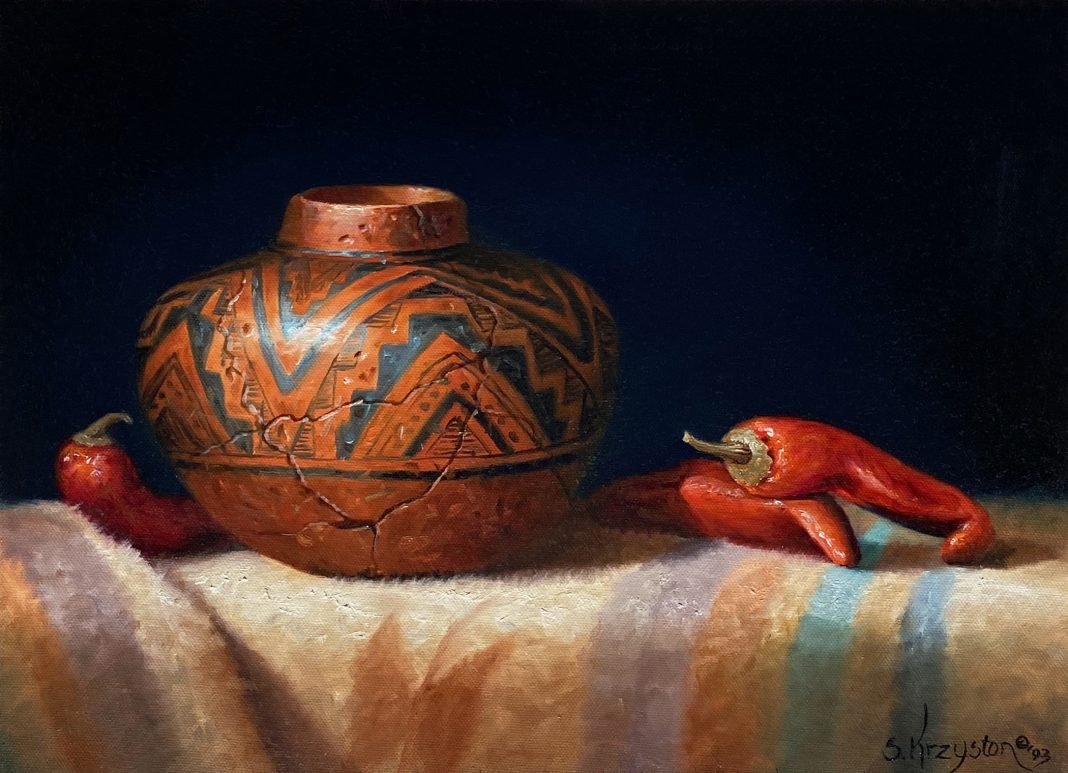 Sue Krzyston biography:
Surrounded in her home by the Native American Indian artifacts that she collects and paints, Sue Krzyston believes that these objects represent the "soul" of the people who create them. "I strive to capture that feeling on canvas by using the nuance and essence of an object and utilize the effects of light and shadow to depict the beautiful and varied textures of each item that I select for my compositions. Light is so important in making the artifacts relate to each other. I try to make the inanimate objects come alive in the glowing warmth of the light.
Since Sue lives in Arizona and often goes to Santa Fe, she is always on the hunt for interesting new pottery, baskets and artifacts that "speak" to her to incorporate in her paintings. "I am always inspired by the artisans whose work I collect and feel that my paintings are an 'art form within art'".
Krzyston's many collectors comment on the three dimensional realism that she achieves in each painting. They say that they feel like they could pick up a piece of the glowing pottery, feel the texture of a rug or pluck a bead off a intricately painted moccasin.
Since she is a self-taught artist, Krzyston has developed her own painting techniques. "I admire the Dutch masters paintings. I use the rich dark backgrounds that they used, to accentuate the light-filled foreground." She uses many thin glazes of paint to achieve the rich glow of an object, and builds paint in many layers in the highly realistic beads that she paints on the moccasins so that they actually appear to be real beads.
Sue is also known for her traditional Still life paintings featuring cobalt vases, lace, copper, porcelain and fruit. She was honored to have been commissioned by a fruit and vegetable importer to do paintings of a variety of their products with an Arizona themed composition for the Washington DC offices of the Arizona Senators and Congressmen. "It was such a thrill to work with the organization and to be flown to Washington to help in presenting the paintings and to see where they would be displayed."
In addition to having her oil paintings in many collections and shows, Sue's work has been juried into the highly regarded, "Cowgirl Up! Art From The Other Half Of The West" Invitational Exhibition & Sale at the Desert Caballeros Western Museum in Wickenburg, Arizona. Krzyston is also an Honorary Artist Member of the prestigious Mountain Oyster Club of Western art collectors in Tucson, Arizona.
Available painting:
Click on image to enlarge.
"Speaks Of The Past"
Sue Krzyston
oil  12″ x  16″
SOLD
Do you have a Sue Krzyston painting you would like to sell? We have clients interested in adding her artwork to their collections. Call us 800-958-5360 or email us sales@artzline.com.
Don't miss the newest gallery arrivals.
Sign up to receive our no more than once a week bulletins.
Be the first to see the latest fine art as soon as it's available to you!
See it First!
Receive notifications from America's online art gallery when the latest works from top artists are available.