Timothy R. Thies biography:
Timothy R. Thies, born in Boone, Iowa, has traveled throughout New England, France, Colorado, and Vermont, and he is drawn to each place by the promise of magic found in the rich subtleties of color and light. "I seek to capture rare moments of beauty- the light and contrast of a landscape, the anatomy of a maple tree, the colors in a still life arrangement, or the patterns of light gently touching my model's face," says Thies.
Thies' painting career began in 1981 when he accepted a scholarship to study with Nelson Shanks at the National Academy of Design in NY. In August 2000, Timothy R. Thies won the Best of Show- Founder's Award, for his painting titled, "Winter Birch," from The Bennington Center for The Art's national juried show "Impressions of New England." In October 1999, Thies won the Grand Prize Award for his oil painting, "Garden On Water Street," from American Artist Magazine's national Floral Competition. Then International Artist Magazine highlighted another oil titled, "Room with A View," in their Master Painters of The World Showcase. The Southern Vermont Arts Center hosted a Solo Show of Thies' new works, February 12-March 8, 2000.
He has studied with Richard Schmid, Clyde Aspevig and Len Chmiel, and his paintings have also been featured in Art Talk, Cape Cod Life, The Artist's Magazine, Southwest Art, and Wild Life Art Magazine. In 2001, International Artist Magazine highlighted his oils in a feature length article.
Thies' paintings have been exhibited by The Attleboro Museum, in MA, The Harvard Club of Boston, The Copley Society of Boston, The Colorado Governor's Invitation Show, The Southern Vermont Arts Center, and The Bennington Center For the Arts t and The Boston International Fine Art Show.
His works are in the collections of The Cape Museum of Fine Art, Chrysler Corp., W.L. Gore and Assoc., The BioElectric Company, and The Hollister Corporation among others.
Available painting:
Click on images to enlarge.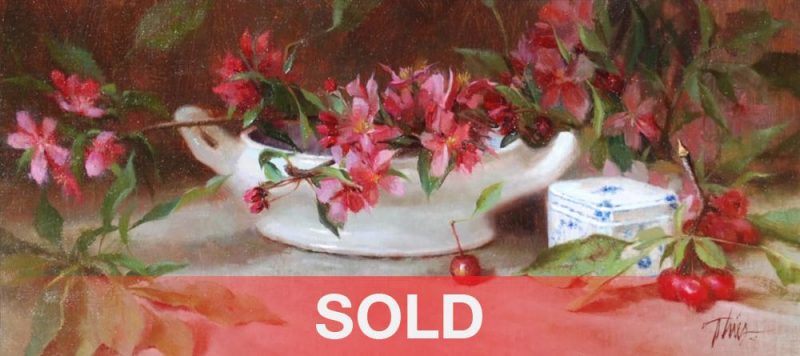 "Apple Blossoms"
Timothy R. Thies
Oil   8″ x 18″
SOLD
See additional information about

"Apple Blossoms"

.
Interested in this painting, call us 800-958-5360 or email us sales@artzline.com.
Biography courtesy of AskART.com.
Don't miss the newest gallery arrivals.
Sign up to receive our no more than once a week bulletins.
Be the first to see the latest fine art as soon as it's available to you!
See it First!
Receive notifications from America's online art gallery when the latest works from top artists are available.