"Before The Sun Sets", a beautiful impressionistic figurative oil painting by Daniel Gerhartz is the cover image of July/August 2018 issue of Art Of The West magazine. The model for Dan's painting is his daughter, Sophia. Mr. Gerhartz's in-depth feature article, "The Secret Sauce", includes many large images of his signature artwork. Also included in this publication are views of the artistic lives of Jim Wilcox, Shawn Cameron, Jie Wei Zhou and Tom Lockhart. Vicki Stavig's "Three Dimensional Delights" shares insights into the sculptural talents of Jane DeDecker, Heather Kaiser, Curt Mattson, Jerry McKellar and Dustin Payne. Once again, we feel it is important to read Bill Frazier's "Law And The Art World" column. You will find his article at the back of the publication. For more information, or to subscribe, visit Art Of The West website.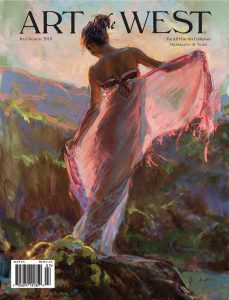 Bill Anton

featured on May/June 2018 issue.
Kyle Polzin

featured on March/April 2018 issue.
Don't miss the latest news from the art world!
Get the ArtzLine Newsletter
Includes the latest museum exhibitions, gallery shows, art lectures, special events and more!
See it First!
Receive notifications from America's online art gallery when the latest works from top artists are available.