Tucker Smith biography:
Wildlife and landscape artist, Tucker Smith was born in St. Paul, Minnesota in 1940. "I am not personally interested," he points out, "in telling a story or illustrating history. I would rather convey mood while portraying reality. I want to paint the actual rather than the ideal and I try to avoid sentimentality and nostalgia. I believe in subtlety."
"When I was 12, my family moved from our Minnesota farm to the mountains of Wyoming. While I always had an interest in art, I graduated from the University of Wyoming in 1963 with a degree in math and spent eight years as a computer programmer and systems analyst. If anyone had told me then that I would soon be doing this, I would have laughed. My art education was in abstract art, but I was basically always a realistic artist. After my schooling, I got back to realism.
"I choose subjects that are timeless, the things I see today—landscape, wildlife, rocks. I do outdoor sketches, but I am a studio painter. If I had lived in the East, my paintings would be different. I live in the West, so my painting reflect the West—but I hate to be categorized. People in the West like realistic art because they think of Westerners as realistic people. They are straightforward, honest, and unpretentious, so the art has to reflect these things. In the East, the audience goes with the critic, but I don't think Westerners give a darn about critics. They go with what they like." A founding member of the Northwest Rendezvous Group, Smith was featured in Art West, January 1980, and Rocky Mountain Magazine, December 1981.
Resource: Contemporary Western Artists, by Peggy and Harold Samuels 1982, Judd's Inc., Washington, D.C.
Available painting: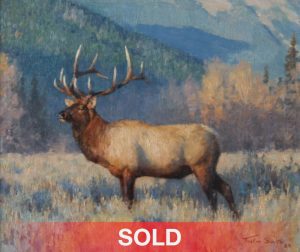 "Distant Bugle"
Tucker Smith
Oil   10″ x 12″
SOLD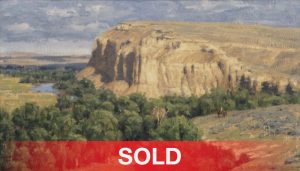 "Bluffs Along The North Platte – Saratoga, Wyoming"
Tucker Smith
Oil   7″ x 12″
SOLD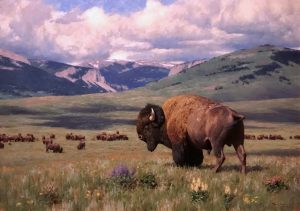 Do you have a Tucker Smith painting you would like to sell? We have clients interested in adding his artwork to their collections. Call us 800-958-5360 or email us sales@artzline.com.
Don't miss the newest gallery arrivals.
Sign up to receive our no more than once a week bulletins.
Be the first to see the latest fine art as soon as it's available to you!
See it First!
Receive notifications from America's online art gallery when the latest works from top artists are available.