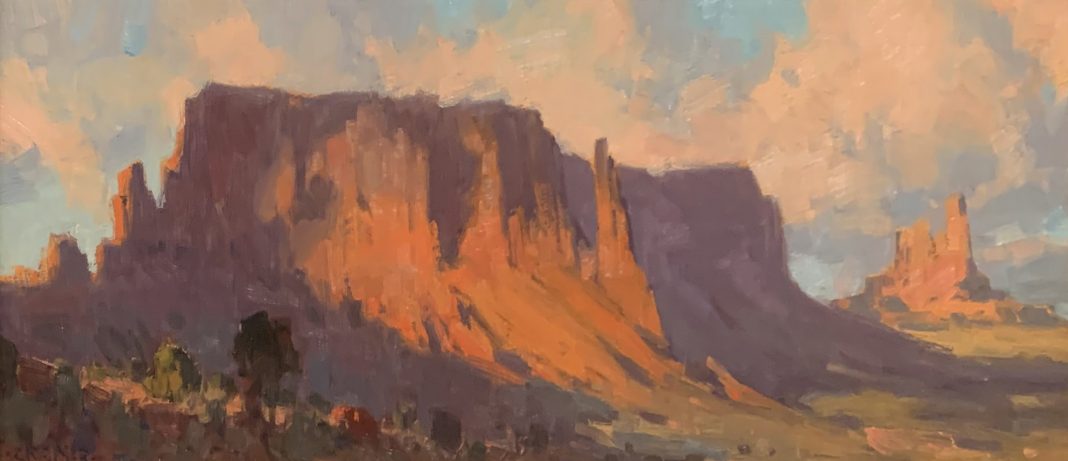 Bill Cramer biography:
Growing up in southern California, Bill always had an interest in exploring nature and creating art.  As an experienced rock climber, he spent much of his youth and continues to enjoy the more vertical places of the American west.  This gives him a perspective of the world that few others would ever experience.  He received a fine arts degree from California State University Long Beach and later moved to Prescott, Arizona with his wife Michelle to be closer to the scenery they both enjoyed.  It was there that Bill discovered the joys and challenges of landscape painting, his outdoor experiences providing much of the insight and inspiration expressed in his art.  He believes that painting on location and in the studio are complimentary pursuits, each enriching the other. The opportunity to experience and paint some of the most scenic places in America has contributed greatly to his artistic growth. Today with his wife and two daughters, Sarah and Megan, Bill divides his time between family, art and outdoor pursuits.
Available paintings:
Click on images to enlarge.

"Shadows On Sentinel Mesa"
Bill Cramer
Oil   7″ x 17″    
SOLD
Don't miss the newest gallery arrivals.
Sign up to receive our no more than once a week bulletins.
Be the first to see the latest fine art as soon as it's available to you!
See it First!
Receive notifications from America's online art gallery when the latest works from top artists are available.