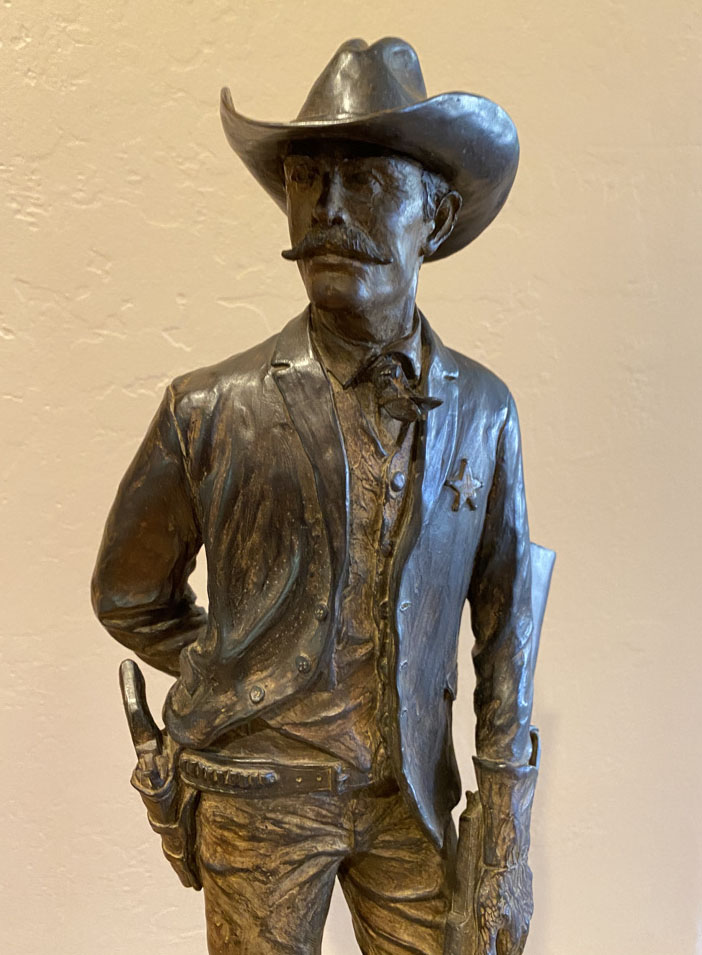 Bill Nebeker biography:
Looking at a Bill Nebeker sculpture gives one an honest and authentic portrayal of the historic American West or contemporary ranch life. Quiet tributes, subtle humor and wry observations underlie Nebeker's work. His knack for weaving an unobtrusive storyline into a sculpture challenges the unsuspecting viewer, "Oh! Now I get it!" That moment of discovery is at the heart of experiencing and appreciating Bill's bronzes.
Inspired to begin sculpting in 1964 when he went to an art show by George Phippen, the first President of the Cowboy Artists of America, Bill became a member of the Cowboy Artists of America in 1978. Since then Bill has won Gold and Silver in sculpture, Best of Show and the Phoenix Art Museum Purchase Award, as well as being twice elected President by his fellow artists. His talent has been recognized by several cities in Arizona by awarding him several important, larger than life-sized statue commissions, to depict their historic or current honorable citizens.
Prescott has his four-figure monument Early Prescott Settlers; Glendale has his Territorial Sheriff, and Phoenix has Memorial to Fallen Officers at the Arizona Department of Public Safety Headquarters. In June of 2006 the Pikes Peak or Bust Rodeo in Colorado Spring, Colorado unveiled a portrait statue of Robert C. Norris in front of the new Norris/Penrose Events Center. In 2009 Nebeker was honored by the Arizona Historical Society and Marshall Trimble, Arizona's State Historian, with the Arizona Culturekeeper Award, for his outstanding contributions to the history, art, civic leadership, and entrepreneurial spirit, because of his bronze sculptures enriching several Arizona cities.
Raised in Prescott, Arizona since early boyhood, he has his heart with ranchers and outdoorsmen of all cultures past and present. His childhood hobby of whittling horses, dogs, other animals and toys developed without formal instruction into the God given talent he shares today with admirers all over the world.
His sculptures are included in the Cowboy Artists of America Sale at the National Cowboy and Western Heritage Museum in Oklahoma City, OK;  Prix de West in Oklahoma City; Autry Museum's Masters of the American West in Los Angeles, CA; Quest for the West Art Show at the Eiteljorg Museum in Indianapolis, IN; Phippen Museum Western Art Show in Prescott, AZ; and the Cheyenne Frontier Days Western Art Show at the Old West Museum.
In the 40 years of his career, Bill has had stories about his life and work featured in Arizona Highways, Art of the West, Southwest Art, Cowboys and Indians, Western Art Collector, Western Horseman, Horse and Rider, Phoenix Home and Garden and Persimmon Hill.
His work is in the collections of the Eiteljorg Museum, National Cowboy and Western Heritage Museum, Old West Museum in Cheyenne, Booth Western Art Museum, Museum of Western Art in Kerrville, Phoenix Art Museum, Phippen Museum in Prescott, Palm Spring Desert Museum and Desert Caballeros Museum in Wickenburg as well as many corporate and personal collections around America.
Sculpture:
Click on images to enlarge.
"Must Be Monday"
Bill Nebeker
Bronze #4/30
14″ H
$3,500
See additional information about

"Must Be Monday"

.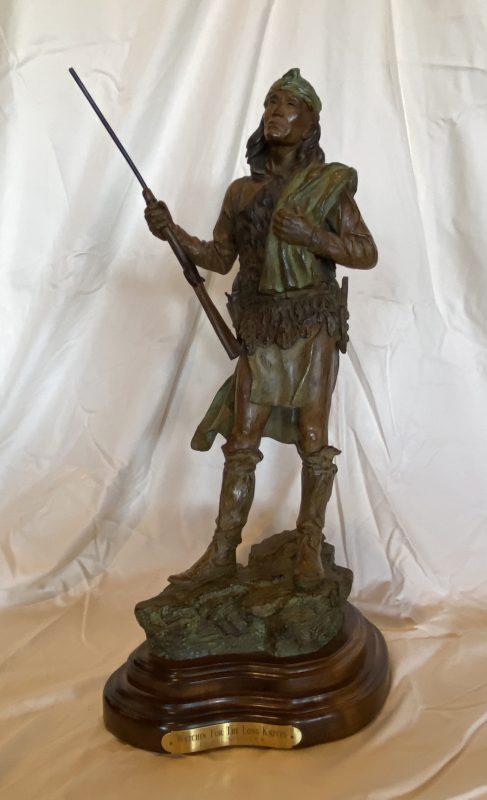 "Watchin' For The Long Knives"
Bill Nebeker
Bronze #19/25
22″ H x 13″ W x 8″ D
$5,500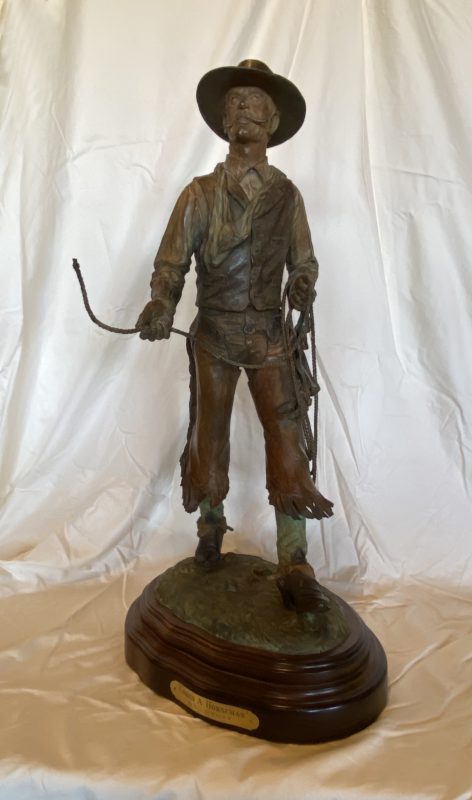 "Comes A Horseman"
Bill Nebeker
Bronze #1/30
28 1/4″ H x 14 1/2″ W x 13 1/2″ D
$6,500
"Invoking The Buffalo Spirit"
Bill Nebeker
Bronze #11/30
13 1/2″ H x 14″ W x 13″ D
$5,200
"The Ranger"
Bill Nebeker
Bronze #20/25
22″ H x 10″ W x 8″ D
SOLD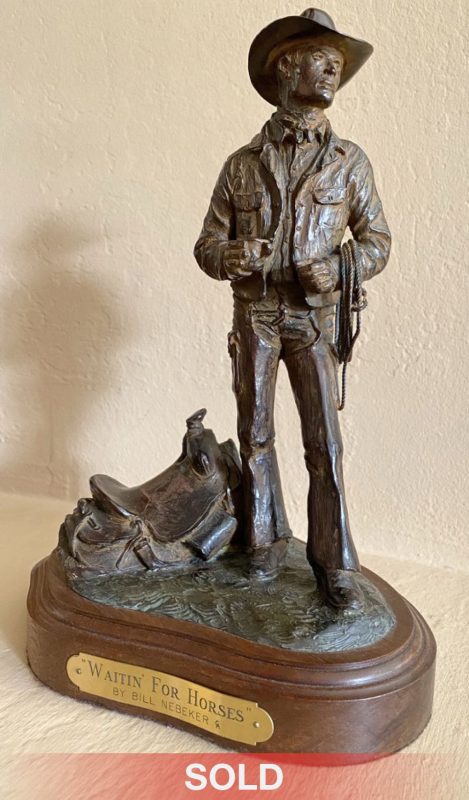 "Waitin' For Horses"
Bill Nebeker
Bronze #6/30
10 3/4″ H x 8 1/2″ W x 5 1/2″ D
SOLD
Do you have a Bill Nebeker sculpture you would like to sell? We have clients interested in adding his artwork to their collections. Call us 800-958-5360 or email us sales@artzline.com
Biography courtesy of AskART.com
Don't miss the newest gallery arrivals.
Sign up to receive our no more than once a week bulletins.
Be the first to see the latest fine art as soon as it's available to you!
See it First!
Receive notifications from America's online art gallery when the latest works from top artists are available.