Bob Boomer biography:
Coming from a long line of woodworkers and fine cabinetmakers, Bob Boomer's own love of working in wood sprouted at a young age. He recalls carving figures in this medium as early as age twelve. Boomer went on to earn a Bachelor of Arts Degree in Industrial Technology, with a focus on wood, from Fresno State University. He began a career in teaching, but eventually left his tenure to pursue a career as a professional Sculptor. Something Bob has been doing now for nearly 40 years.
Bob, and his Wife of fifty years Carol, have made their home in California's Sierra Nevada Mountains, just south of Yosemite National Park. It's here that he finds the exotic Manzanita and weathered Cedar that he predominately works in. Bob's love of history, and respect for the Native American People are present in his portrayals. "I sculpt with the natural wood formations, rather than against them. This balance with nature is evident in the subject matter I create. The proud and noble Native American People stand in harmony with the natural elements that surround them."
Sculpture:
Click on images to enlarge.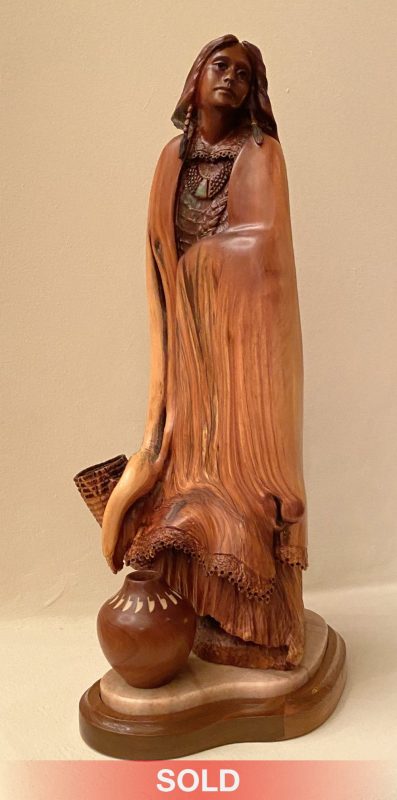 "Maiden With Vessels"
Bob Boomer
Manzanita woodcarving
17″ H x 7″ W x 7 D
SOLD

"Preparing For The Storm"
Bob Boomer
bronze #12/50
17″ H x 17″ W x 8″ D
SOLD

Untitled
Bob Boomer
bronze #11/25
20″ H x 9″ W x 10″ D
SOLD
Do you have Bob Boomer bronzes you need help selling? CONTACT US.
Don't miss the newest gallery arrivals.
Sign up to receive our no more than once a week bulletins.
Be the first to see the latest fine art as soon as it's available to you!
See it First!
Receive notifications from America's online art gallery when the latest works from top artists are available.