Gayle Nason biography:
Since moving to Arizona from rural Iowa in 1968, Gayle Nason's love for the Southwest and her fascination with the historical legacy of its native people has added a new dimension to her still life paintings. Deeply moved by the spiritual heritage of the American Indian and led by her diligence for perfection, Gayle's realistic paintings feature the age-old beauty of beaded moccasins, Indian pottery and other Native American artifacts. Painting from life, Gayle sets up her still lifes on tables next to her easel. What she enjoys most is painting the artifacts that are part of her extensive collection.
The artifacts date from the late 1850's to the early 1900's and have been procured through an anthropologist who searches throughout the U.S. for authentic pieces. Essentially self-taught;
Gayle works in oil using multiple applications of glazes, as did the old masters. Depending upon the size and complexity a painting, it can take from three to six weeks or longer to complete. Each bead is finished separately with six to ten glazes of paint. This glazing technique creates the luminescent quality that makes the beads in Gayle's paintings look so realistic.
Available paintings:
Click on images to enlarge.
"Kindred Spirit"
Gayle Nason
Oil   16″ x 26″
Was: $5,500
NOW: $4,500
See additional information about "Kindred Spirit".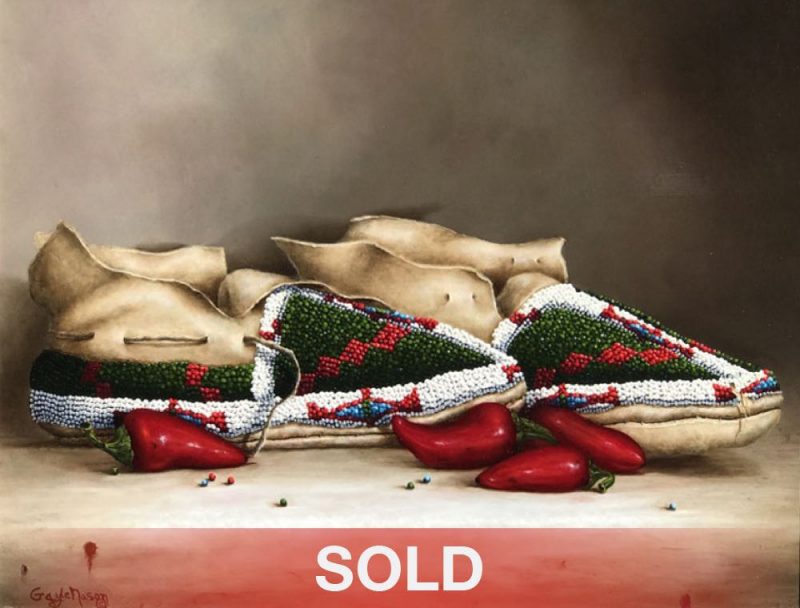 "Arapaho Designs"
Gayle Nason
Oil   11″ x 14″
Was: $2,700
SOLD
Interested in these paintings, call us 800-958-5360 or email us sales@artzline.com.
Don't miss the newest gallery arrivals.
Sign up to receive our no more than once a week bulletins.
Be the first to see the latest fine art as soon as it's available to you!
See it First!
Receive notifications from America's online art gallery when the latest works from top artists are available.