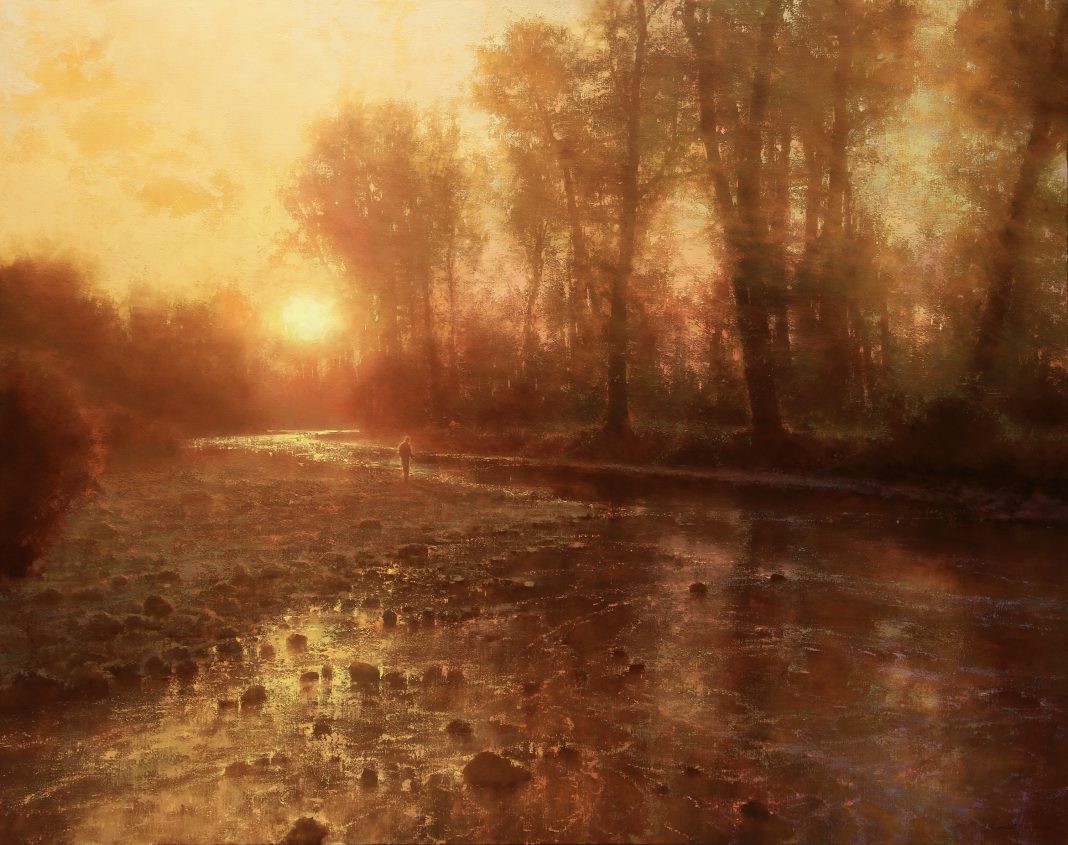 Brent Cotton biography:
After several years of carving and sculpting, Brent Cotton decided to concentrate on painting. He began attending workshops, and over the years has studied with some of the best known names in wildlife and western art. He was part of a select group of artists to study with world renowned western artist Howard Terpning at the Cowboy Artists of American workshop in 1997. He gives Oklahoma artist Christine Verner the most credit for putting him on the path he's on now. She expanded his vision and under her direction his work turned from highly detailed to a more painterly and looser approach.
He moved to Maui in 1999 and it was there that his work took on a more moody and atmospheric feel. The foggy days he experienced on the slopes of Haleakala volcano combined with the forest fires in Montana where he continued to spend his summers, had a dramatic impact on the direction he would take as an artist.
Today he prefers to paint in the Tonalist/Luminist style made popular in the late 1800's, seeking to create works that are mood-evoking and have a timeless quality. He also enjoys 'Plein Air' painting and strives to work outdoors as often as he can. "I became a better artist when I began painting from life, it forced me to really observe and train my eyes to filter out the unnecessary stuff and focus on the major elements." He loves to strap on his hiking boots, grab his portable easel, and wander off in search of a moody scene to capture on canvas. As an avid outdoorsman Brent can often be found in standing in one of the local rivers with a fly rod in his hand or on the oars of his drift boat. This passion has led Brent to focus on sporting art, particularly fly-fishing as a common theme in his work. His paintings of solitary fishermen in his signature moody style has garnered him many fans in the art and sporting world.
Brent's work has garnered several national awards including the prestigious "Arts for the Parks top 100" in both 1997 and in 2003, where his painting "Evensong" won both the "People's Choice" and "Region 3" awards. Brent was also the very first recipient of the "CM Russell Museum CEO Award" at the annual CM Russell Art Auction in Montana. He was recently invited to participate in the prestigious "Prix de West" Invitational show in Oklahoma City, a lifelong goal for him. He is represented by several galleries throughout the country, with work in many private and corporate collections abroad. Some of his notable collectors include; Oprah Winfrey, Tom Brokaw, and Brent Musberger. His work has been the subject of several feature articles in major art and western lifestyle magazines.
Paintings:
Click on images to enlarge.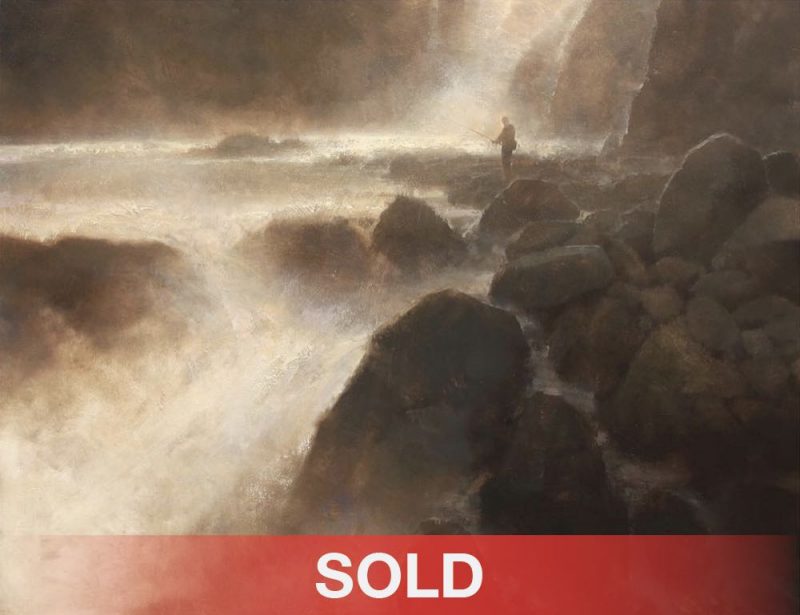 "In The Mist Of The Falls"
Brent Cotton
Oil  32″ x 40″
SOLD
"Solitude Of The River"
Brent Cotton
Oil  48″ x 60″
SOLD
Do you have a Brent Cotton painting you would like to sell? We have clients interested in adding his artwork to their collections. Call us 800-958-5360 or email us sales@artzline.com.
Don't miss the newest gallery arrivals.
Sign up to receive our no more than once a week bulletins.
Be the first to see the latest fine art as soon as it's available to you!
See it First!
Receive notifications from America's online art gallery when the latest works from top artists are available.