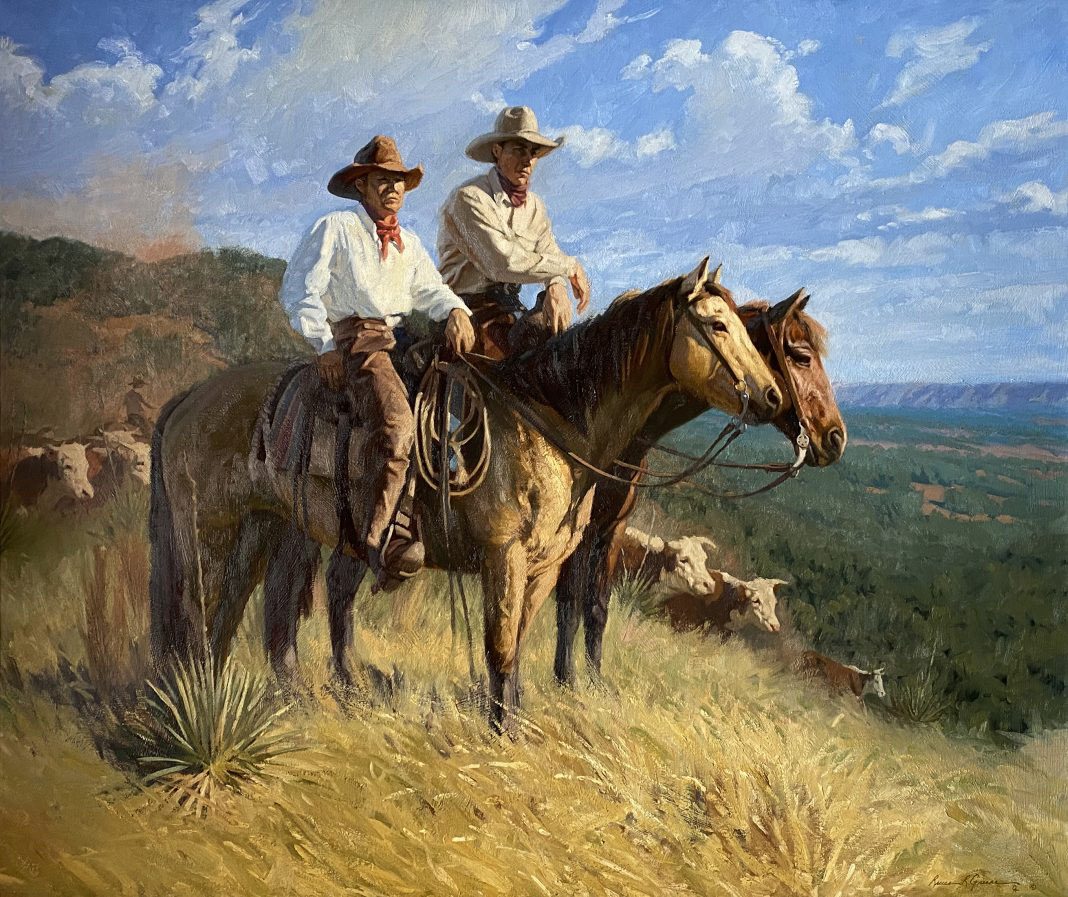 Bruce Greene biography:
Bruce R. Greene and his family live on a small ranch in the historical community of Norse, outside Clifton, Texas. The studio is on the edge of the hill out behind the house. From there, large north windows offer Bruce a continuous view of the Texas Hill Country, a few Hereford cows and the occasional whitetail deer, "It is a wonderful blessing to be able to make a living for my family, doing what I love in this beautiful place."
Bruce Greene is a recognized Cowboy Artists from central Texas. His sculpting talent has recently been displayed at Heritage Plaza in Clifton, Texas, where his life-size statue, "On the Banks of the Bosque," is the main attraction. Greene was enrolled in art classes at the age of eight and continues his studies even today.
After obtaining a Fine Arts degree at the University of Texas, Greene studied with many well-known artists, and was later elected to the Cowboy Artists of America in 1993. One of Greene's passions of his work is the research. He enjoys painting the events and emotions found in the writings and diaries of early Western settlers such as the acceptance, determination, and capability of the woman in "The Widow's Iron", the courage of Susanna Dickenson as she leaves the Alamo, and the day to day chores as seen in "Goats in the Garden.
"Several years ago, Bruce began annual trips north to join in the spring work on the old JA Ranch in the Palo Duro Canyon of Texas. "I go up there and stay on the chuck wagon with the JA hands and the neighbors that have come to help. We ride a lot of miles in rough country. It can be cold, hot, windy and wet. As a matter of fact, it can be all of these in one day. A fella' could get lost in some of the mesquite or cedar thickets. Of course, we work a few cows on our place and help out a neighbor now and then, but the JA trip has been a real inspiration for me each year. I am absolutely sure that this experience has greatly affected my artwork. It seems necessary, to me, in order to depict the contemporary cowboy with accuracy and feeling. My good friend, Red Steagall, calls it 'getting the dust in your nose.' For me, that dust makes the difference."
Painting:
Click on images to enlarge.

 "Caprock Cowboys"
Bruce Greene
oil   40″ x 48″
SOLD
Do you have a Bruce Greene painting or sculpture you would like to sell? We have clients interested in adding his artwork to their collections. Call us 800-958-5360 or email us sales@artzline.com.
Don't miss the newest gallery arrivals.
Sign up to receive our no more than once a week bulletins.
Be the first to see the latest fine art as soon as it's available to you!
See it First!
Receive notifications from America's online art gallery when the latest works from top artists are available.