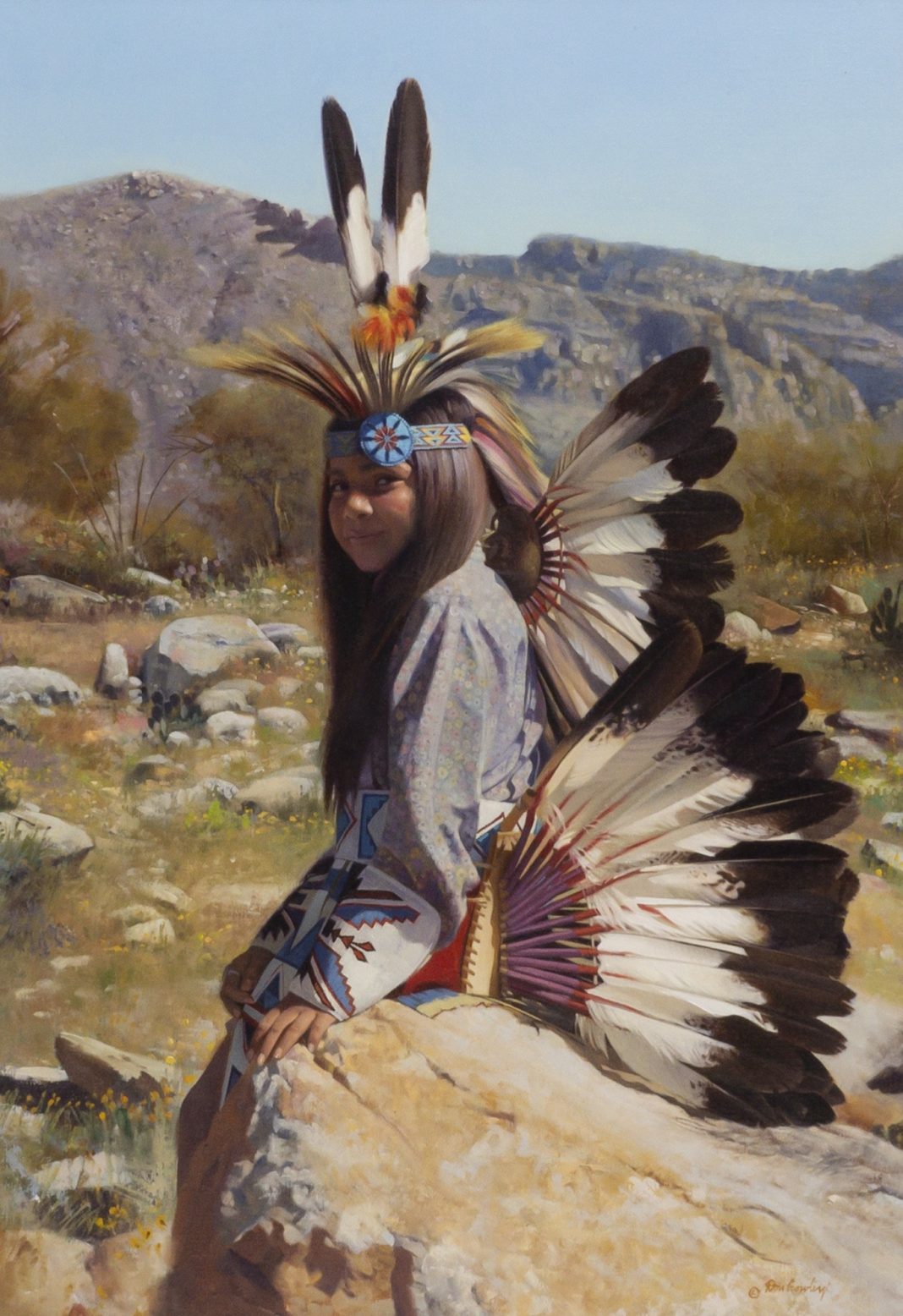 Donald Crowley biography:
Known for his realistic depiction of Indian figures, Donald Crowley was born in Redlands and raised in Santa Ana, California from the time he was ten years old.  He showed art talent from childhood.  Of his personal feelings about art expression, he said: "Art is like sex.  It's something that you do; not something that you talk about."
As a young man, he was a close friend and painting companion with Mervin Corning, who became an accomplished watercolorist.  Crowley was heavily influenced towards subjects and technique by Frederic Remington's book, Done in the Open, and also by a book of English painters, titled World Famous Paintings, edited by Rockwell Kent.
He spent four years in the U.S. Navy and Merchant Marines, and then used the G.I. Bill to finance his way through the Art Center College of Design in Los Angeles. Of this educational opportunity, he said that the GI Bill "was the greatest thing the government ever did."  He married Betty Jayne, a fellow art student, and the couple headed East where he spent twenty-one years in New York as a commercial illustrator with the Charles E. Cooper Studio.   He was prolific, and his illustrations from that era appeared in many publications including Reader's Digest, Dorothy Sayers' mysteries, and children's books.  Looking back, he described that period of his life as being among "unbearably pretentious" people, and living a life of "tinsel".
He said that in those days opportunities for gallery representation for artists was minimal, but having observed his friend James Bama have a successful one-man show in Wyoming, and tired of commercial art, he and his family moved West in the late 1960s.  In 1974, they moved to Tucson where Sam Wisnom, former schoolmate, had arranged for Crowley to show his work.
Crowley found Arizona a happy contrast to his east-coast existence.  Spending time on reservations with members of the Paiute and Apache tribes, he began his ongoing focus of painting Indian figures and portraits.  Moving from commercial to fine art had a loosening effect on his style, and his work got more colorful.  He met the Martineaus, a Paiute family on the San Carlos Reservation, and for years has used them regularly as models. He is fascinated by the inner dignity the Indians have when they are dressed in their finery.  As a special thank you to these new friends, he gave the San Carlos Apaches the proceeds of 40 artist proofs of his 1981 Greenwich Workshop lithographs.
In 1994, Don Crowley was elected to membership in the Cowboy Artists of America, and he won numerous awards exhibiting with that organization including Artist's Choice, 1999; and Oil Painting, 1996, 1999 and 2006.  In 1998, he was named Artist of the Year by the Friends of Western Art, an affiliate group of the Phoenix Art Museum.
Paintings:
Click on image to enlarge.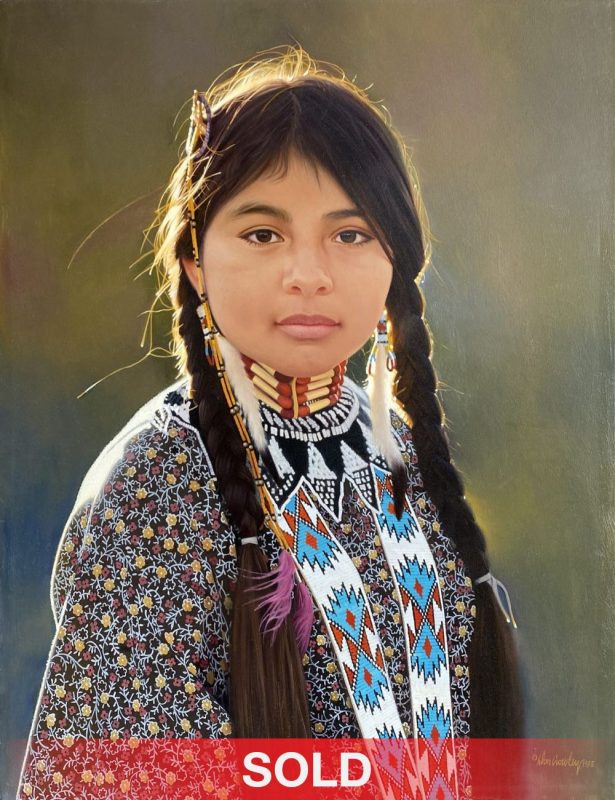 "Evening Light"
Donald Crowley
Oil on panel – 20″ x 16″
SOLD

"The Eaglet"
Donald Crowley
Oil on canvas – 26″ x 18″
SOLD
"Paiute Girl With Flowers"
Donald Crowley
Oil on panel – 12″ x 9″
SOLD
Do you have a Donald Crowley painting you would like to sell? We have clients interested in adding his artwork to their collections. Call us 800-958-5360 or email us sales@artzline.com.
Biography courtesy of AskART.com
Don't miss the newest gallery arrivals.
Sign up to receive our no more than once a week bulletins.
Be the first to see the latest fine art as soon as it's available to you!
See it First!
Receive notifications from America's online art gallery when the latest works from top artists are available.