Gary Ernest Smith biography:
Lauded by critics and collectors alike, the art of Gary Ernest Smith resonates in the mind and memory of contemporary America. Over the past years the artist's one-man shows have attracted the attention of collectors from coast to coast. His three year exhibit, "Journey in Search of Lost Images'" hung in 22 museums and institutes across the United States. In an exhibit curated by the Brooklyn Museum of Art, his work toured the New Orleans Contemporary Art Center, San Jose Museum of Art, the Palm Springs Desert Museum and many more prestigious art institutions, Although he must strictly limit the number of commissions he accepts, his mural size paintings are highly prized by corporate collectors.
Gary Ernest Smith was born and raised in a relatively isolated farm community 25 miles northeast of Baker City, Oregon. His interests and intensity for painting began at an early age and progressed through college degrees, numerous commissions and awards to a full time pursuit of painting.
The commission work that dominated the early years eventually stifled his creativity. Dissatisfaction with this career direction forced him to reach inward and search beyond popular style and accepted artistic norms to a personal vision.
Following years of artistic training and experimentation, subject matter began to emerge based on the artist's background of a rural life-style that celebrates the values of hard work and self-reliance. These aspects of Smith's life came together and became the catalyst for his distinctive style. Living in the west, his work is primarily of that region, but it is not western in the traditional sense.
Although it defies precise classification, the artist considers his style "minimal" and seeks to express the essence and simplicity of each subject. Whatever the focus might be, his work expresses the artistic elements of bold form and color. These two components become the vehicle that melds the style and subject into a symbolic visual language, expanding the artistic appeal beyond the west to captivate the attention of a sophisticated urban audience.
Available painting:
Click on image to enlarge.
"Hitching A Ride"
Gary Ernst Smith
oil  11″ x 14″
$3,300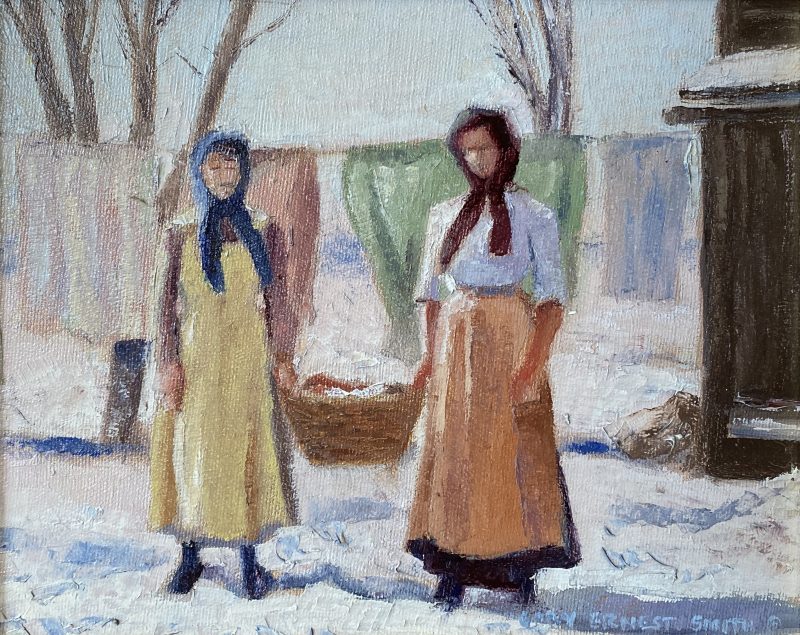 "Winter Washing"
Gary Ernst Smith
oil  8″ x  10″
$1,875
See additional information about

"Winter Washing"

.
"Alpine Mountain"
Gary Ernst Smith
oil  12″ x  16″
$4,500
Interested in this painting, call us 800-958-5360 or email us sales@artzline.com.

Do you have a Gary Ernest Smith painting you would like to sell? We have clients interested in adding his artwork to their collections. Call us 800-958-5360 or email us sales@artzline.com.
Don't miss the newest gallery arrivals.
Sign up to receive our no more than once a week bulletins.
Be the first to see the latest fine art as soon as it's available to you!
See it First!
Receive notifications from America's online art gallery when the latest works from top artists are available.