Jean Chambers biography:
Jean Chambers grew up on a farm in Alabama and showed a strong interest in drawing and painting as a child, but she took a circuitous route, via the architectural field, to find her career in fine art.  On business trips, she began visiting museums and art galleries, which was the roadmap toward her artistic journey.  She developed an interest in visually dissecting a painting, studying the integral parts that make up the whole, and gaining a sound understanding of the techniques used to build the work.
She is an avid student of her craft and enjoys finding differences and similarities in various works of art.  She says, "I love the work of Rembrandt, Sargent and Richard Schmid and even though each has his own style, I find strong similarities in their handling of light, color, values and edges."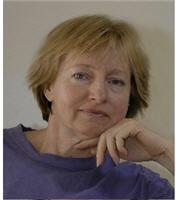 Chambers' quest for artistic excellence took her to Europe to study the works of the Old Masters.  In England, she quickly mastered the train and subway systems and explored the countryside, visiting old churches. "The first church I painted was St John Baptist Church in Chelveston, home to a plaque dedicated to the 8th US Air Force who helped with its' rebuilding during World War II.  The connection with our servicemen, plus the beauty of the church and cemetery led me to paint it", she says.
She visited the Wallace Collection, the Victoria & Albert Museum, and spent time at the American School of Design studying design and color theory.  Among her favorite sites in Paris were the Louvre, Orsay Museum, Picasso Museum, Versaille, and the Hill at Montmartre.  She says, "This hill is the highest point in Paris, where artists still paint today, and my thoughts kept returning to the many artists who lived a bohemian life there in the early 20th century; Monet, Picasso, Renoir, Van Gogh and others".
Throughout her continuing studies she remains faithful to her own art and has developed a style that is uniquely her own.  She combines a high-key palette, technical experience, paint manipulation and meticulous attention to accuracy with the goal of creating an inner luminosity and surface tension on her canvas that is the trademark of a Chambers' painting.
Special recognition includes Signature Membership in Oil Painters of America. Chambers moved from her home/studio on a farm in northern Alabama, ending an 8-year period of self-training, to a ranch in Arizona where she has become actively involved in instructing aspiring artists.
Available paintings:
Click on images to enlarge.
"Freddie Fast & Loose"
Jean Chambers
Acrylic 12″ x 9″
(available unframed)
$900
"Fancyman Longhorn"
Jean Chambers
Acrylic 11″ x 14″
(available unframed)
$1,100
"Plum & Roses"
Jean Chambers
Acrylic 8″ x 10 1/2″
(available unframed)
$1,100
See additional information about

"Plum & Roses"

.
"Clock With Lemons"
Jean Chambers
Oil  11 3/4″ x 11 3/4″
$1,200   (available unframed)
"Tea Time"
Jean Chambers
Oil   10″ x 12″
$1,100   (available unframed)
See additional information about

"Tea Time"

.
"Kettle With Oranges"
Jean Chambers
Oil   7 1/4″ x 13″
$1,100    (available unframed)
Interested in any of these paintings, call us 800-958-5360 or email us sales@artzline.com.
Sold paintings: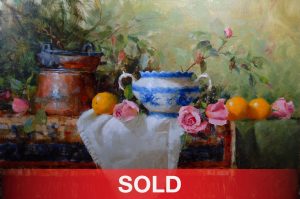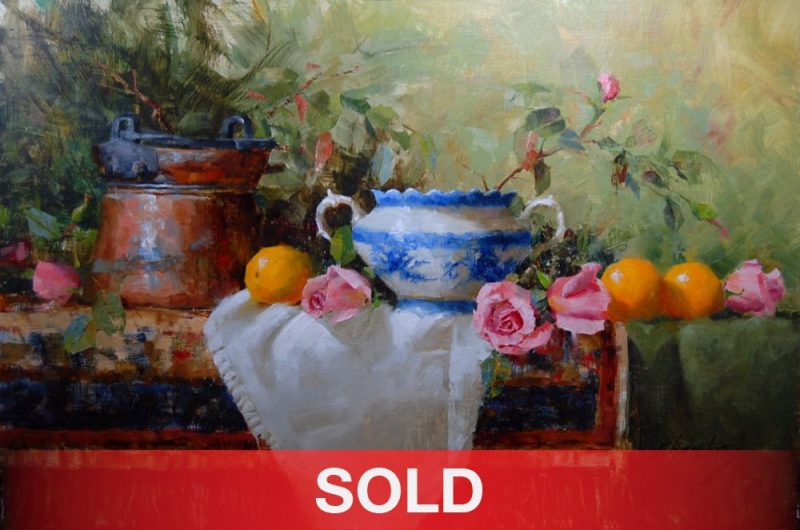 "Yogurt Pot And Roses"
Jean Chambers
Oil   16″ x 24″
SOLD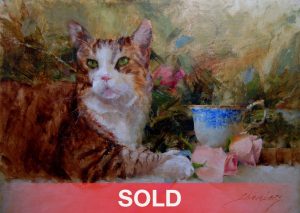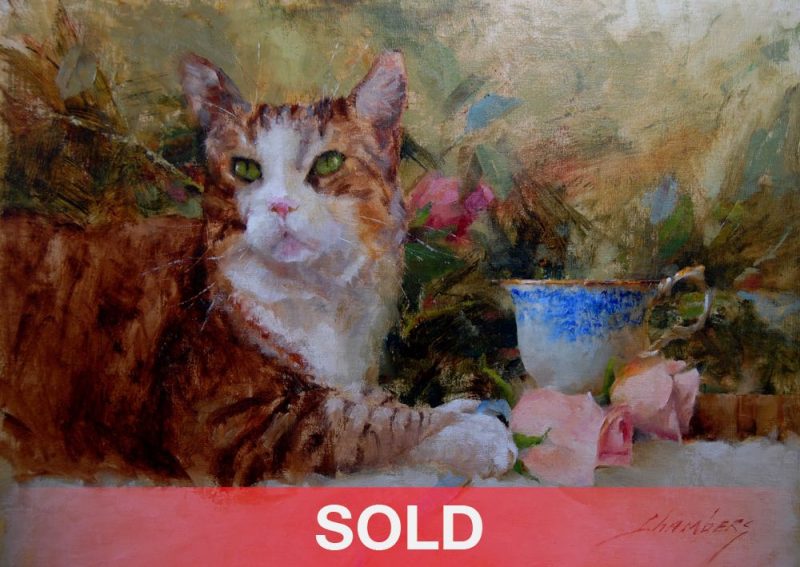 "Posing With Still Life"
Jean Chambers
Oil   12″ x 16″
SOLD
Don't miss the newest gallery arrivals.
Sign up to receive our no more than once a week bulletins.
Be the first to see the latest fine art as soon as it's available to you!
See it First!
Receive notifications from America's online art gallery when the latest works from top artists are available.