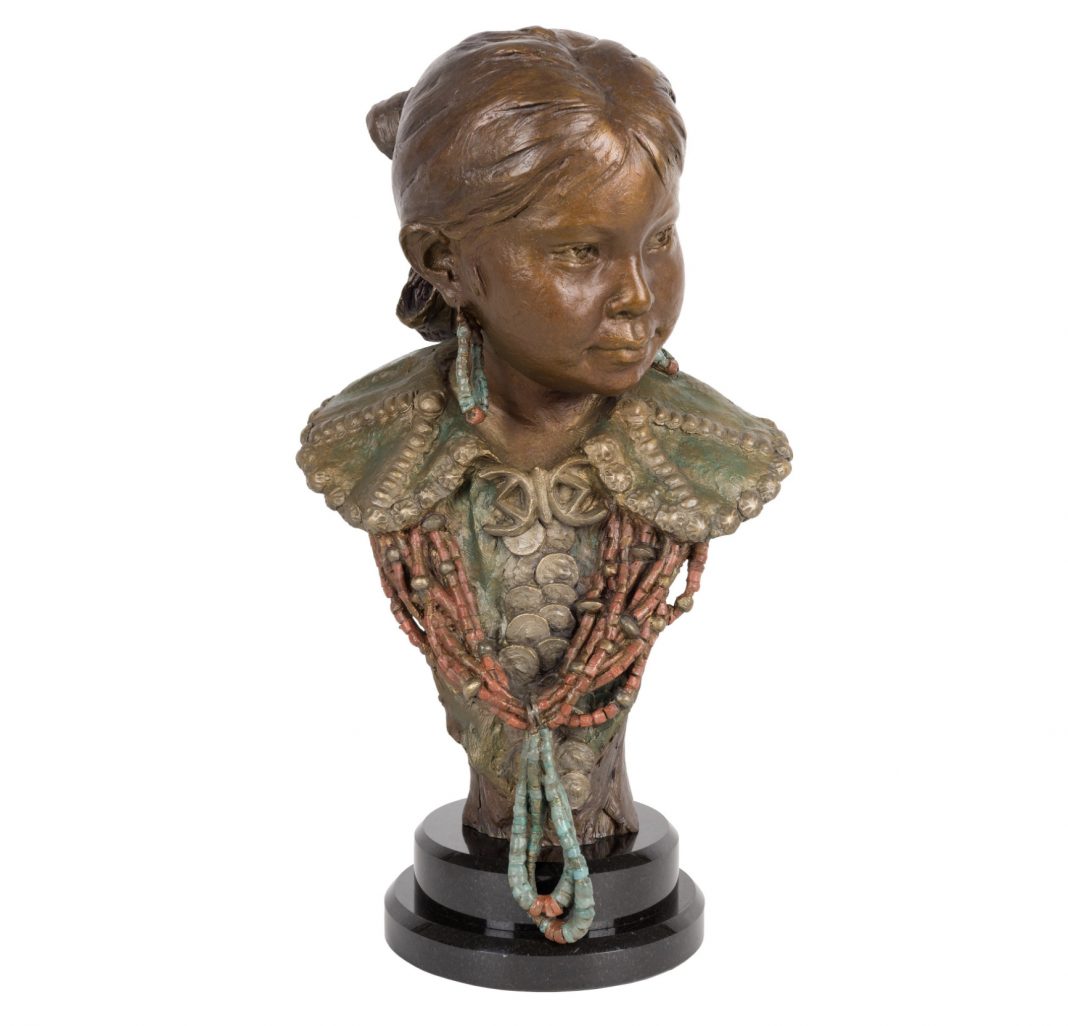 John Coleman biography:
A native Southern Californian, John Coleman has become a well-known Southwest sculptor of Indian figure work.  In October, 2001, he was elected to the Cowboy Artists of America, an organization dedicated to stylistic realism and western themes in the tradition of Charles Russell and Frederick Remington.  In 2009, John Coleman was elected President of the CAA.
In CAA exhibitions, he has won numerous awards including in 2009, the Kieckhefer Award for Best of Show and Artists' Choice.  In 2002, 2004, 2005, and 2007, he received the Sculpture Award, and in 2006, the Ray Swanson Memorial Award.  He has been part of the Cowboy Artists of America mentoring program for aspiring western artists established by the Joe Beeler CA Foundation.  This project includes a workshop teaching program at the Scottsdale Artists School.
John Coleman's entries in the 2009 Cowboy Artists of America exhibition at the Phoenix Art Museum included a bronze depiction of a Mandan Indian figure involved in The Game of Arrows.  It was based on a theme that painter George Catlin had explored in the early 1830s, and referred to archery competitions among distinguished Mandan archers.
Coleman grew up "against the background of the surfing culture" but was much more interested in art and history, and had a special fascination for western movies.  He began making money at age fifteen by doing illustration and construction, and at age twenty, moved to Prescott, Arizona where he found source material for his fascination with the cowboy mentality of early Arizona and with Indian culture.
In Coleman's later twentieth-century pieces, he has done many nude classical figures combined with Indian mythology themes.  His working method is to envision the completed piece before starting, and generally to focus on one sculpture at a time.  In 1994, he took several pieces of sculpture to the Celebration of the Arts exhibition venue in Scottsdale, where he was successful, and since then, each year he has done over one-hundred pieces, most of them with Indian motifs.
In June, 2009, Coleman, who is a member of the National Sculpture Society, celebrated his fifth year as a participant in the Prix de West exhibition at the National Cowboy and Western Heritage Museum.  He also won the James Earle Fraser Sculpture Award and the Nona Joan Hulsey Buyers' Choice Award.
In April 2010, the Gilcrease Museum is hosting a retrospective exhibition of Coleman's work.
Available sculpture:
Click on images to enlarge.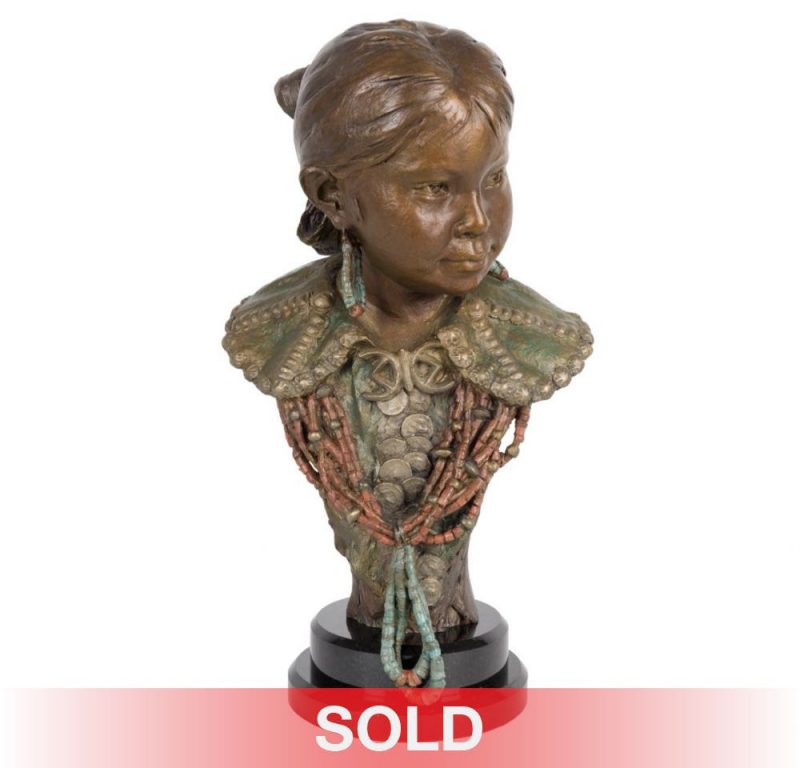 "Silver Buttons"
John Coleman
Bronze – 16″ H x 9″ W x 6″ D
#38/50
SOLD
See additional information about

"Silver Buttons"

.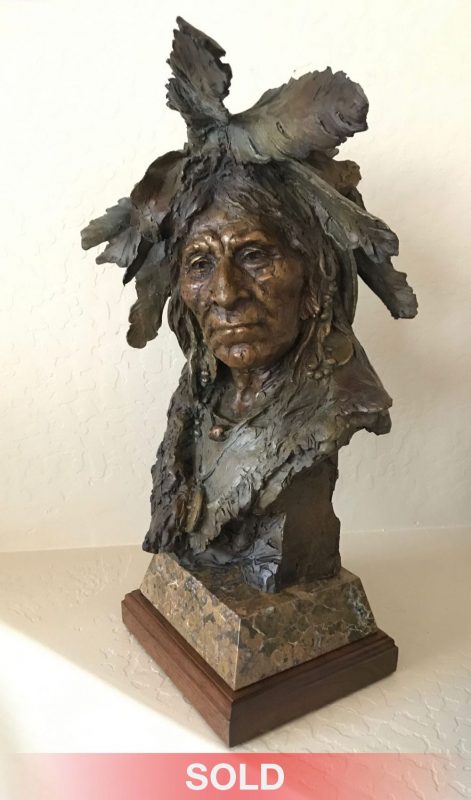 "Big Soldier"
John Coleman
Bronze – 20″ H x 13″ W x 11″ D
#18/35
SOLD

"Into The Unknown"
John Coleman
Bronze – 16″ H x 11″ W x 8″ D
#7/35
SOLD

"Little Hopi Clowns"
John Coleman
Bronze – 21 1/2″ H x 9″ x 8″
#20/35
SOLD

"Distant Thunder"
John Coleman
Bronze – 14″ H x 7″ W x 5″ D
#2/75
SOLD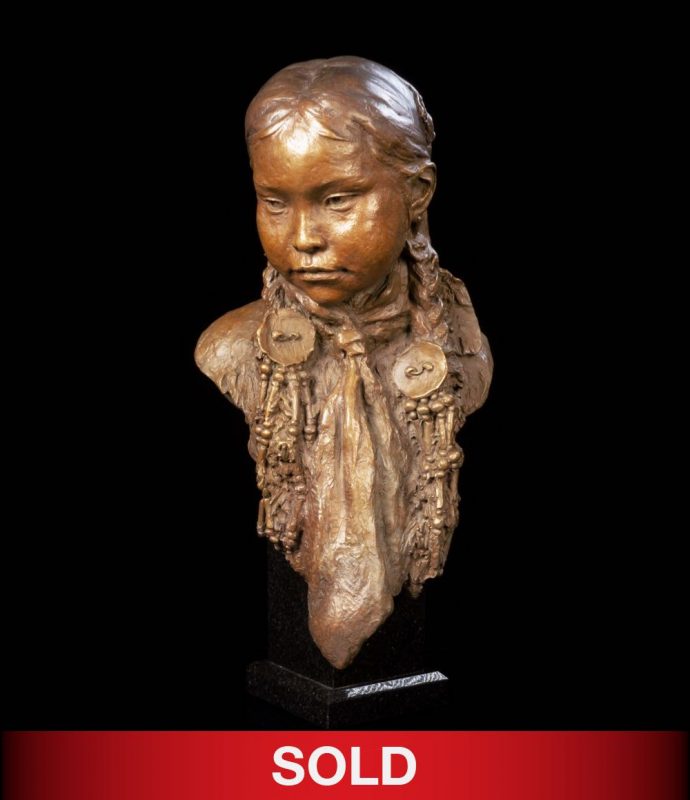 "Summer Blossom Joe"
John Coleman
Bronze – 14″ H x 6″ W x 5″ D
#19/25
SOLD
Do you have a John Coleman sculpture you would like to sell? We have clients interested in adding his artwork to their collections. Call us 800-958-5360 or email us sales@artzline.com
Biography courtesy of AskART.com
Don't miss the newest gallery arrivals.
Sign up to receive our no more than once a week bulletins.
Be the first to see the latest fine art as soon as it's available to you!
See it First!
Receive notifications from America's online art gallery when the latest works from top artists are available.