Joseph Bohler biography:
Joseph Bohler has been painting fine art for over thirty years. He has studied with such notables as Bob Lougheed and Richard Schmid.  In June 1991, he was elected by his peers to membership in the National Academy of Western Art* (NAWA) and won the Silver Medal for Watercolor in their 1992 show.
He is a life member of the Transparent Watercolor Society of America, a founding member of the Northwest Rendezvous Group*, signature member of the American Watercolor Society, Watercolor USA Honor Society and Rocky Mountain National WAter-Media Society.
Joseph Bohler is featured on the cover of the March/April 2006 edition of Sky West Magazine and in the 2005 release of the new book Western Traditions by Michael Duty and Suzanne Deats.  He is also showcased in Splash II and Splash IV,  (both published by Northlight Books) in 1994 and 1996 and Chris Unwin's two books, The Artistic Touch and The Artistic Touch II released in 1994 and 1996. He is featured in Northlight's 1997 release, The Best of Flower Painting and The Best of Portrait Painting by Rachel Wolf.
He was commissioned to paint a portrait of Tex Ritter, famed actor, country singer and song writer. Tex is the father of John Ritter of TV fame. The painting, which also includes Mr. Ritter's horse, White Flash, was commissioned by John and his brother Tom, the National Cowboy Hall of Fame* and Western Heritage Center in Oklahoma City. This large piece hangs in the permanent collection of the National Cowboy Hall of Fame. It was unveiled during a special black-tie ceremony at the annual Western Heritage Awards on the evening of March 19, 1994. Joseph is a regular exhibitor in the National Cowboy Hall of Fame's, Prix de West* show held in Oklahoma City in June of each year. In 1997, he was featured in a two-man show at the C. M. Russell Museum in Great Falls, Montana. Since 1998, he has shown with the Masters of the American West exhibit at the Autry Museum in Burbank, California.
In April of 2000, Joseph was honored in a two man show at the Gilcrease Museum in Tulsa, Oklahoma. This exhibit contained 66 of his original paintings (10 of which were retrospective pieces). Of the 56 paintings that were for sale, 44 were sold at or during the opening. His painting, The Corn Maiden is now in the permanent collection at the museum. In June 2006, Joseph conducted a seminar entitled "Plein-Air Painting, A Journey Through The Eyes Of An Artist" at the Prix de West Exhibit. This seminar was also presented in March 2002 when Joseph was a "Special Guest" at the C. M. Russell Auction in Great Falls, Montana. In March 2001, he won the Best Of Show for the fifth time at the C. M. Russell Auction in Great Falls, Montana. In the fall of 1999, he ventured down the Colorado River through the Grand Canyon with 14 other artists painting on location. In January of 2001, a "Grand Canyon Show" was held as a fundraiser for "The Grand Canyon Trust Fund" at the Forbes Galleries in New York City. Parts of this show continue to be on exhibit in different cities throughout the United States.
Joseph continually paints on location and teaches workshops through out the world. He has visited Spain, Portugal, Morocco, England, The Greek Isles, Italy (Venice, Rome & Tuscany) and Mexico (Acapulco, Taxco, Mexico City & Oaxaca). He is also a gifted musician. Blues and Honky-tonk piano style are played at yearly piano concerts. In 2001, he released his first CD entitled Rocky Mountain Blues. His second CD entitled Springtime in the Rockies was released in 2004.
Available paintings: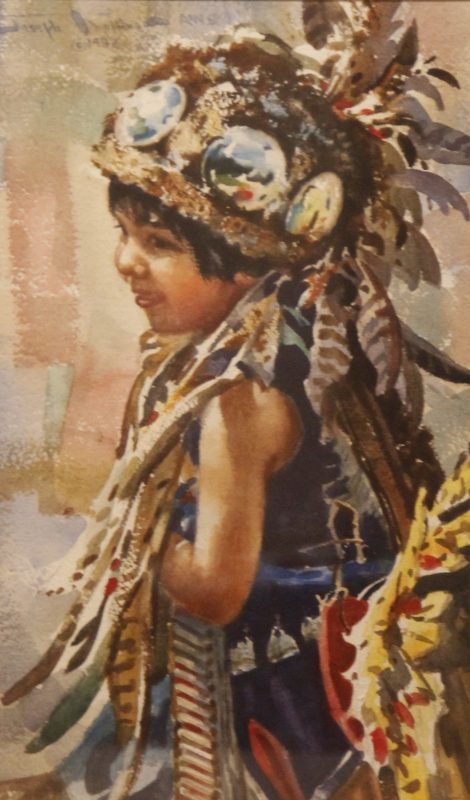 "Little Indian Dancer"
Joseph Bohler
watercolor  19″ x 11″
$2,500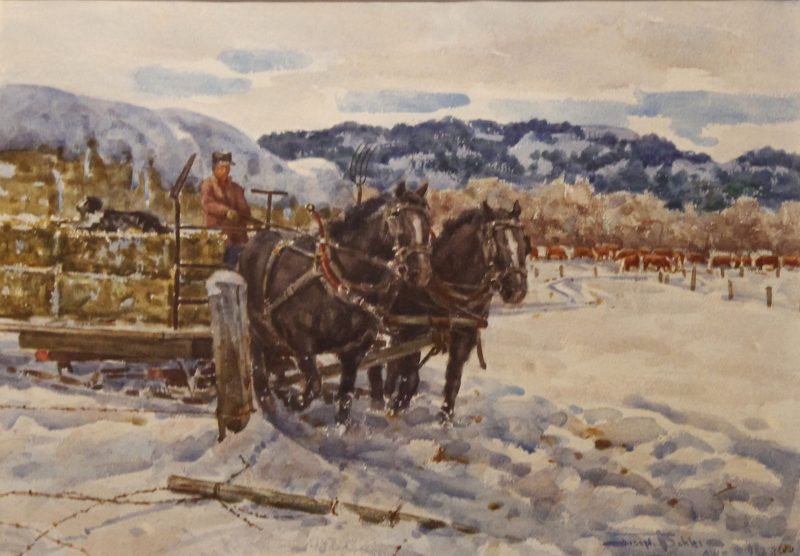 "Feeding Time In The Bitterroots"
Joseph Bohler
watercolor  20″ x 30″
$3,900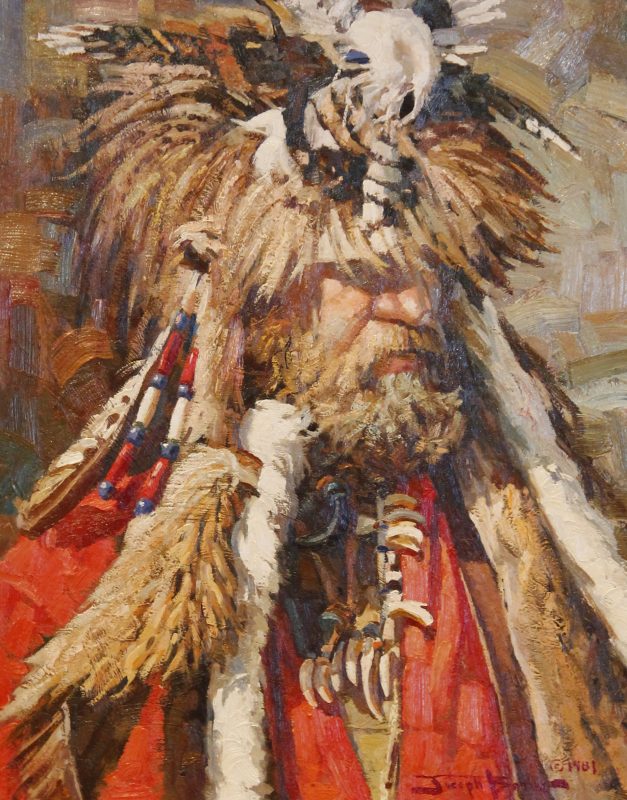 "Gros Ventre Mountain Man"
Joseph Bohler
oil  20″ x 16″
$2,900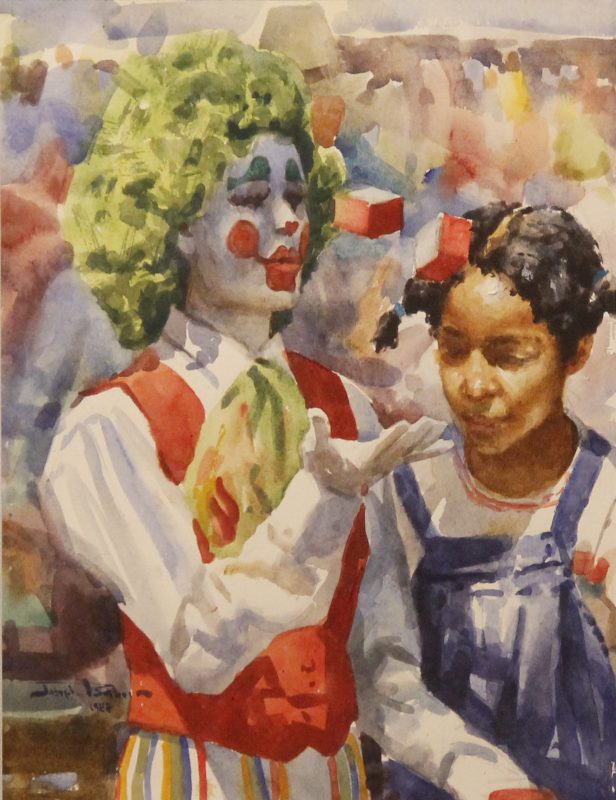 "The Town Clown"
Joseph Bohler
watercolor  14″ x 11″
$1,600
See additional information about

"The Town Clown"

.
Don't miss the newest gallery arrivals.
Sign up to receive our no more than once a week bulletins.
Be the first to see the latest fine art as soon as it's available to you!
See it First!
Receive notifications from America's online art gallery when the latest works from top artists are available.