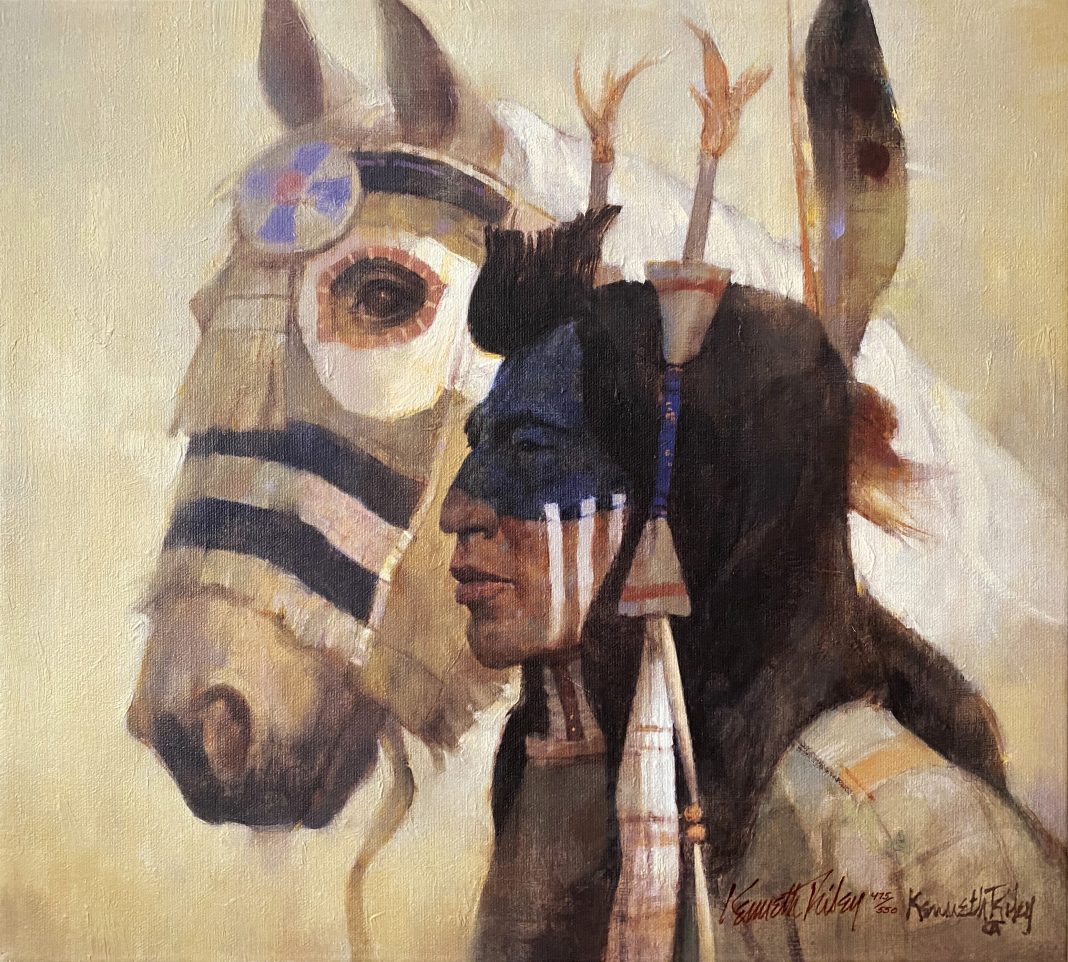 Kenneth Riley biography:
A realist painter of the Old West and a highly successful illustrator, Ken Riley was born in Waverly, Missouri in 1919 and has had a studio in Tucson, Arizona from 1971.
He was raised in Kansas and received his art education at the Kansas City Art Institute, where he was a student of Thomas Hart Benton.  Aware of Riley's unusual talent, a high school art teacher had paid for his first semester of tuition at the Institute.  In 1941, Riley went to New York to study with Frank DuMond at the Art Students League*, and he also took evening classes at the Grand Central School of Art* and with illustrator Harvey Dunn.
Riley began his illustration career by selling work to the pulp magazines* for fifteen dollars each, but enlistment in World War II as a combat artist* for the Coast Guard redirected his work.  During the war, he was on site at the invasions of the Gilbert, Marshall and Marianas Islands in the South Pacific.  One of his paintings of this period, The Last Supper, done in the motif of Leonardo DaVinci's Last Supper, depicts eleven service men seated at and standing by a long table in a temporary structure with pole supports.  A description on the back of a photo of the painting reads:  "A new invasion of Jap-held Pacific Territory is only a few short hours away as Coast Guardsmen, Marines and Soldiers partake of their 'Last Supper' before battle aboard a Coast-Guard-manned invasion transport.  The Galley is filled with a tense excitement as the men tarry through the hot meal and then hurry to their quarters in this oil pointing by Coast Guard combat artist Ken Riley." (U.S. Coast Guard)
After the War, Riley returned to illustration, contributing to magazines including National Geographic, and the Saturday Evening Post.  President John F. Kennedy chose one of Riley's paintings for the White House Collection.
Riley went on painting trips to Yellowstone and the Tetons and taught at Brigham Young University in Utah and was so taken with the intensity of the light that he determined to move West.
He is a charter member of the National Academy of Western Artists, and in 1982 was elected to the Cowboy Artists of America, an exclusive group of painters and sculptors dedicated to western art in the tradition of Charles Russell and Frederic Remington.
Ken Riley Artwork:
Click on images to enlarge.

"Split Horn Bonnet"
Kenneth Riley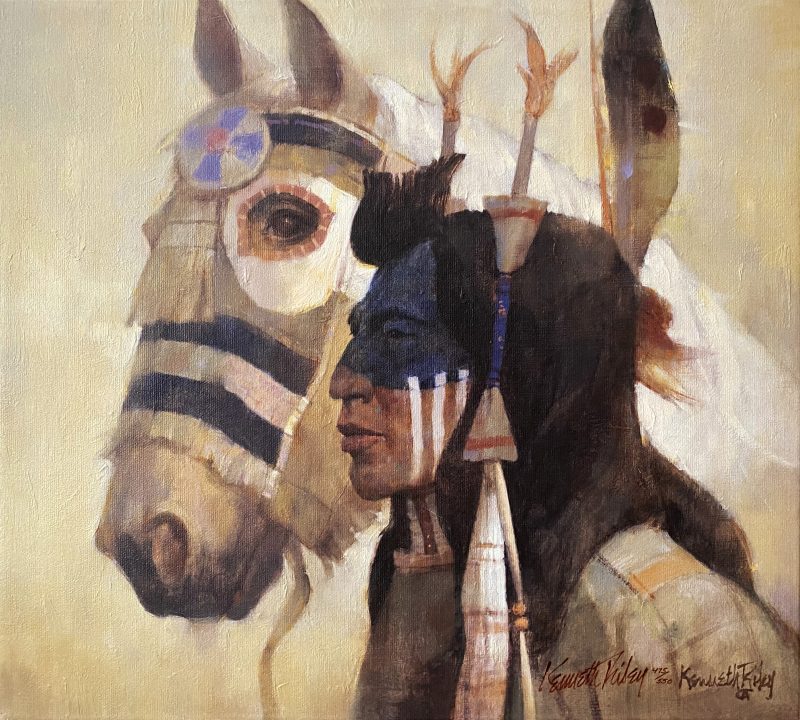 "As One"
Kenneth Riley
Do you have a Kenneth Riley painting you would like to sell? We have clients interested in adding his artwork to their collections. Call us 800-958-5360 or email us sales@artzline.com.
Biography courtesy of AskArt.com
Don't miss the newest gallery arrivals.
Sign up to receive our no more than once a week bulletins.
Be the first to see the latest fine art as soon as it's available to you!
See it First!
Receive notifications from America's online art gallery when the latest works from top artists are available.