PleinAir magazine's September 2018 issue features Richard Schmid's "Clayton Beck Painting" on the cover. Within the magazine, Richard's article "The Joy Of Seeing" covers ten full pages of the publication. As part of this feature article, you will not only learn more about Mr. Schmid, you will encounter photos of his painting "Apple Blossoms" throughout the painting process. Barbara Jaenicke, John Brian Guernsey, Charles Newman and Stephanie Amato also have featured articles. This publication is for art collectors, art enthusiasts and artists alike.
PleinAir magazine is on newsstands now, or you can visit their website.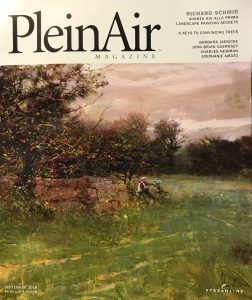 Don't miss the latest news from the art world!
Get the ArtzLine Newsletter
Includes the latest museum exhibitions, gallery shows, art lectures, special events and more!
See it First!
Receive notifications from America's online art gallery when the latest works from top artists are available.