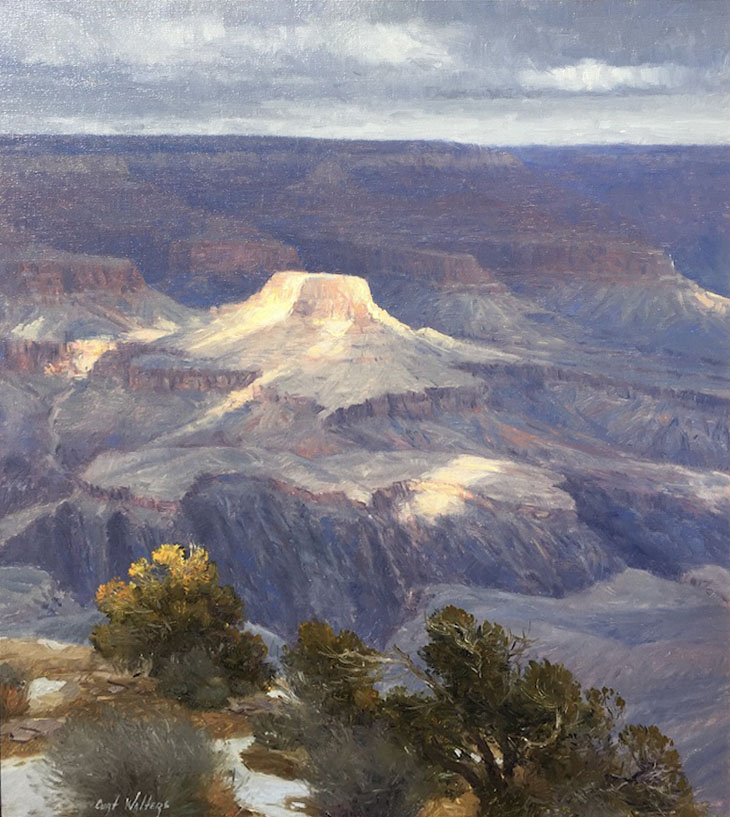 Curt Walters biography:
Curt Walters of Sedona, Arizona, is a plein-aire impressionist painter known for his depictions of the Grand Canyon.  Though his body of work is largely comprised of the Southwestern vista, he enjoys painting land and cityscapes from all over the globe.
Walters has long had an eye and desire for art. When he was 14, his sister was given a paint set.  "It took me about two minutes to steal it from her," he once quipped.  From there, he took to copying the paintings on the walls of their New Mexican farmhouse, and at the age of 15, sold his first piece.
Four years later, the fledgling young artist visited the Grand Canyon for the first time, and so began a lifelong love affair. "I get the same feeling today as I did that first time, thirty-five years ago."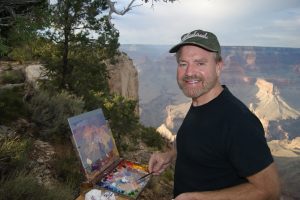 Since then, Walters has focused much of his time and energies on Grand Canyon …but not only as an artist. In the early '90's, the growing amount of air pollution over the gorge (something unintentionally documented in his paintings) began to concern Walters.  Shortly thereafter, he learned of The Grand Canyon Trust, and how they were fighting pollution throughout the entire Colorado Plateau.  Ten years and $500,000 later–much of which has been collected from donated paintings–Walters is still eager to meet new environmental challenges with the Trust.  For all of his hard work and dedication, he has received the honored position of "Official Artist of The Grand Canyon Trust."
In 2002, The Grand Canyon Foundation came knocking on Walters' door.  Impressed by his efforts with the Trust, President Deborah Tuck and the other board members solicited his help.  Concerned with the park itself, The Grand Canyon Foundation works to preserve the wildlife, archaeological and other historic structures, and also the artwork dedicated to Grand Canyon, both modern pieces and those of past masters.
At one time, Walters did not consider himself the "protest type," but now, "I think there's a part of me that could very much be a social activist in my work." He goes on: "I think many artists throughout history have had social agendas and political agendas within their work.  I don't think the great artists stopped and said, 'Let's just paint a pretty picture.'  I know I love using my paintings in ways that go beyond just the act of painting."
Though near and dear to his heart, the Grand Canyon alone does not limit Curt Walters' talent.  He often returns to Colorado and New Mexico–where he cut his artistic teeth–for painting sojourns.  For the 2004 Prix de West Art Exhibition, Walters entered a 36″ x 28″ study of his childhood home, entitled Mom's La Plata Garden.  A second entry, Trinchera Summer, is Walters' vision of the Sangre de Cristo Mountains in Southern Colorado, as seen from the Forbes' Trinchera Ranch, where the artist had organized a four-day "paint in" among a dozen of his Prix de West contemporaries in 2003.
While his American travels have taken him from Maine to Hawaii, Canada to Mexico, his overseas journeys have taken Walters to some of the world's most exotic locations.  Some of his most popular foreign endeavors embody the bright, spirited vibrancy of Bali, Indonesia and the venerable grace of Venice, Italy.  His most recent travels have lead his palette from the Forbes' Chateau de Balleroy in Normandy, France, to Prague in the Czech Republic, and the magnetic radiance of Budapest, Hungary to the biblical sights of Jordan in the Middle East.
Collections holding work by Curt Walters include the Forbes Magazine Galleries of New York and California, The Maytag Foundation, astronaut Frank Borman, the Pulliam Trust of Phoenix, Arizona, and San Juan College in Farmington, New Mexico.
Each year, his artwork can be seen at numerous showings, the most prominent of them being the Prix de West Exhibition in Oklahoma City and the Masters of the American West at the Autry Museum in Los Angeles.  From these exhibitions, Walters has received multiple medals over the years, including the highly coveted Prix de West Award in 2007 and the Frederic Remington Painting Award in 2004, 2005 and 2007 as well as numerous Buyers' Choice Awards.
Available paintings:
Click on images to enlarge.
"Shoshone Point Study"
Curt Walters
Oil   8″ x 6″
$2,500
Interested in this painting, call us 800-958-5360 or email us sales@artzline.com.
Sold paintings: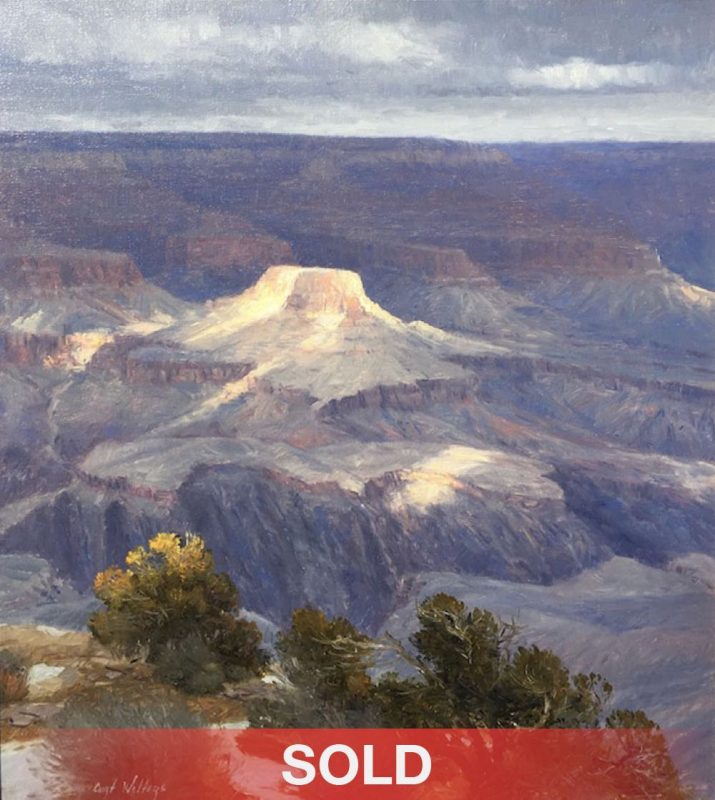 "A Moment Of Sun"
Curt Walters
Oil   24″ x 20″
SOLD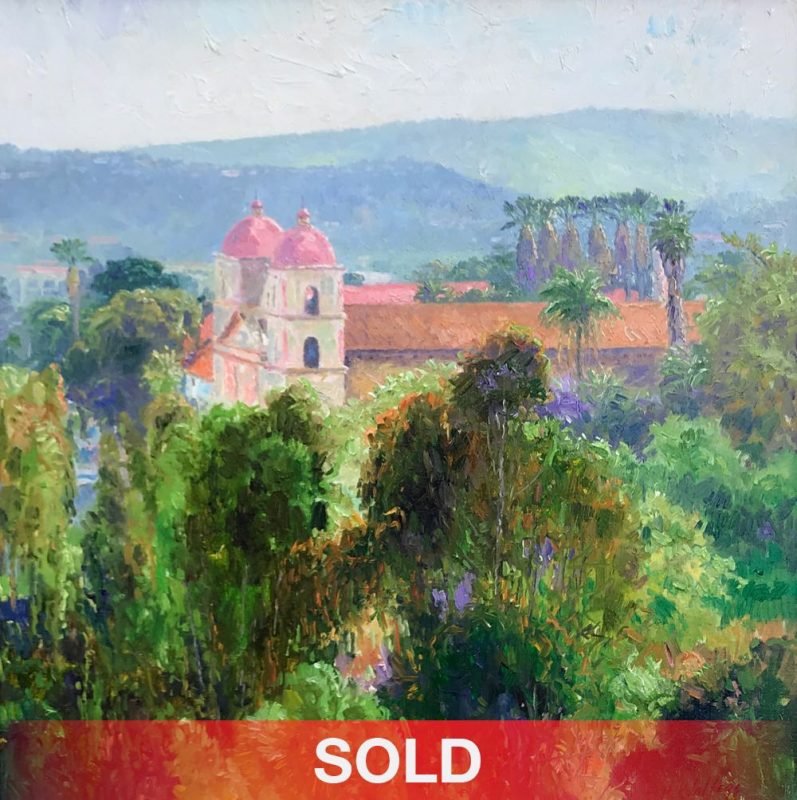 "Santa Barbara Mission"
Curt Walters
Oil   24″ x 24″
SOLD
"Golden Reflections"
Curt Walters
Oil   12″ x 9″
SOLD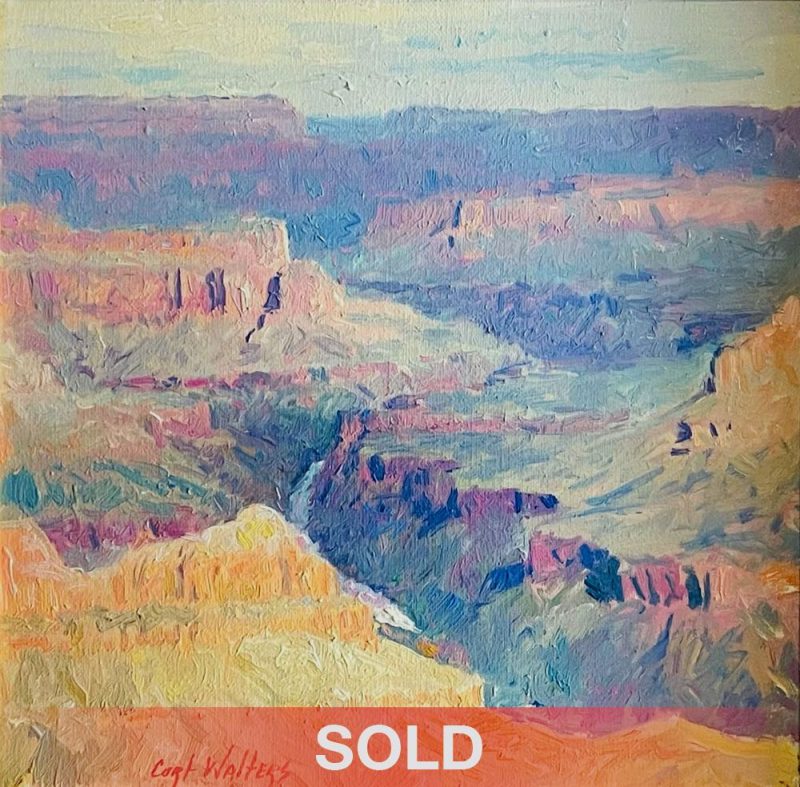 "Morning Vignette"
Curt Walters
Oil   10″ x 10″
SOLD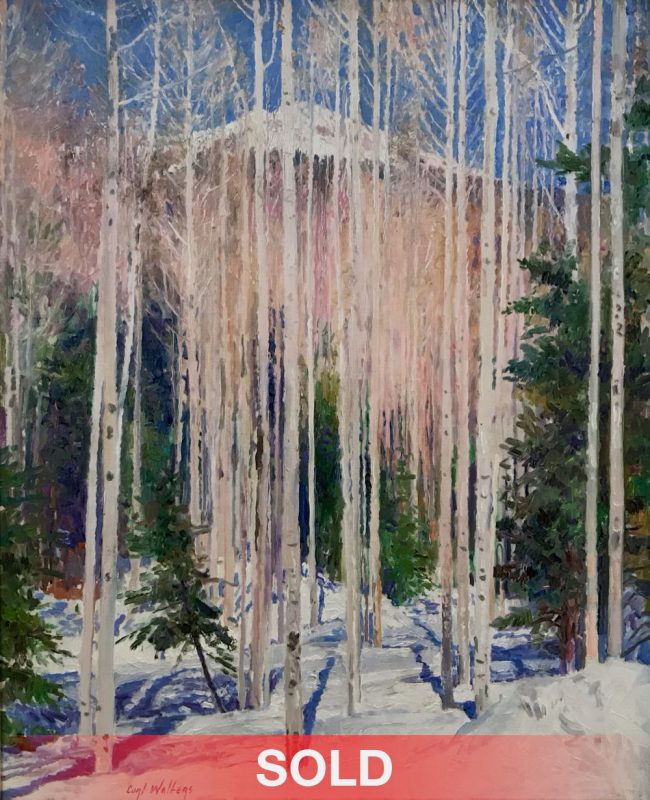 "Enticement"
Curt Walters
Oil   32″ x 24″
SOLD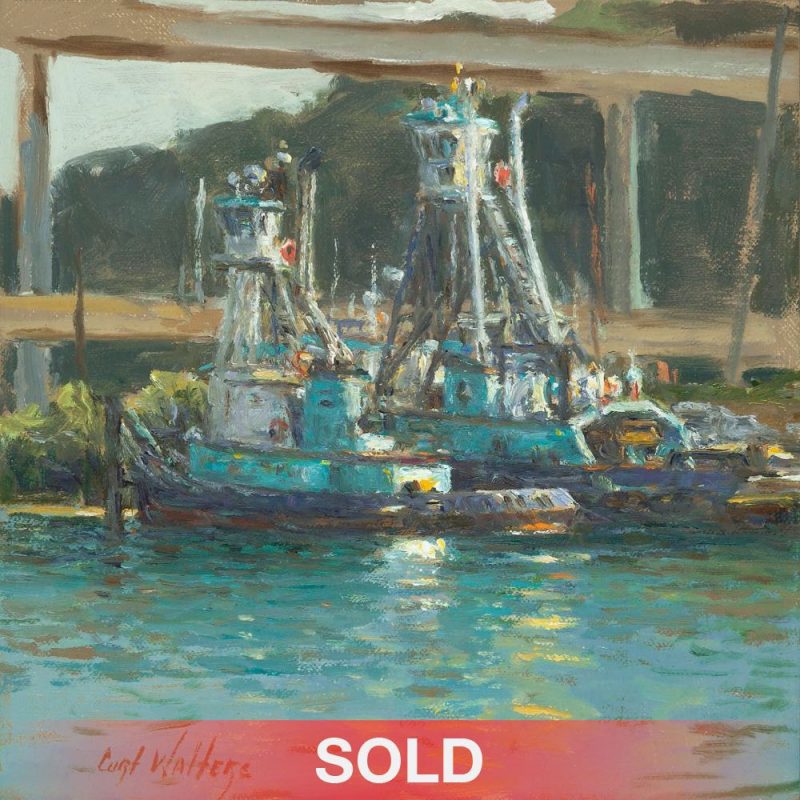 "Island Chief – Seattle"
Curt Walters
Oil   8″ x 8″
SOLD
Do you have a Curt Walters' painting you would like to sell? We have clients interested in adding his artwork to their collections. Call us 800-958-5360 or email us sales@artzline.com.
Don't miss the newest gallery arrivals.
Sign up to receive our no more than once a week bulletins.
Be the first to see the latest fine art as soon as it's available to you!
See it First!
Receive notifications from America's online art gallery when the latest works from top artists are available.