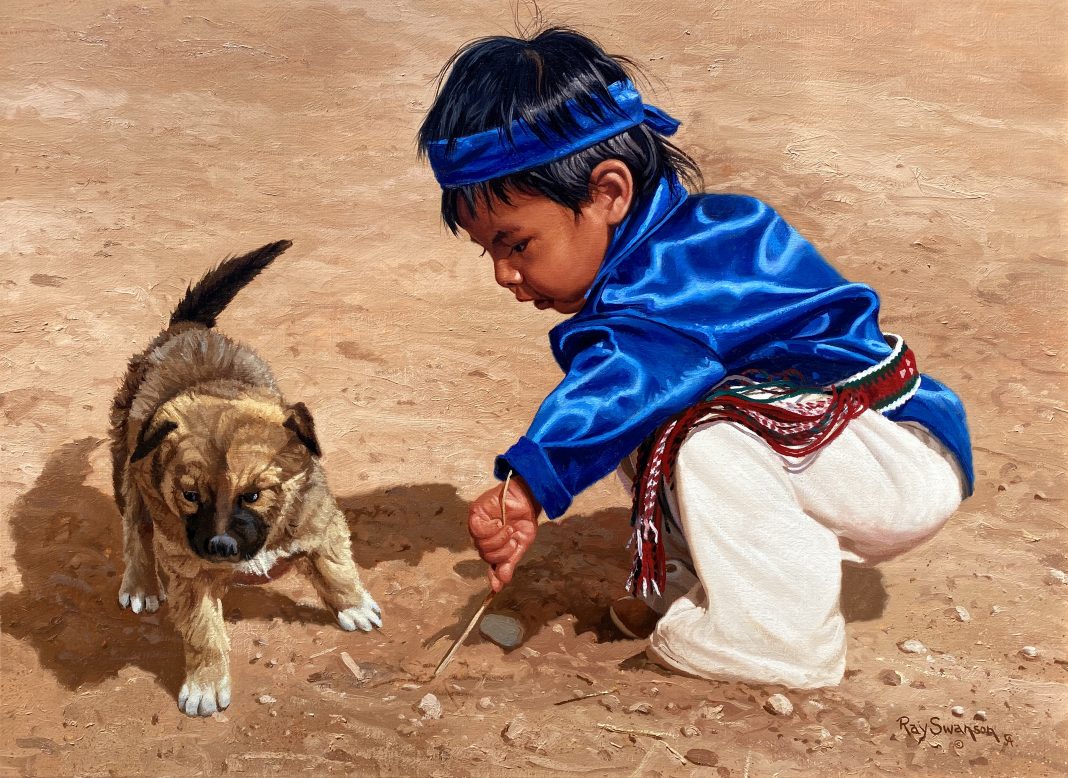 Ray Swanson biography:
In the boulder-strewn hills of Carefree, just north of Scottsdale, stood an elegant Santa Fe style home and studio. It is there amid the tall Saguaro and rough rocks that Ray Swanson's love of the Native Americans and their fading lifestyles is put to canvas under the watchful eye of the Sonoran desert which seemed to merge with his studio through panoramic windows facing the venerable Black Mountain.
A South Dakota native who was raised in a rural environment, Ray had come to identify with the gentle people who inhabit the bold and visually stark lands of the Colorado Plateau. His connection to these people was an outgrowth of his own rural roots where simplicity allowed one to feel a sense of communion with nature. It was on one of Ray's first trips to Arizona that he knew he had to chronicle the lives of the Native Americans as he could see that their lifestyles were under attack from outside forces.
Over the years as he had painted among the Navajo and Pueblo peoples, Ray had witnessed drastic changes in their patterns of dress, use of modern forms of transportation and construction of non traditional housing. He found a great sense of satisfaction in being able to bring to life in either oil or watercolor the time-honored lifestyles that are quickly fading from everyday view.
Collectors from all over the world seek out the art of Ray Swanson. He depicts both the native peoples and their way of life with tenderness and dignity. His style is considered as representational, with every detail clearly visible. His success won him election to the prestigious Cowboy Artists of America in 1986. His resume includes numerous awards and a book, "The Art of Ray Swanson – Celebrating People and Lifestyles". Over the years, Ray has chronicled traditional ways of life in both Europe and Asia, but he is still most noted for his spiritual and emotional depictions of the Native Americans of the Southwest.
Paintings:
Click on images to enlarge.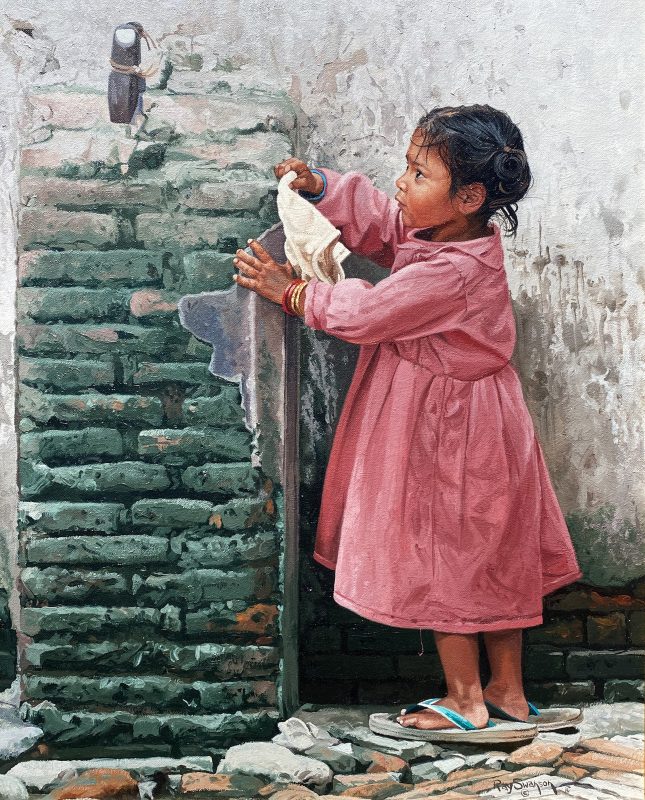 "Slippers Are Too Big, Fountain Is Too High"
Ray Swanson
oil   20″ x 16″   
$12,500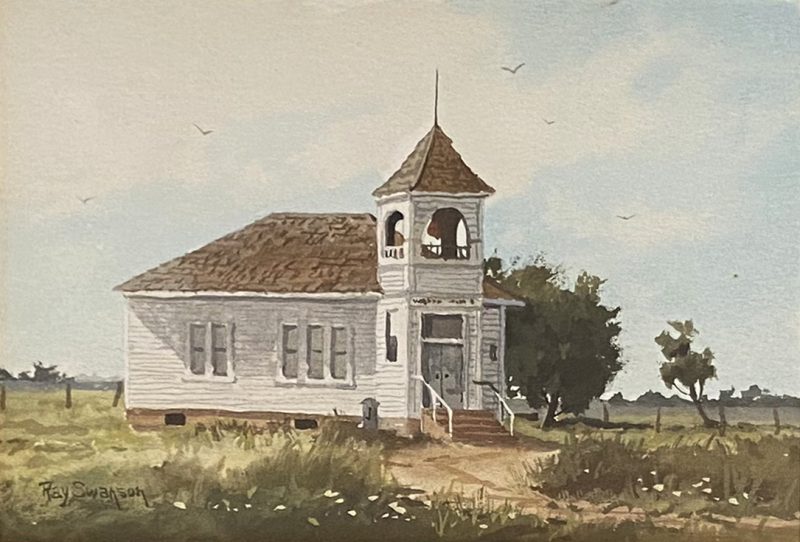 "Walnut Creek School"
Ray Swanson
watercolor   4″ x 6″   
$950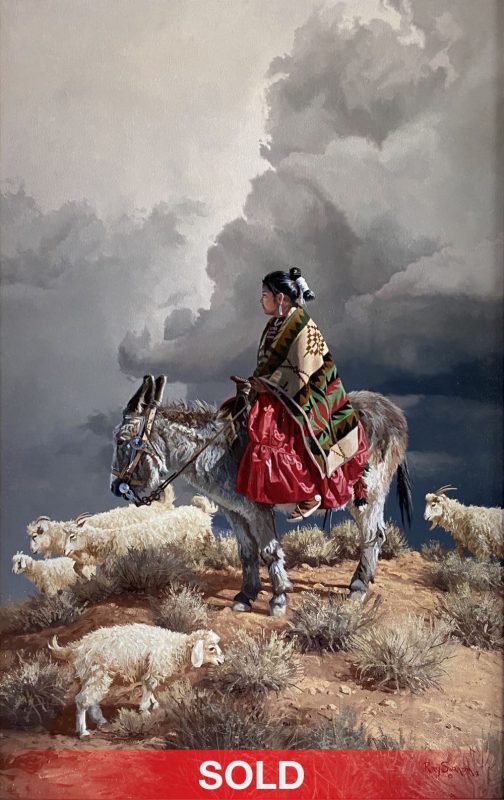 "Storm North Of Tonalea"
Ray Swanson
oil   48″ x 30″   
SOLD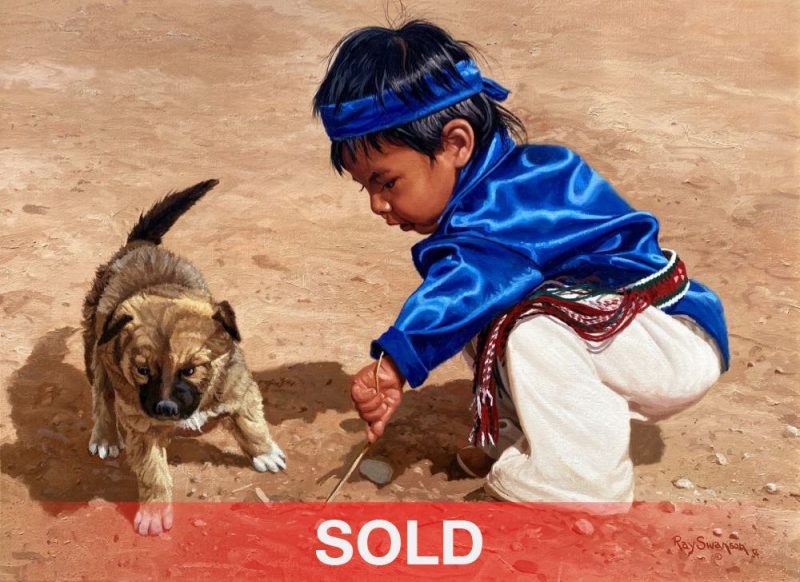 "Pictures In The Sand"
Ray Swanson
oil   18″ x 24″   
SOLD
Do you have a Ray Swanson painting you would like to sell? We have clients interested in adding his artwork to their collections. Call us 800-958-5360 or email us sales@artzline.com.
Don't miss the newest gallery arrivals.
Sign up to receive our no more than once a week bulletins.
Be the first to see the latest fine art as soon as it's available to you!
See it First!
Receive notifications from America's online art gallery when the latest works from top artists are available.