Sculptor Robert Davidson has won a copyright battle with the United States Postal Service for $3.5 million. Mr. Davidson created a replica of the Statue Of Liberty for the New York-New York Hotel and Casino in Las Vegas. The U.S.P.S. used an image of this sculpture for the 2011 First Class "Forever" stamp. These stamps were sold from 2011 through 2014. The United States Court of Federal Claims ruled that the U.S.P.S. did not have Robert Davidson's permission to use this image on their stamp and ruled in his favor. The Post Office is implementing new procedures to ensure this type of mistake does not happen again. To read the full article, visit the Ars Technica website.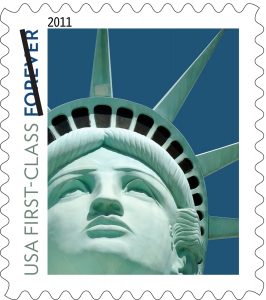 Related article:
Battle of Gettysburg stamp design article.
Photos courtesy of Ars Technica.
Don't miss the newest gallery arrivals.
Sign up to receive our no more than once a week bulletins.
Be the first to see the latest fine art as soon as it's available to you!
See it First!
Receive notifications from America's online art gallery when the latest works from top artists are available.