Robert Griffing was born and grew up in Linesville, Pennsylvania.  He
roamed the fields and beaches around Pymatuning Lake collecting stone artifacts, which increased his love of history and native cultures.
Griffing is a graduate of the Art Institute of Pittsburgh where he studied illustration.  In 1991, after a thirty year career in advertising, he began to paint the Eastern Woodland Indians of the 18th century. His early fascination with the stone artifacts and history of the native cultures brought him to this point.  His paintings focus on the time of chaos and uncertainty for the woodland tribes as they struggled to survive the encroachment of Europeans.
Griffing's illustrational, photographic realism is minutely-detailed and tightly-blended. He is aided by an extensive library of books, historical papers, journals and his personal relationships with historians and other friends who provide information and act as models in some of his paintings.
In 1993, U.S. ART Magazine listed Robert Griffing as an artist to watch for in 1994. The same magazine later listed him as one of the Top 25 selling artists for 1994.  The November 1995 issue of U.S. ART featured an article on Eastern Woodland Indians, and chose Griffing's painting "Logan's Revenge" for the cover.
Robert Griffing hopes his paintings bring notice to what he views as a neglected period of history.  Duane James Ray, President of the Seneca Nation of Indians, has said: "The attention Griffing gives to the accurate portrayal and detail of the Iroquois is remarkable and rarely seen in the work of other non-native artists.  His paintings allow the viewer to have a special understanding of how the Iroquois culture evolved with European influences."
John Giblin, Former Site Administrator of Fort Pitt and Bushy Run Battlefield, states, "To my knowledge, not one person in this century has done more to rejuvenate interest in the history, art and culture of early western Pennsylvania.  His work has also given rise to a new excitement for the cultural mystique of the eastern Native American."
While Griffing is best known for his images of the Eastern Indian, he also explores his own Scottish ancestry for ideas and subjects for his paintings.  The artist traveled to Scotland in 1996 to research his lineage.
A book, The Art of Robert Griffing, with over 75 color plates, is a complete collection of his work, from his earliest to his most recent paintings, carefully woven with the history and artifacts that serve as his inspiration.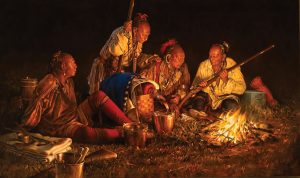 View other Birthdays on our website.
Don't miss the newest gallery arrivals.
Sign up to receive our no more than once a week bulletins.
Be the first to see the latest fine art as soon as it's available to you!
See it First!
Receive notifications from America's online art gallery when the latest works from top artists are available.