The Scottsdale Art Auction held their annual western, wildlife and sporting art auction on April 7, 2018. Bidders from around the country filled to capacity the Scottsdale sales facility. When the final hammer dropped, the Scottsdale auction house realized almost $11 million in total sales with 91% of the lots sold. John Clymer's "Spotted Buffalo", a 24″ x 40″ oil painting with estimates of $200,000 – $300,000, sold form $468,000. Gerard C. Delano's "The Victors" 10 1/2″ x 39″ oil painting had estimates of $350,000 – $450,000 and sold for $444,600. Another strong showing for a living western painter was Robert Griffing's painting "After The Trade" which had estimates of $100,000 – $150,000 that sold for $152,100. To see results of the entire auction, visit the Scottsdale Art Auction website.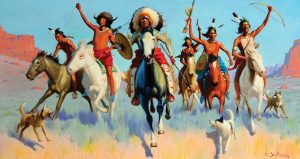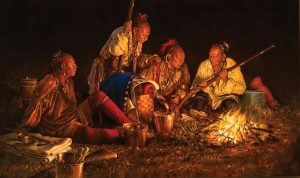 Don't miss the newest gallery arrivals.
Sign up to receive our no more than once a week bulletins.
Be the first to see the latest fine art as soon as it's available to you!
See it First!
Receive notifications from America's online art gallery when the latest works from top artists are available.