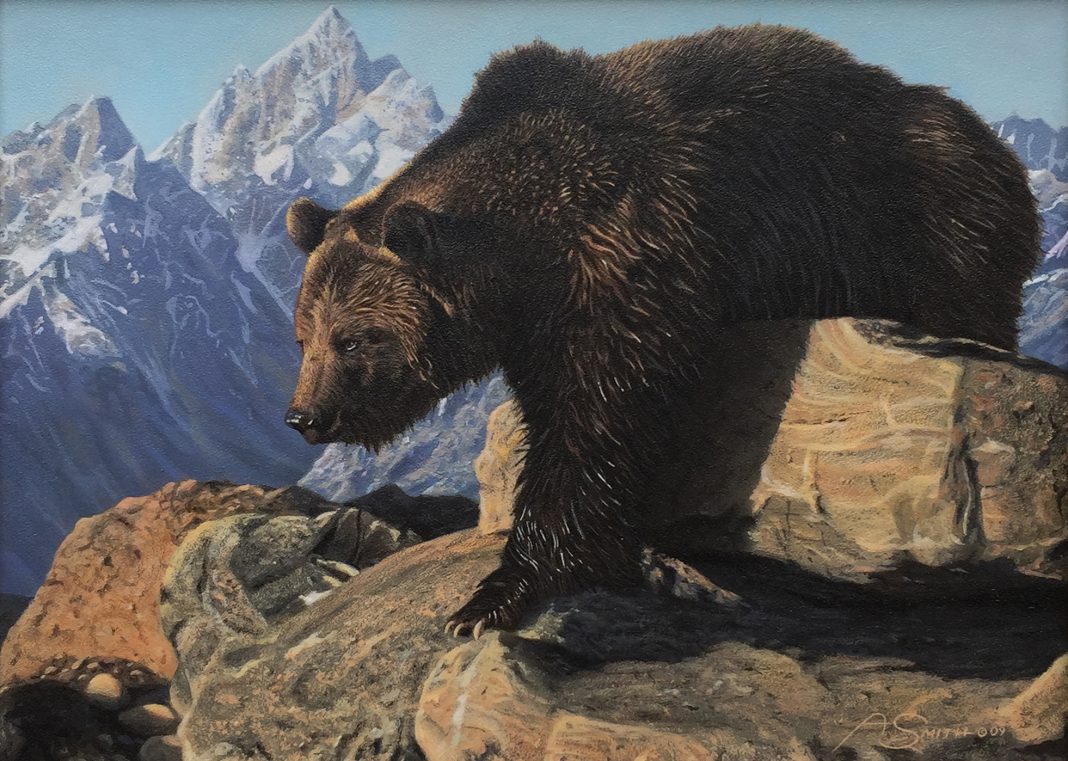 Adam Smith biography:
Adam Smith was born in Minnesota in 1984 and moved to Montana when he was nine years old.  Raised in a family immersed in the wildlife art world, Adam was nurtured on nature. "We always had a variety of animals in and around our house from ducks, rabbits, parrots and iguanas to the more domestic horses and dogs. Life was never dull (or quiet) around our house."
Adam`s father, wildlife artist Daniel Smith, often had mounts, skins and tons of wildlife reference scattered around his studio.  The family trips were often centered on nature whether hiking in Glacier National Park or mountain biking along the coast of Molokai, HI. Adam`s home in Montana, nestled in the woods at the base of a mountain, offers frequent visits from elk, moose, deer, mountain lions and bears.  Smith says, "Nature was just a part of who we were as a family."
Adam`s entry into the arts began when he picked up the guitar.  At the young age of 14, he showed exceptional talent and was asked to make guest appearances with two local bands.  He had developed quite a following and amazed the crowd.  During a family cruise trip to the Caribbean, Adam was asked to join the band on board the cruise ship.
Although he enjoyed playing in the bands, his guitar gave way to the paint brush when he was 16.  He started to dabble a bit with pencil drawing bears, wolves, and waterfowl. Fascinated by his father`s early career in duck stamps, Adam decided he wanted to learn how to paint and subsequently entered the Montana Junior Duck Stamp competition.  His first entry in 2001 placed first and that was the beginning and the end of his duck stamp career.  He put away his paint brushes and turned his full attention to cars.
Adam's interest in cars took him to Laramie, WY where he attended WyoTech and graduated in the top of his class.  Recruited by two of the most desirable automobile companies, Adam turned them down to stay in Bozeman.  He wasn`t ready to leave Montana and was not sure if he was truly following his passion.
In 2006, Adam picked up the paintbrush once again and found that passion.  Daniel Smith remarks about Adam`s natural abilities and minimal experience, "Many people assume that I taught Adam how to paint or that he picked it up by watching me work throughout his twenty-two years.  The fact is his talent is innate.  I did not teach him how to paint. About a year ago he painted a small portrait of an African lion to see if he could paint fur.  When he presented me with the finished work I was shocked because it looked like I painted it.  Adam has a gift and I look forward to watching him grow and develop as an artist.  We plan to take many reference trips together and share a bond that goes beyond the typical father and son relationship."
Available painting:
Click on images to enlarge.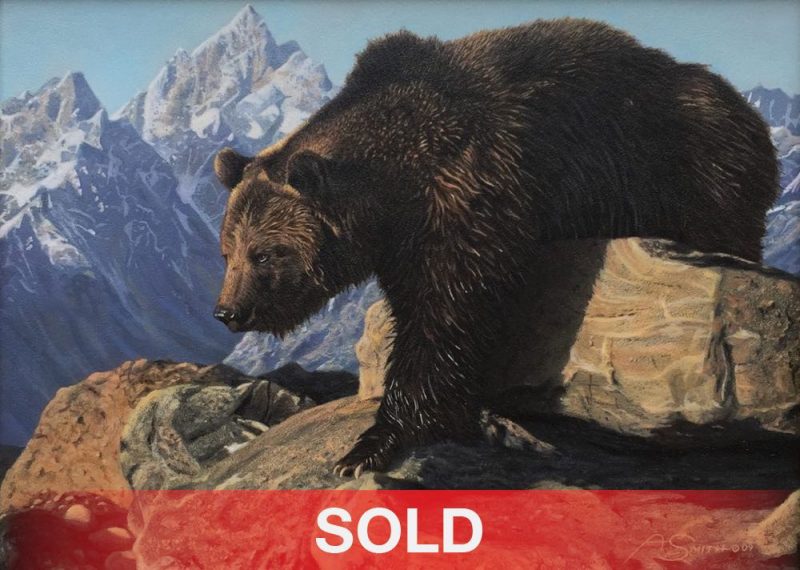 "The Bear Climbed Over The Mountain"
Adam Smith
acrylic   9″ x 12″
SOLD
Do you have Adam Smith paintings you need help selling? CONTACT US.
Biography courtesy AskArt.com
Don't miss the newest gallery arrivals.
Sign up to receive our no more than once a week bulletins.
Be the first to see the latest fine art as soon as it's available to you!
See it First!
Receive notifications from America's online art gallery when the latest works from top artists are available.