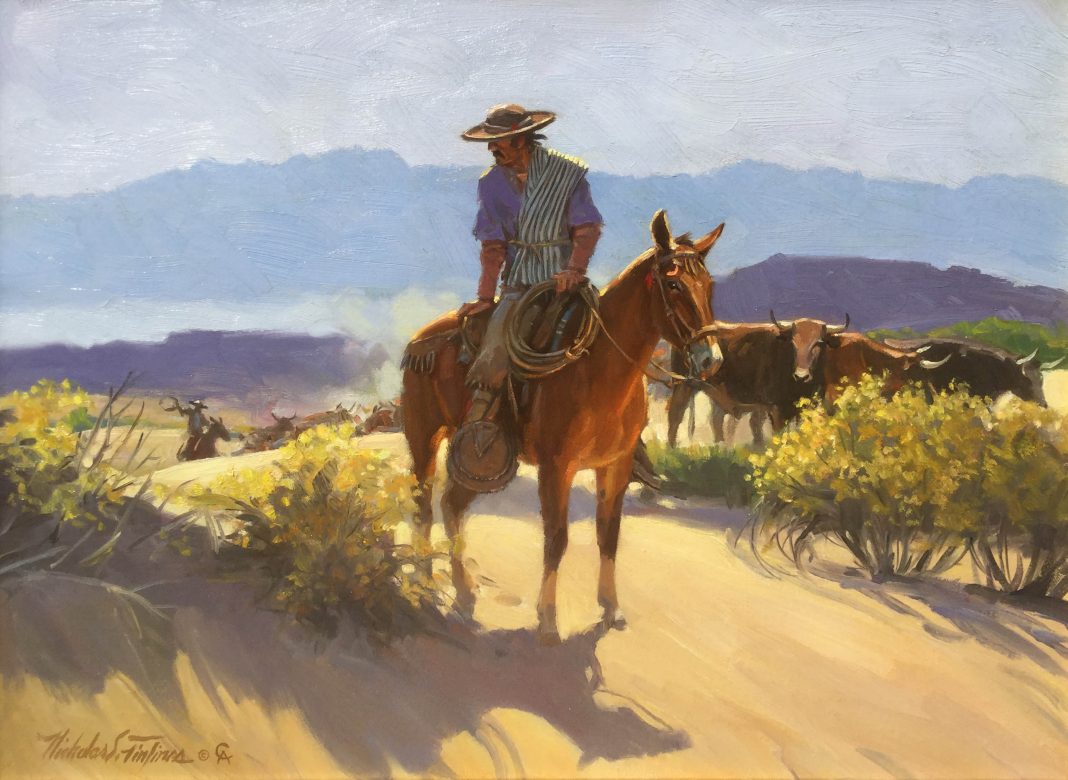 Nicholas Firfires biography:
Portraying western scenes in oil painting and watercolor comes to Nicholas Firfires, directly from experiences of having lived the western life of a cowboy, riding the range and breaking horses. He was a descendant of California vaqueros.
He was born in Santa Barbara, California, and worked on his family ranch near Santa Margarita and on other ranches in Santa Barbara county. As a child, he showed great interest and skill in drawing animals, especially horses, and after graduating from Santa Maria high school, he attended the Art Center School and the Otis Art Institute in Los Angeles.
In 1941, he enlisted in the Army and was with the Combat Engineers in Europe, where he did many illustrations for military publications and also portraits of Army personnel. After the war, he opened a studio in Santa Barbara and illustrated for Western magazines while working on easel paintings. His illustrations included "Buck Jones," a popular comic strip and "Gene Autry".
He had his first one-man show in 1960, and was so successful that he turned exclusively to fine art painting, depicting both historic and contemporary Western scenes. A particular focus has been the Spanish influence on California culture in a style that is Realist and Impressionist.
In 1969, he won the silver Medal Award for watercolor in the Fourth Annual Exhibit of the Cowboy Artists of America at the National Cowboy Hall of Fame in Oklahoma City. He was a an early member of the Cowboy Artists of America.
Available painting:
Click on images to enlarge.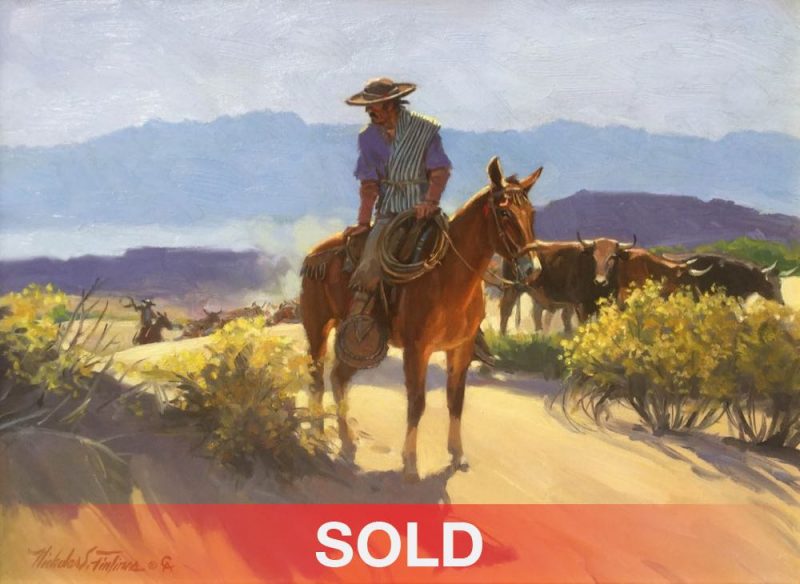 "Charro Cattle Drive"
Nicholas Firfires
oil   18″ x 24″
$1,950
Do you have Nicholas Firfires or other Cowboy Artists of America member's paintings you need help selling? CONTACT US.
Biography courtesy AskArt.com
Don't miss the newest gallery arrivals.
Sign up to receive our no more than once a week bulletins.
Be the first to see the latest fine art as soon as it's available to you!
See it First!
Receive notifications from America's online art gallery when the latest works from top artists are available.