Matt Smith biography:
Matt Smith was born in Kansas City, Missouri in 1960.  At an early age, he moved to Arizona where he developed his life long connection to the Sonoran Desert and the great outdoors. This was a connection that would eventually influence his decision to paint the landscape. As a teenager, he also lived two years in France and one year in Switzerland. While in Europe, he had the opportunity to visit many of the great museums which helped solidify his love for art. 
In 1985, Smith earned a Bachelor of Fine Arts degree in painting from Arizona State University. Somewhat frustrated with the abstract focus of the program at ASU, he began looking to outside sources for inspiration and guidance. These sources included fellow artists, fine galleries and museums. This is where his "real" education began.
These days, Matt can often be found painting en plein air from southern Arizona to the Canadian Rockies, from the California coast to the Rocky Mountains. "I appreciate traditional landscape painting and I am inspired by the pristine landscapes of the American West.  I enjoy working in areas where one can travel for miles without seeing the influence of man.  When I paint, I feel I've hit the mark when I've captured a balance between mood, look and feel.
Smith currently lives in Arizona with his wife, Tracy, who is also a painter.
Available paintings:
"Laguna Surf"
Matt Smith
Oil   10″ x 18″
$3,300
See additional information about
"Laguna Surf"

.
"Autumn Under Meeks Mesa"
Matt Smith
Oil   10″ x 14″
$3,100
See additional information about
"Autumn Under Meeks Mesa"

.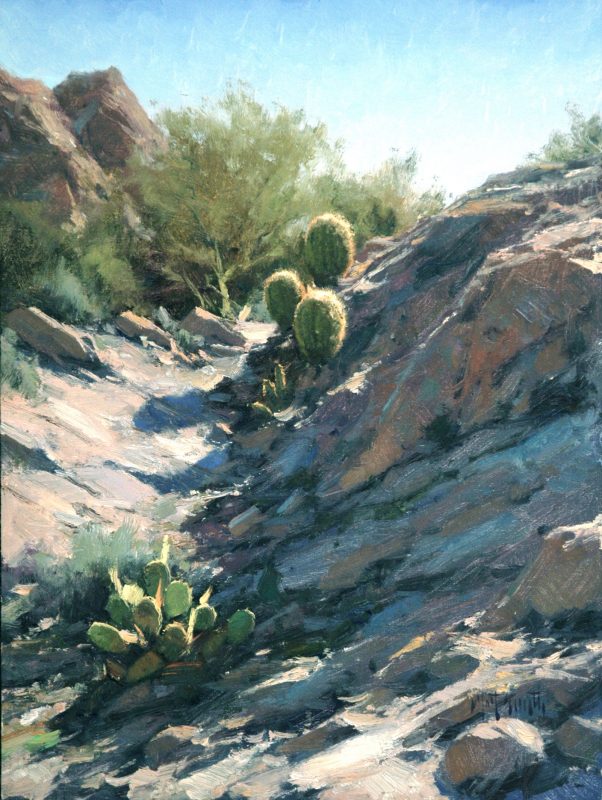 "Willow Spring Barrels"
Matt Smith
Oil   16″ x 12″
$3,400
"Salt River Cliffs"
Matt Smith
Oil   18″ x 22″
$6,500
"Laguna"
Matt Smith
Oil   7″ x 9″
$1,600
See additional information about

"Laguna"

.
Sold paintings:
"Boulder Mountain Autumn"
Matt Smith
Oil   12″ x 18″
SOLD
Interested in any of these paintings, call us 800-958-5360 or email us sales@artzline.com.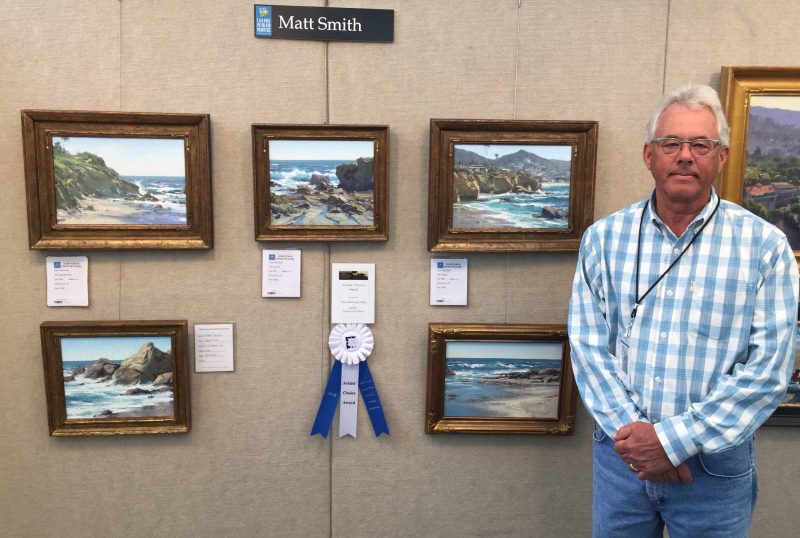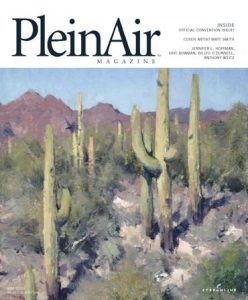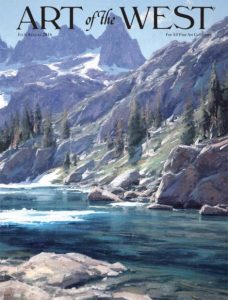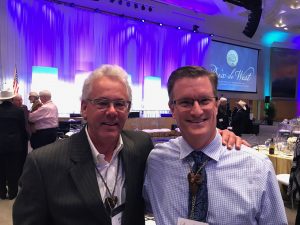 Don't miss the newest gallery arrivals.
Sign up to receive our no more than once a week bulletins.
Be the first to see the latest fine art as soon as it's available to you!
See it First!
Receive notifications from America's online art gallery when the latest works from top artists are available.