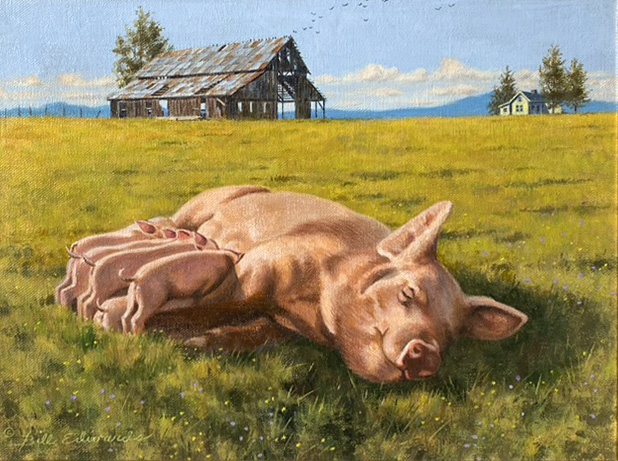 Bill Edwards biography:
Bill Edwards was born in New Jersey and grew up on a farm in Wyoming. From an early age, Bill showed a talent for art. During his teenage year, he spent much of his time on the farm and surrounding ranches studying and sketching cattle and horses. During these years, he learned many cowboying skills eventually riding Brahma bulls and broncos in the western rodeo circuit. Bill ended his rodeo career after a series of broken bones.
His early art studies were reinvigorated as he pursued his art studies at the Art Student's League in New York. To afford his big city life, Bill worked as a model posing for magazines and catalogs. His rugged good looks caught the attention of a talent agent who introduced Bill to Hollywood. During the 1940's, Bill was cast in several movies roles such as The Fighting Stallion, Tora, Tora, Tora and many others.
In the 1950's, Bill left his acting career. Longing to tap into his artistic side, Bill began creating commercial illustrations for paperback books and men's magazines. These illustrations gave Bill the means to pursue a career in fine art. He was finally able to create paintings depicting the Old West. Paintings from his childhood flowed from Bill onto his canvases. These paintings were collected by his movie fans, fine art collectors and many others who appreciated his style and artistic abilities.
The United States Air Force Art Progam commissioned Edwards to create paintings for them. These paintings are in the permanent collection and have been exhibited at the Smithsonian Institution and the Pentagon.
Mr. Edward died of pneumonia in Southern California at the age of 81.
Available painting:
Click on images to enlarge.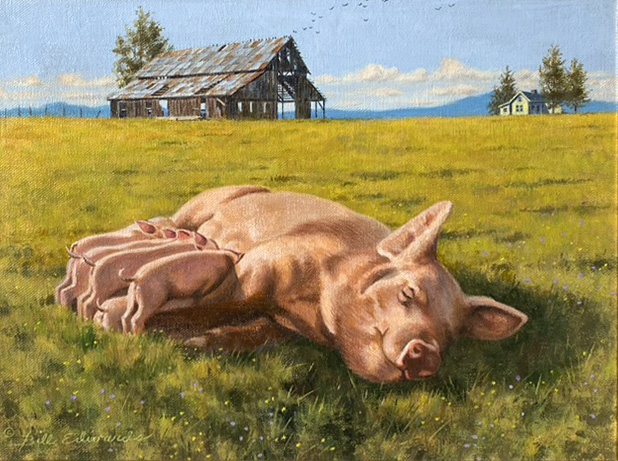 "Pigging Out"
Bill Edwards
Oil   11″ x 14″
Was: $850
NOW: $550
See additional information for 

"Pigging Out"

.
Interested in this painting, call us 800-958-5360 or email us sales@artzline.com.
Biography courtesy of AskArt.com
Don't miss the newest gallery arrivals.
Sign up to receive our no more than once a week bulletins.
Be the first to see the latest fine art as soon as it's available to you!
See it First!
Receive notifications from America's online art gallery when the latest works from top artists are available.