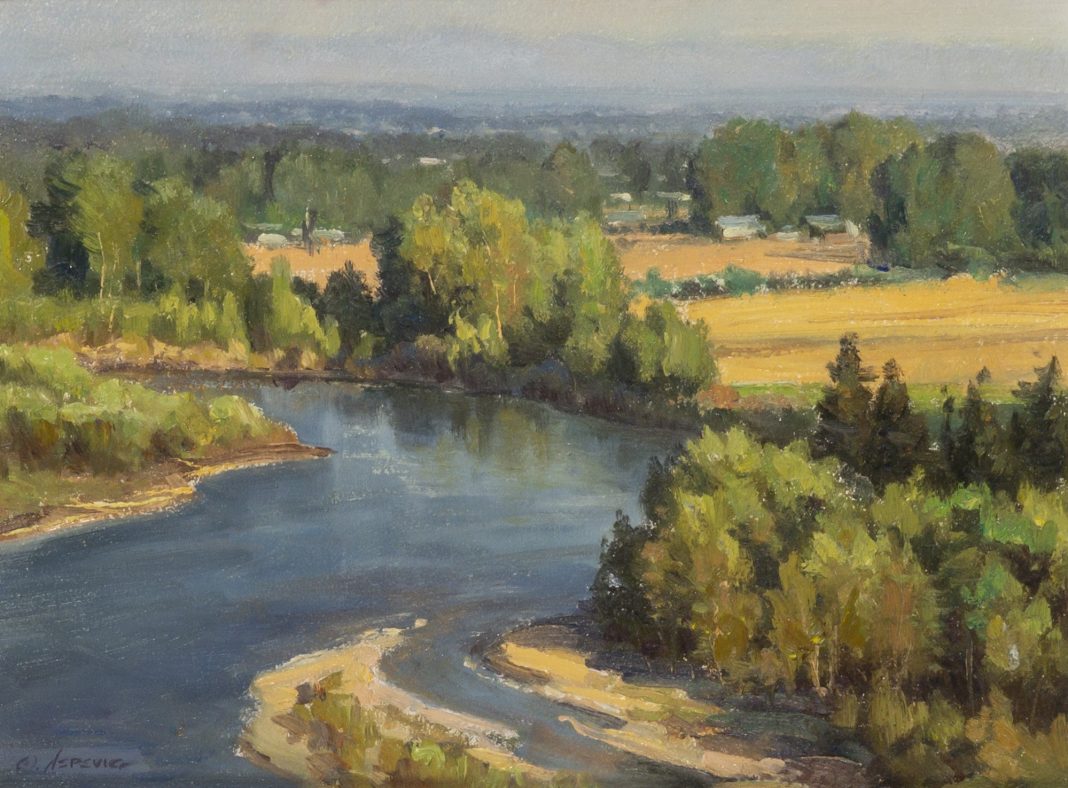 Clyde Aspevig biography:
Inspired by the sagebrush and wide open horizons of Wyoming and Montana, Clyde Aspevig is a landscape painter who does sketches on location and finishes the work in his studio.  Although he was trained to be an art educator, he has had little formal training as a painter, but has studied the work of artists he much admires including John Singer Sargent, Anders Zorn, and Winslow Homer.
His obvious talent has won him prestigious recognition including the Frederic Remington Award* and the Robert M. Lougheed Memorial Award*, both from the National Cowboy Hall of Fame.  He is a member of the Northwest Rendezvous Group, and is the first Montana artist since Charlie Russell to exhibit at Grand Central Art Galleries* in New York City.
Aspevig was born in Rudyard, Montana, and raised on a small working wheat farm near the Canadian border.  He became mindful of people's reliance upon the land, although he left the farm to attend Eastern Montana College in Billings.  However, he dropped out to spend the winter in the Bear Paw Mountains and then returned for a degree in art education.  He taught for one year in Sandy Oregon High School and then went back to Montana with his wife, artist Carol Guzman, to paint full time.  From 1988, the couple has lived in Loveland, Colorado where he remodeled an historic church for his studio.
Aspevig travels widely to paint, choosing landscape subjects in the Southwest and the West including along the Missouri and Yellowstone Rivers, and in foreign places such as England, Italy and the Caribbean.
Paintings:
Click on images to enlarge.
"Flathead Valley"
Clyde Aspevig
Oil   9″ x 12″
SOLD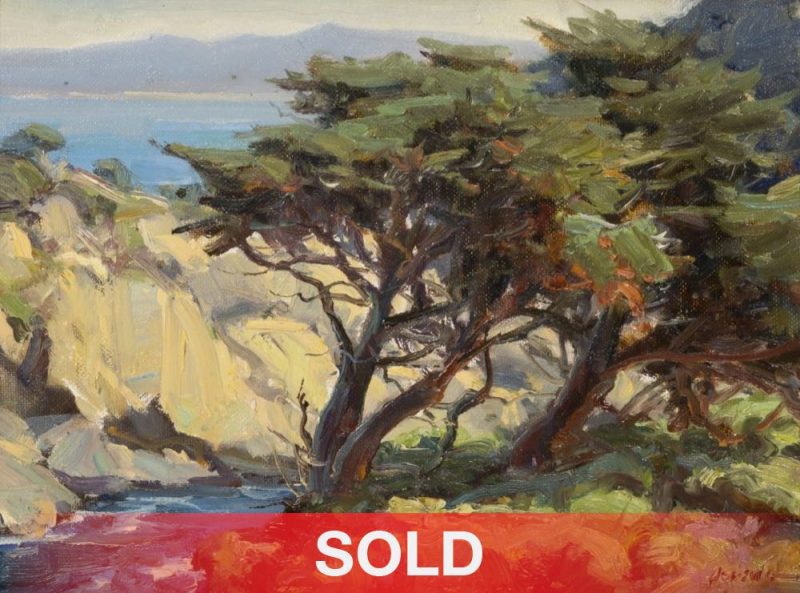 "Point Lobos"
Clyde Aspevig
Oil   9″ x 12″
SOLD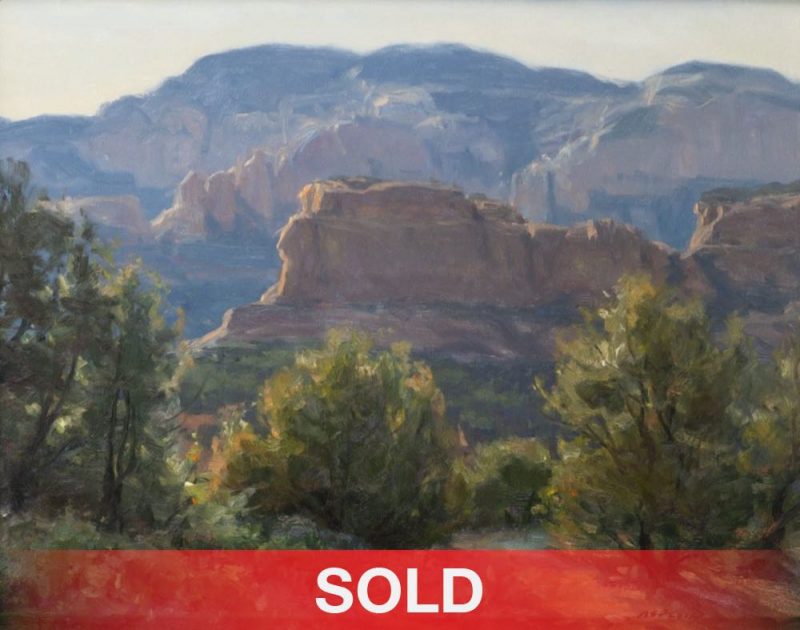 "Boynton Canyon"
Clyde Aspevig
Oil   11″ x 14″
SOLD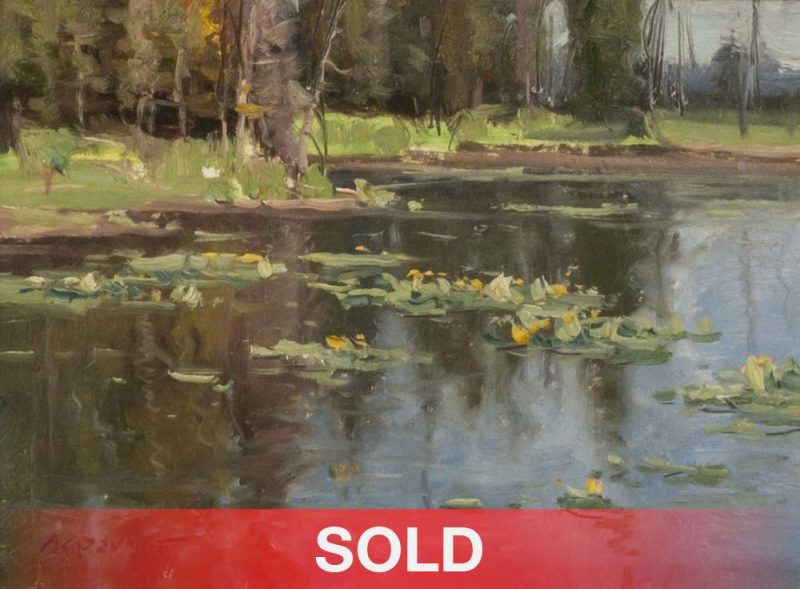 "Lily Pond Study"
Clyde Aspevig
Oil   6″ x 8″
SOLD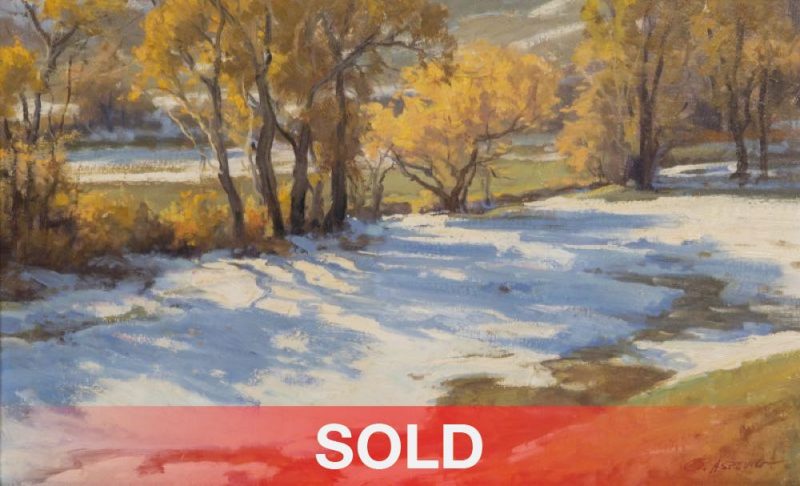 "Blue Shadows"
Clyde Aspevig
Oil   10″ x 16″
SOLD
Do you have a Clyde Aspevig painting you would like to sell? We have clients interested in adding his artwork to their collections. Call us 800-958-5360 or email us sales@artzline.com.
Biography courtesy of AskArt.com
Don't miss the newest gallery arrivals.
Sign up to receive our no more than once a week bulletins.
Be the first to see the latest fine art as soon as it's available to you!
See it First!
Receive notifications from America's online art gallery when the latest works from top artists are available.