The Brinton Museum in Big Horn, Wyoming hosted the third annual "Bighorn Rendezvous Art Show & Sale". Featured artists were members of the Northwest Rendezvous Group and their invited artists. Among the artists who participated were Matt Smith, Josh Elliott, Veryl Goodnight, Jim Morgan, Ned Mueller and Sandy Scott are a few of the NWR member artists who participated in this exhibition. During the closing weekend (August 3-4, 2018), awards were handed out and Matt Smith won the Best Of Show Award for his group of four paintings. Additional awards were given out and we have listed them below. For full exhibition details, visit The Brinton Museum website.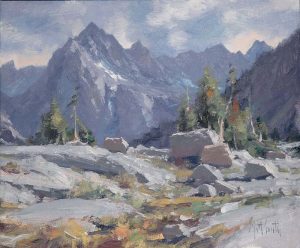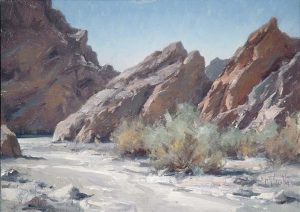 View available of Matt Smith paintings.
Bighorn Rendezvous Art Show & Sale Award Winners 

Artist
Title
Medium
Award
Smith, Matt
Best of Show Artist
Eisenach, Barry
Black Buffalo
bronze
Joe Halko Heritage Award
Bohler, Joseph
Sandhill Cranes Rising
watercolor
President's Award
Rosetta
Spirit Brothers
bronze
President's Award
Budicin, John
Working Late
oil
NWR Award of Merit
Liu, Huihan
Morning Dance
oil
NWR Award of Merit
Liu, Huihan
Morning Ride – Eaton Ranch
oil
NWR Award of Merit
Smith, Matt
Light Play Over Shuksan
oil
NWR Award of Merit
Wilcox, Jim
Winter's Final Fling
oil
NWR Award of Merit
Hochstetler, Tony
Tree Frogs on Cottonwood
bronze on granite

Fine Art Connoisseur

Best in Show
Don't miss the newest gallery arrivals.
Sign up to receive our no more than once a week bulletins.
Be the first to see the latest fine art as soon as it's available to you!
See it First!
Receive notifications from America's online art gallery when the latest works from top artists are available.