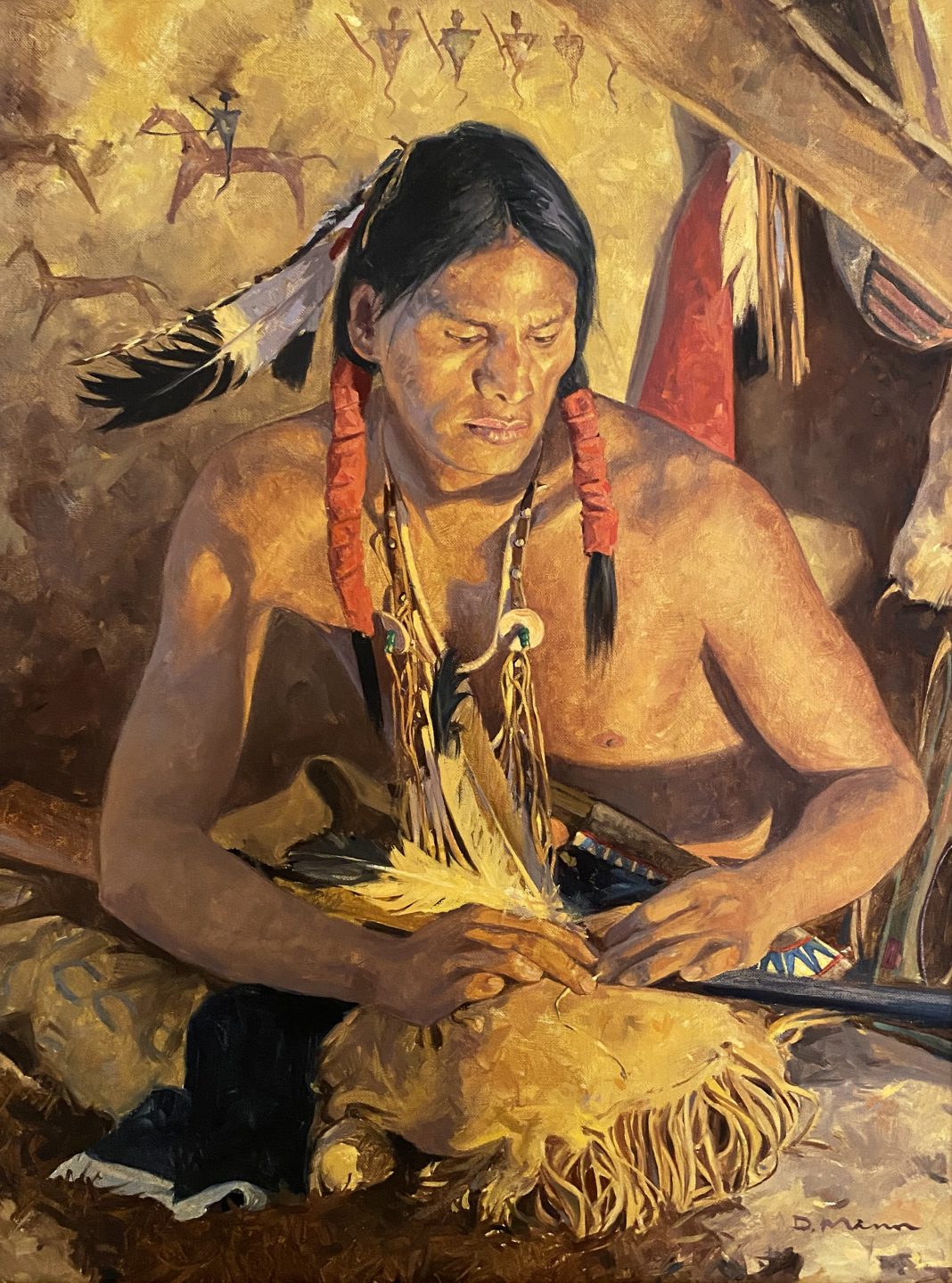 David Mann biography:
A painter of Native American figures and genre as these subjects would appear in everyday life, David Mann does extensive research on the clothing and background objects of his subject matter but does not show actual historical events. Most of his Plains Indians are placed in the context of the mid to late 19th century before they were moved to reservations and could practice the rituals of their culture.
Mann was inspired by this subject matter from the time he was a child and had a book illustrated by Alfred Jacob Miller, pioneering painter of western subjects. He was also inspired by Frank McCarthy illustrations he saw in "Life" magazine. Then as a young Mormon church missionary, he was assigned to Indian reservations in the Southwest and lived with the Apache on the San Carlos reservation, the Pimas and Papagos near Tucson, and the Pueblos and Navajos near Albuquerque.
He graduated from Weber State University in Ogden, Utah with a major in art education, taught school for a year, worked in construction, and then was a librarian for ten years. He married, and supporting his desire to paint full time, his wife supported their family, which gave him a chance to pursue his dream. After four years, he became a success in the eye of collectors, and since then has won Best of Show at the National Western Art Show and Auction at Ellensburg, Washington, and is featured in other prestigious exhibitions including the Autry Museum.
Available paintings:
Click on image to enlarge.

"The Wandering Navajo"
David Mann
Oil   20″ x 16″
SOLD
Do you have David Mann paintings you need help selling? CONTACT US.
Biography courtesy of AskART.com
Don't miss the newest gallery arrivals.
Sign up to receive our no more than once a week bulletins.
Be the first to see the latest fine art as soon as it's available to you!
See it First!
Receive notifications from America's online art gallery when the latest works from top artists are available.