G. Harvey (Gerald Harvey Jones) biography
Artist G. Harvey grew up in the rugged hills north of San Antonio, Texas from where herds of longhorn cattle were once driven up dusty trails to the Kansas railheads.  His grandfather was a trail boss at 18 and helped create an American legend.  So the American West is not only the artist's inspiration but his birthright.
Harvey's early interest in sketching and drawing slowly evolved into a passion for painting in oils.  After graduation cum laude from North Texas State University, Harvey took a position with the University of Texas in Austin, but he soon realized that weekends and nights at the easel did not satisfy his love of painting.  He abandoned the security of a full-time job in 1963 and threw his total energy into a fine art career.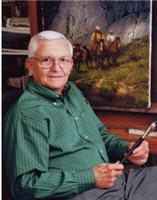 Two years as a "struggling artist" followed, but 1965 brought acclaim for the artist's first prestigious show, The Grand National exhibition in New York, and the American Artists' Professional League presented him with their New Master's Award. President Lyndon Johnson discovered his fellow Texan's talent, became a Harvey collector and introduced John Connally to the artist's work. Connally was enthusiastic about Harvey's art and, on one occasion, he presented a G. Harvey original to each governor of Mexico's four northern states.
Harvey paints the spirit of America from its western hills and prairies to the commerce of its great cities. His original paintings and bronze sculptures are in the collections of major corporations, prestigious museums, the United States government, American presidents, governors, foreign leader and captains of industry. The Smithsonian Institution chose Harvey to paint "The Smithsonian Dream" commemorating its 150th Anniversary. The Christmas Pageant of Peace commissioned Harvey to create a painting celebrating this national event. He has been the recipient of innumerable awards and the subject of three books. Through his art, our history lives.
Click on images to enlarge.
Artwork: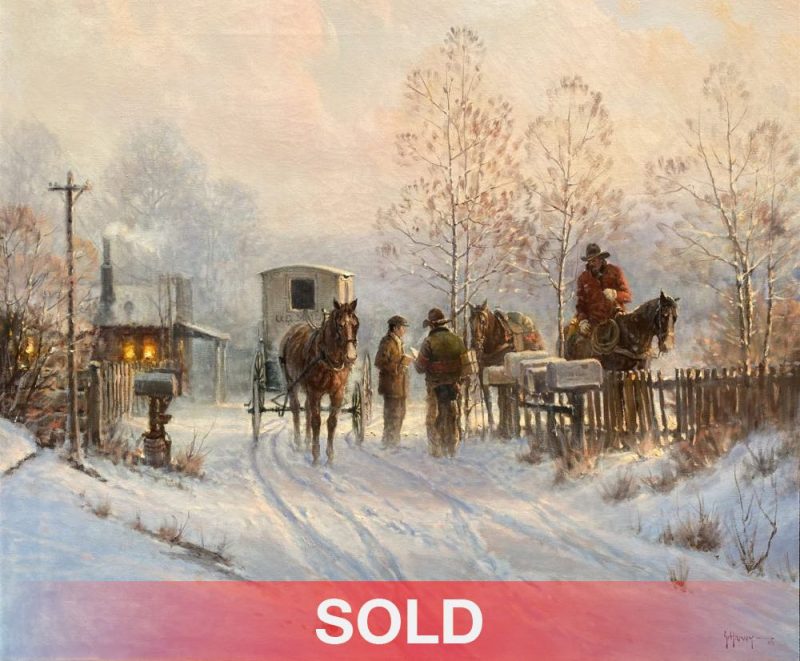 "The Rural Carrier"
G. Harvey
Oil 30″ x 36″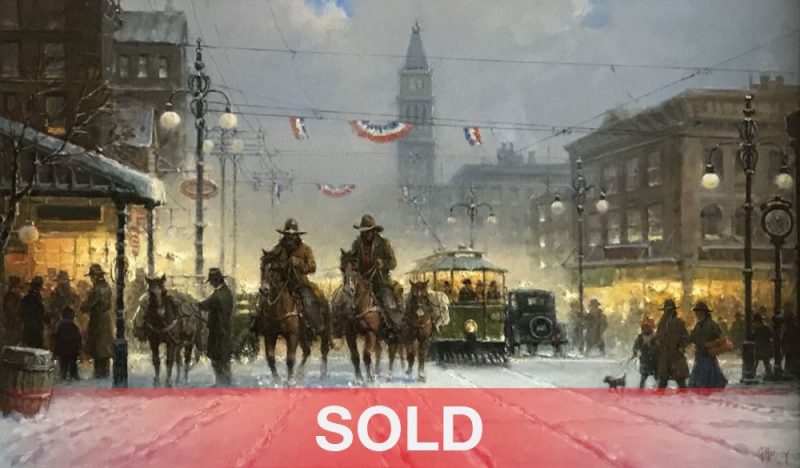 "Snowy Tracks (Denver)"
G. Harvey
original oil  24″ x 40″
SOLD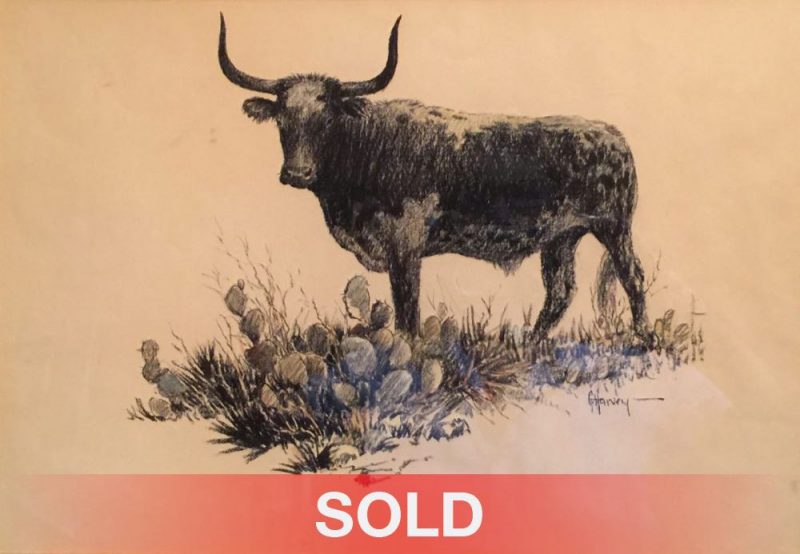 "Longhorn"
G. Harvey
watercolor/pencil 10″ x 14 1/2″
$3,000

"One Of A Kind"
G. Harvey
Bronze #41/100
13 1/2″ H x 5 1/4″ W x 6″ D
SOLD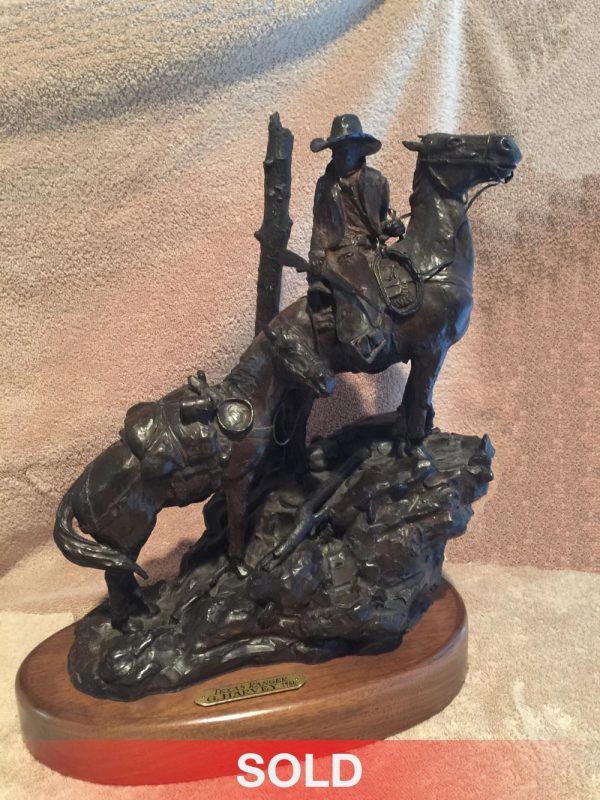 "Texas Ranger"
G. Harvey
original bronze sculpture #21/40
17″ high x 15″ wide
SOLD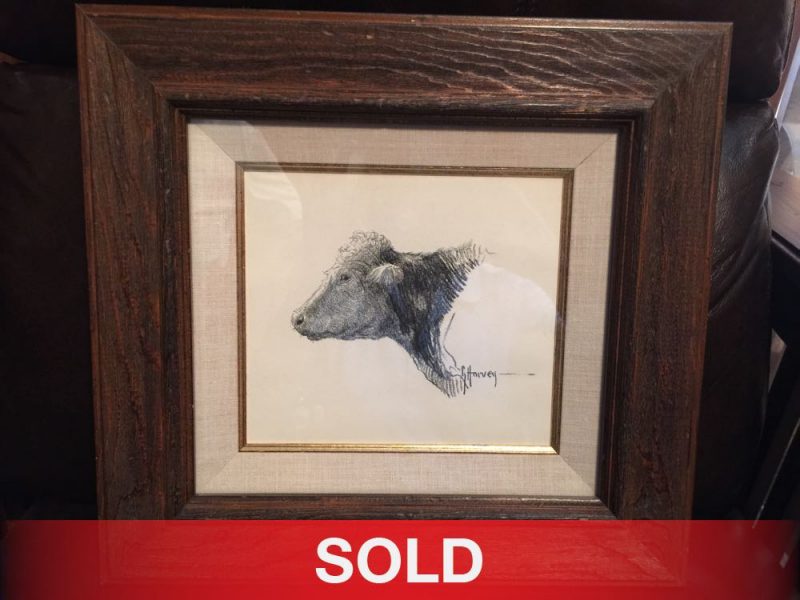 "Cow Portrait"
G. Harvey
Pencil
7″ x 8″
SOLD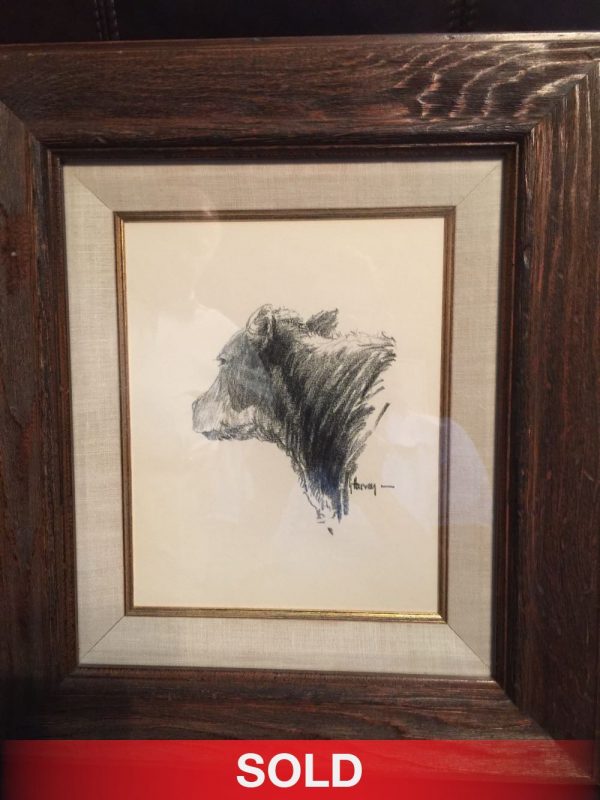 "Cow Portrait #2"
G. Harvey
Pencil
9″ x 7 1/2″
SOLD
Do you have a G. Harvey painting or sculpture you would like to sell? We have clients interested in adding his artwork to their collections. Call us 800-958-5360 or email us sales@artzline.com.
Biography and artist's photo courtesy AskART.com.
Don't miss the newest gallery arrivals.
Sign up to receive our no more than once a week bulletins.
Be the first to see the latest fine art as soon as it's available to you!
See it First!
Receive notifications from America's online art gallery when the latest works from top artists are available.