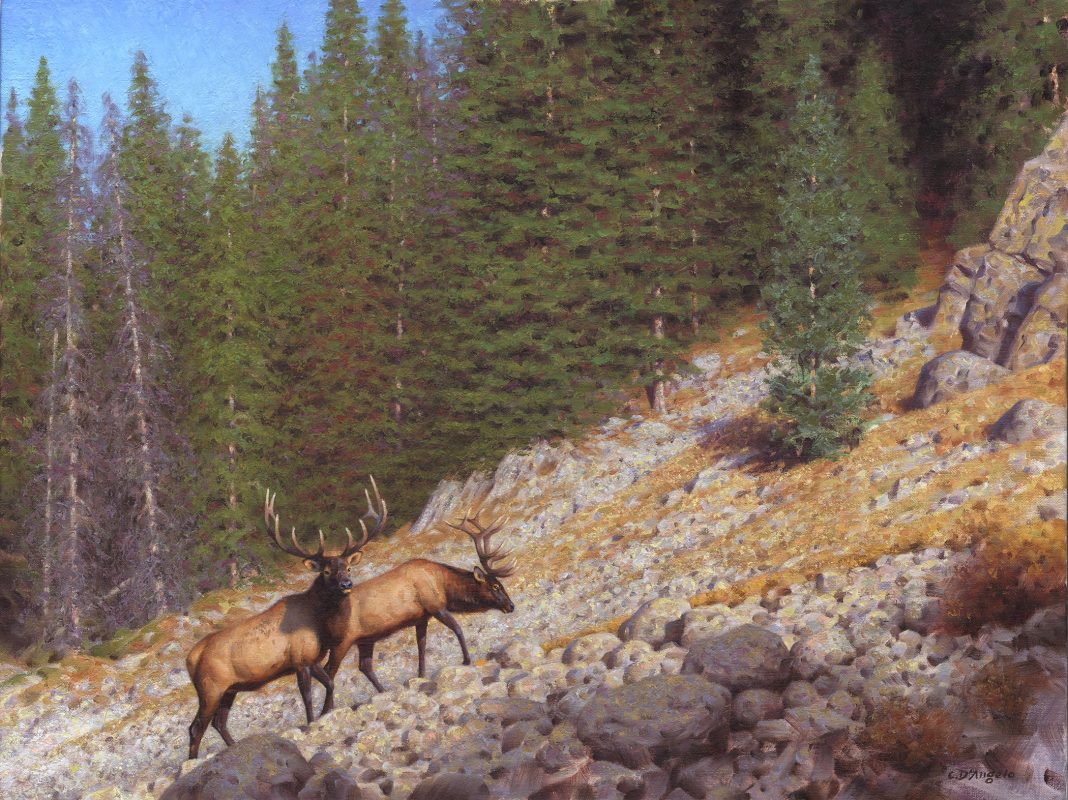 Claudio D'Angelo biography:
Claudio D'Angelo was born in Montreal but grew up in a rural area just north of the city. There he spent much of his time exploring the local woodlots with their adjacent fallow fields and discovering the various creatures that made those places their home. Drawing inspiration from these experiences, he spent countless hours filling youthful sketchbooks over those years. After high school he studied illustration and graphic design, which then led him to earn a successful livelihood as an illustrator. However in 1980, unwilling to repress his true passion any longer, he turned the page and dedicated himself to painting full-time. With a keen attention to the ever-changing ways that sunlight plays on the landscape, his paintings depict a more intimate view of nature where landscape and animal subject are harmoniously integrated.
Over the years his work has been exhibited through the Society of Animal Artists, the National Museum of Wildlife Art, the Leigh Yawkey Woodson Art Museum, the Bennington Center for the Arts as well as the Algonquin Art Center. In 2012 the Yvonne L. Bombardier Museum staged a retrospective exhibition of his work going back 30 years. His coin designs, mostly of wildlife subjects, have been juried and selected dozens of times by The Royal Canadian Mint. As well, his paintings have also been juried to appear on conservation stamps on numerous occasions. His work can be found in collections throughout Canada, the U.S. and Europe.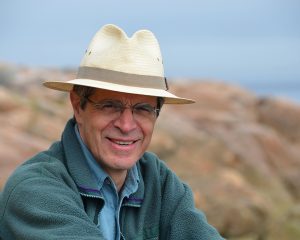 "Animals have fascinated me for as long as I can remember. The fact that they live in a world that is unconcerned with the preoccupations of humankind, somehow made them particularly appealing to me. I would spend much time and effort seeking them out in the places they inhabited. It was with these continued forays that I started to fully appreciate just how wonderful and inexhaustible this mine of inspiration truly was for the aspiring artist I had become. Through my work I have strived to recreate the beauty of what I have seen as well as what I have so far come to understand of these creatures in their secretive world."   Claudio D'Angelo
Paintings:
Click on images to enlarge.

"Eagles Over The Restigouche"
Claudio D'Angelo
oil   20″ x 20″   
$4,200
"Great Horned Owl In An Aspen"
Claudio D'Angelo
oil   20″ x 24″   
$4,800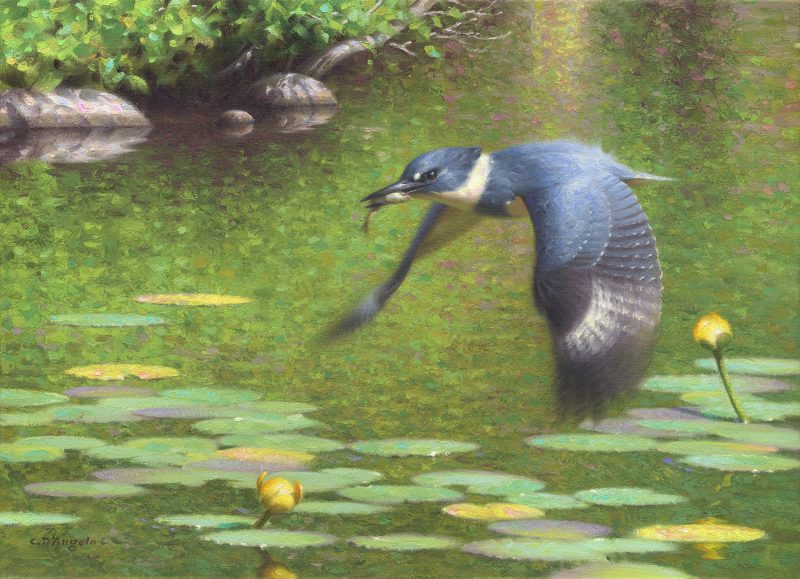 "Kingfisher"
Claudio D'Angelo
oil   13″ x 18″   
$2,500
See additional information about

"Kingfisher"

.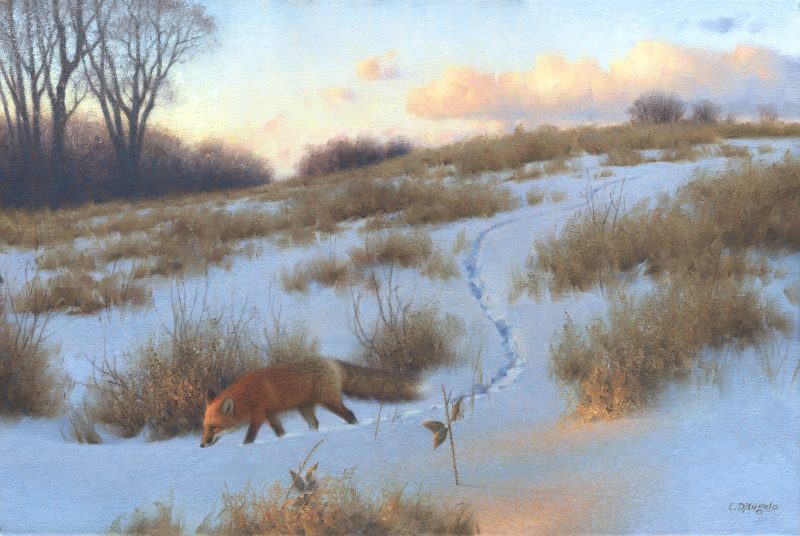 "The Evening Rounds"
Claudio D'Angelo
oil   16″ x 24″   
$3,800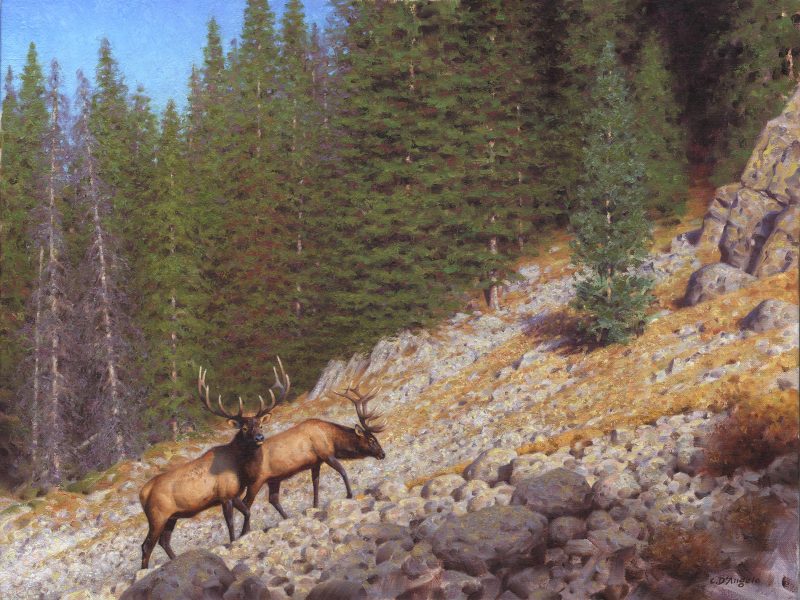 "High Country Traverse"
Claudio D'Angelo
oil   18″ x 24″   
$4,300
Interested in any of these paintings, call us 602-730-2451 or email us sales@artzline.com.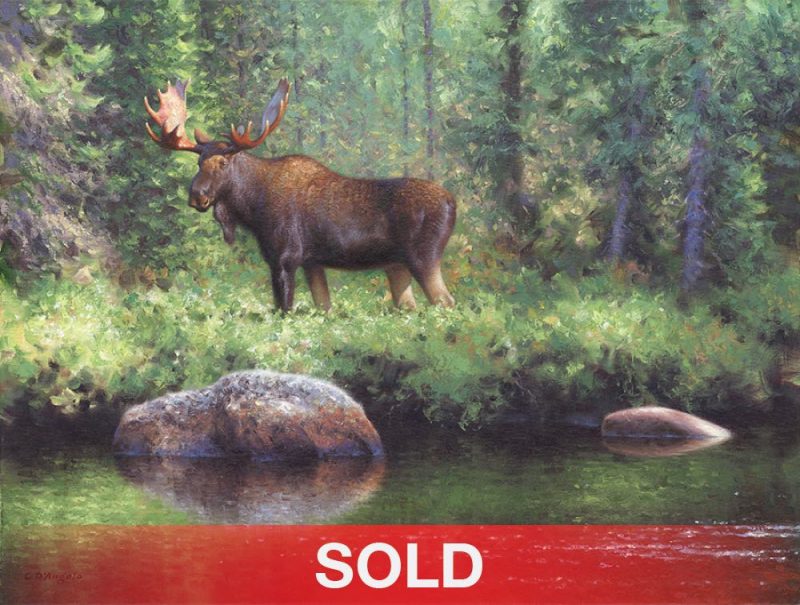 "Bull Moose By The River"
Claudio D'Angelo
oil   18″ x 24″   
SOLD

"Southern Visitor"
Claudio D'Angelo
oil   16″ x 20″   
SOLD
Don't miss the newest gallery arrivals.
Sign up to receive our no more than once a week bulletins.
Be the first to see the latest fine art as soon as it's available to you!
See it First!
Receive notifications from America's online art gallery when the latest works from top artists are available.